New York State
The labor movement's push for farmworker rights
Unions are lobbying for expanded prevailing wages and addressing the gig economy.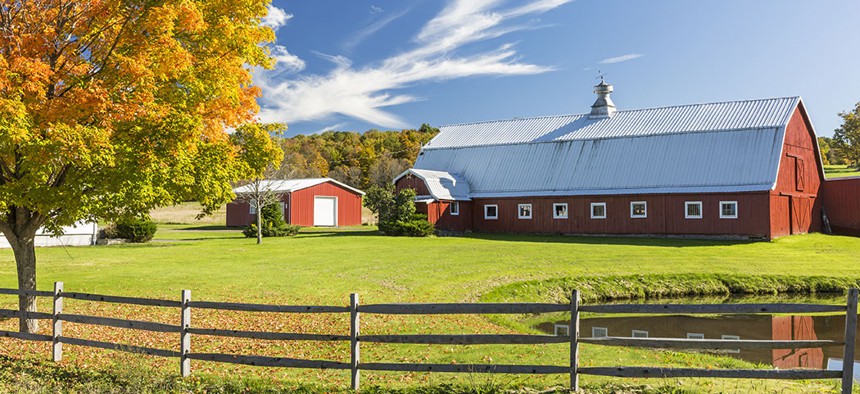 For New York Democrats, occupying the governor's mansion and controlling both houses of the state Legislature was like looking for El Dorado, a goal that often proved elusive but kept their sights ever focused forward. Now that the Empire State has joined the ranks of only 14 states with a deep blue "trifecta," Democrats face a challenge in meeting the expectations of those who helped them get to the promised land.
Atop the list of stakeholders looking for results is organized labor. With 1 in 5 workers unionized, New York state has one of the highest unionization rates in the nation. The labor movement delivered a crushing defeat of the referendum on a state constitutional convention in 2017, while unions helped propel Democrats to pivotal victories in the state Senate last fall.
Driving the labor agenda as the session hurtles toward the finish line is state Sen. Jessica Ramos, who has renewed an effort to pass legislation benefiting farmworkers while pushing for the passage of other bills, such as a measure to strengthen the state's existing prevailing wage law for public construction. The chairwoman of the state Senate Labor Committee came into office this year with strong union ties, having worked for unions and in immigration law, and as the daughter of immigrants, one of whom was a member of the now-defunct International Ladies' Garment Workers' Union.
At the top of Ramos' agenda for the rest of the session is winning passage of the Farmworkers Fair Labor Practices Act, which would grant as many as 100,000 farmworkers basic labor rights and protections they were expressly excluded from under the 1935 National Labor Relations Act and the 1938 Fair Labor Standards Act. During the 80-plus years since then, resistance to farmworkers organizing and gaining legal workplace protections has remained intense, with a tiny fraction of the workforce benefiting from union membership.
During the past two decades, New York's farmworker legislation had been championed by Assemblywoman Catherine Nolan, but with the Republicans controlling the state Senate, farm owners and agribusiness had the upper hand. "We helped the bill reach a major milestone by securing a 32nd cosponsor for the first time in its history, meaning we have a technical majority," Ramos told City & State in an email. "We must ensure that farmworkers are granted the rights that all other workers in our state are afforded – a day off, overtime pay, unemployment benefits and the right to collectively bargain."
Ramos has held hearings across the state to raise the visibility of the issue in hopes of forging a consensus. "I am talking to all stakeholders in this issue, and I have toured the state talking to farmers and farmworkers alike," she said. "Farmwork isn't like a 9-to-5 office job and is greatly impacted by inclement weather. I hope to come to an agreement and pass the bill by the end of session."
Mario Cilento, the president of the New York State AFL- CIO, said in a phone interview that passing a farmworker labor standards bill, long a state labor priority, is closer now than ever before.
"(Farmworkers) don't have the right to overtime pay, which means farmworkers can work 60, 70, 80 hours a week at the discretion of their employer for as long as the employer sees fit," Cilento said. "And because they don't have a right to join a union, to collectively bargain, they don't have any say on the matter."
At a recent Albany rally for the farmworker legislation, state Labor Department Commissioner Roberta Reardon signaled Gov. Andrew Cuomo's pledge to support the landmark legislation that she said would protect "people who work tirelessly in the rain, in the snow, (in) the mud around dangerous animals and massive pieces of machinery. We at the Department of Labor stand behind them."
Yet, even as the state AFL-CIO tries to deliver for farmworkers, Cilento flagged an even bigger challenge ahead in the so-called gig economy.
According to a recent study by Cornell University's Worker Institute and sponsored by the state AFL-CIO, the exponential growth in the on-demand workforce of independent contractors that's managed by online platforms is eroding legal protections for labor.
"We have a class of workers in New York state who are being denied basic rights that most other workers have," Cilento said in a statement when the report was issued on April 30. "This is a turning point in our changing economy that reeks of early 20th century working conditions of low wages and discrimination." These workers, he said, are not entitled to "minimum wage, overtime, family leave, unemployment insurance, disability or even workers' compensation."
"It is going to be very important for taxpayers," Cilento said. "These workers will be working 60 hours a week and not making even the minimum wage, which means ultimately if you have a growing percentage of the economy with workers working at these lower rates, the general public – taxpayers – are going to be subsidizing their earnings with public assistance because we have a growing number of people who are not making ends meet."
Cilento predicts that conventional brick-and-mortar businesses will be handicapped by existing labor laws that protect their employees as their web-based competitors are allowed to evade them.  
"This is really much bigger (than people realize), and it is only going to get worse because we know it will expand exponentially over the next decade or so," said Cilento, whose labor organization is in the process of working with state legislators to draft legislation to protect contract workers.
Another measure that could benefit organized labor has already passed the state Senate – a bipartisan bill that would allow workers to access unemployment insurance after one week. Current law requires workers wait for eight weeks before they can access the benefits, which critics of the legislation say, in effect, subsidizes labor strikes. The bill has yet to be passed by the Assembly Labor Committee, where the bill will test the influence of organized labor.
Cilento said the AFL-CIO is also lobbying Albany to end the erosion of the state's long-standing commitment to guaranteeing that local governments and authorities pay a prevailing wage when it comes to the construction of public buildings and infrastructure.
"The prevailing wage rate is written into the state constitution, but the problem is (that) over the last 20 to 30 years, it has been watered down and more and more projects that should have been classified as public works haven't been," he said. "Our position is clearly that if there are taxpayer dollars being used on any project, they should pay the prevailing wage rate."
Fiscal conservatives fault the state prevailing wage requirement for driving up the cost of public infrastructure by double digits. A 2017 Empire Center for Public Policy analysis found the law "drives up total construction costs by 13% to 25%, depending on the region, which will translate into billions of dollars in added taxpayer-funded spending."
But for state Sen. John Liu, a first-term lawmaker from Queens, reinforcing the existing prevailing wage law is a top priority because it ensures taxpayer dollars are spent providing well-paying union jobs for tens of thousands of New Yorkers. He said as the session comes to a close "everybody under the sun" will want "some kind of carveout, meaning an exemption from the prevailing wage requirements."
"I don't think it should ever be just a matter of cost where a project or a contractor would be exempt from the prevailing wage requirements," Liu added. "(The) prevailing wage should not be considered a cost of business. It is a protection of a union's right to collectively bargain, a right that government should not undermine."
-with reporting by Zach Williams
Powered By
NEXT STORY: Health care proposals are heating up