Real Estate
Can New York rein in big real estate?
As rent regulations come up for renewal, tenant advocates and their progressive allies in Albany are pushing for extensive reforms – and real estate is on the defensive for the first time in years.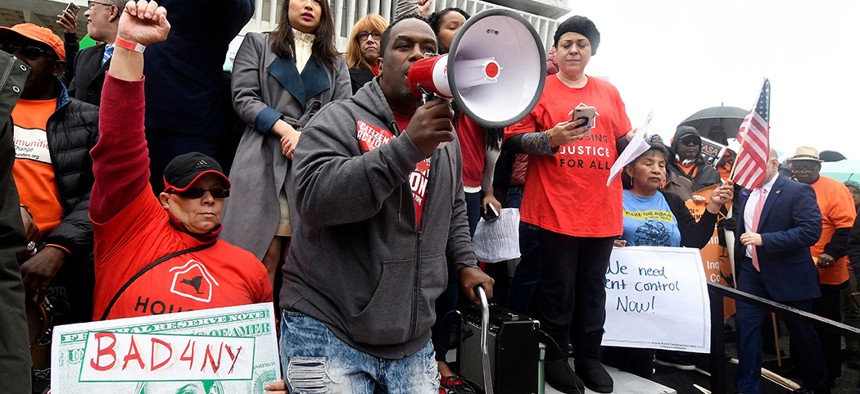 Big real estate is on the ropes in New York. When Rep. Alexandria Ocasio-Cortez refused to accept real estate contributions during her upstart congressional campaign and unexpectedly ousted Joseph Crowley in the June congressional primary, it made the tactic a litmus test to many left-leaning voters. The two Democratic state senators who had received the most campaign funds from developers – Jeff Klein and Martin Malavé Dilan – were upset in the September primary. State Senate Republicans, the industry's long standing allies in Albany, lost power in November. Now, as rent regulations come up for renewal, tenant advocates and their progressive allies in Albany are pushing for extensive reforms – and real estate is on the defensive for the first time in years.
"We're a very easy target," said Frank Ricci, director of government affairs at the landlord group the Rent Stabilization Association. "We are under attack."
In response, landlord groups have taken up a familiar argument – that efforts to strengthen rent regulations will disincentive investment in rental units and cause already aging housing stock to fall into disrepair. They have focused on two bills that would eliminate programs known as Major Capital Improvements (MCI) and Individual Apartment Improvements (IAI), which allow landlords to raise rents higher than the yearly increase permitted by the New York City Rent Guidelines Board. According to an analysis of public data by the Real Estate Board of New York, the industry's lobbying arm, the Rent Guidelines Board has not kept pace with increasing building expenses when approving early rent increases, forcing landlords to rely on alternative revenue streams to maintain their buildings. REBNY also concluded that should the state Legislature approve the entire slate of proposals tenant advocates are asking for – nine bills in total – landlords for 40% of rent-stabilized units would no longer be able to afford to make investments beyond basic upkeep.
The industry has also argued that Major Capital Improvement and vacancy bonuses (which allow landlords to raise rents up to 20% when an apartment becomes vacant) have benefited the city since their implementation over 20 years ago. According to the U.S. Census Bureau's New York City Housing and Vacancy Survey, the percentage of units with severe maintenance deficiencies has been cut in half since 1991, which real estate attributes to MCI and IAI improvements. Between 2014 and 2017 alone, the share of occupied units without deficiencies increased from 41% to 52%. The fiscal watchdog group Citizens Budget Commission pointed out that rent-stabilized apartments reported 80% more maintenance deficiencies than market-rate units, but that eliminating the MCI program would only make matters worse.
Community Housing Improvement Program Executive Director Jay Martin said that criticisms from tenant advocates are not unwarranted. There are bad actors who abuse programs meant to incentivize investment and who illegally harass tenants out of their apartments so they can enter the unregulated market, Martin acknowledged. In one high-profile example, a New York Times investigation found that President Donald Trump's family falsified data in order to illegally raise rent through an MCI increase – a fairly common practice. Martin said that more can be done to enforce the rules and prevent the abuse, but that the majority of CHIP's members, which include owners of about 4,000 rent-stabilized buildings, are small-time landlords who want to work with their tenants. Martin said their average tenant has been living in their building for 13 years, and that CHIP's members benefit from having long-term renters. "The rhetoric has overrun the reality that we are not all part of the problem – in fact, we as small-building owners want to be part of the solution," Martin said. "We are private building owners providing a system that isn't subsidized by the government … and now we are being over-regulated to the point that we can't provide a product that is healthy and helpful for these very tenants."
Those small-building landlords have been front and center in the campaign opposing the proposed rent regulation reforms. A coalition of real estate groups called Taxpayers for an Affordable New York launched a series of television spots featuring such landlords, who would be most impacted by the new proposed regulations. "When people think about landlords, I hope they think about me – someone who cares," Lincoln Eccles, the landlord of a building that has been in his family since the 1950s, said in one ad. In another ad, Stephanie Kirnon, who owns a building in the Bronx, said, "If Albany changes these laws, I may have to sell."
RSA's Ricci argued that without programs like MCI and IAI to help landlords recoup the cost of repairs, a situation like Kirnon's could become more commonplace – to the detriment of tenants. He said that building owners may not be able to justify raising costs of building expenses and maintenance, and would be more likely to sell to predatory landlords whose aim is to force long-time tenants out to make the apartments market-rate. "When the small owner there is so frustrated and beaten down by property taxes and water and sewer rates, and so many other rules and regulations, that they throw up their hands, and when someone comes along and says, 'I want to buy your property,' they sell out," Ricci said.
Tenant advocates dispute the arguments put forth by industry representatives like Ricci and Martin. Michael McKee, treasurer of the Tenants Political Action Committee, took issue with the characterization of rent-stabilized building owners that real estate interests are pushing. He called them "the mythical mom-and-pop landlord," saying that while there a still a few, even the owners who at one time could have been considered small-building landlords have added many more buildings to their portfolios McKee added that despite what real estate lobbyists may say, reports have emerged about landlords illegally harassing tenants, proof to him that the average building owner will put profit over renters. "Everything they do is in bad faith," McKee said. "Even calling themselves 'responsible rent reform,' they're just trying to create confusion with the Real Rent Reform campaign, which is the tenant coalition. Everything they do is dishonest and devious and disingenuous."
McKee also pointed to the fact that the average rent-stabilized landlord operates at what many would consider a comfortable profit margin. According to the Rent Guidelines Board, rent-stabilized units averaged a net operating income – the amount of money left from rent after operating and expense costs – of $540 a month in 2017. That total goes toward pretax profit, debt and improvements, and represents about 41 cents of every dollar taken in from rent. "What that tells me is that this is a picture of a robust, and even healthy residential real estate market and I defy you to point to another industry that has such a high net operating income," McKee said.
Vito Signorile, RSA's director of communications, responded that while the net operating income, or NOI, has continually increased for years, that increase will slow without greater rent increases to keep up with ever-higher property taxes, which will hurt landlords and ultimately their tenants. In fact, the increase in NOI did slow between 2016 and 2017. Signorile added that while the NOI may seem high, the publicly available data does not include rent-stabilized buildings with fewer than 11 units, who stand to lose the most under new regulations, and that landlords need a reserve supply of money for unexpected costs or disasters.
This year's fight is the latest in a long history of rent law renewals. New York's rent-stabilization program largely came out of the 1974 Emergency Tenant Protection Act, a response to a housing crisis in New York City and surrounding suburbs brought about by low vacancy rates. Since then, the regulations have slowly been weakened to the benefit of the real estate interests and landlords who own rent-regulated buildings. But for the first time, Democrats have complete control while rent regulations are up for renewal. "Up until this year, the balance of power was in favor of landlords," said Jonas Shaende, chief economist at the left-leaning think tank the Fiscal Policy Institute. "And I don't think it's a particularly bad or dangerous situation now when the balance of power tilted ever so slightly in the favor of tenants."
Several proposals being considered in the Legislature would simply return rent regulations to previous forms. For example, advocates are calling for an end to vacancy decontrol, a practice that did not come about in full until 1997. Similarly, the Major Capital Improvements and Individual Apartment Improvements programs, which allow landlords to pass certain construction costs on to tenants, were not created until 1993.
Taxpayers for an Affordable New York, the coalition of real estate groups, calls for "responsible rent reform," but has offered little detail as to what that reform may look like. Real estate representatives say they want to come to the table to find solutions, but that the vitriol from tenant advocates has made it difficult. A March meeting between three top real estate companies and affordable housing groups to discuss rent regulations was held in secret, according to Gothamist, possibly to avoid scrutiny from housing advocates. It ended without any concrete policy proposals.
After this story was published, Wylde told City & State that the meeting was not secret and disputed City & State's characterization of the motive for the meeting. "I invited advocates to the meeting precisely to have an open conversation with a cross section of affordable housing developers, lenders and owners," said Kathryn Wylde, the president and CEO of the Partnership for New York City, which arranged the meeting. "So the supposition that this was to avoid scrutiny by advocates is totally inaccurate."
In a heated exchange at a recent public hearing in May on rent regulations, state Sen. Brian Kavanagh, chairman of the Housing, Construction and Community Development Committee, asked a representative from the Real Estate Board of New York if it had any proposals of their own beyond simply opposing those on the table. REBNY did not offer any.
REBNY declined to make its president, John Banks, available for an interview. City & State instead received a statement attributable to the umbrella group Taxpayers for an Affordable New York. McKee, the housing advocate, said that attempting to work with real estate is a "fool's errand."
After the legislative hearing, RSA proposed stricter regulations for the Individual Apartment Improvements, rather than eliminating it outright, in order to prevent abuse by bad landlords. But Ricci said the RSA would not go public with other aspects of its plan until "probably a week before" the laws sunset, saying that they did not want to show their hand.
Real estate groups argue that programs that freeze the rent for qualifying tenants should be expanded, like the Senior Citizen Rent Increase Exemption and the Disability Rent Increase Exemption. They have also made an unlikely alliance with tenant advocates in pushing for a new program called the Tenants Rent Increase Exemption, which could freeze the rent for low-income, rent-stabilized tenants who pay more than 50% of their income toward rent.
Industry groups further argue that the proposed changes to the rent-stabilization laws do little to address the affordability crisis. It's a conclusion shared by the Citizens Budget Commission, which pointed out stabilization does not necessarily make an apartment affordable, and that some tenant-friendly proposals may hurt renters in the long run. Tenant advocates contend that without measures to regulate real estate, rents would continue to increase unchecked to line the pockets of landlords and developers while pushing low-income renters from their homes and widening the economic divide present in the city and the state at large.
Housing and urban planning experts say that tenant advocates and real estate should work as partners in the effort to address the city and state's affordability crisis. Matthew Murphy, the executive director of the NYU Furman Center, said both real estate and tenant groups have legitimate concerns regarding rent regulation laws, but that a balance must be struck between the two. "(Real estate groups) have to find a path that can show how important their work is, and how, when you have radical changes in something like a rent regulation system, it will have consequences," Murphy said. "And to be able to explain that in a clearer way would have big benefits."
Editor's note: This post has been updated with comments from Kathryn Wylde of the Partnership for New York City. 
Powered By
NEXT STORY: The internal rift over rent regulations