Technology
Cuomo's State of the State tech proposals, so far
Ahead of his State of the State address, Cuomo has unveiled a slew of proposals with technology impacts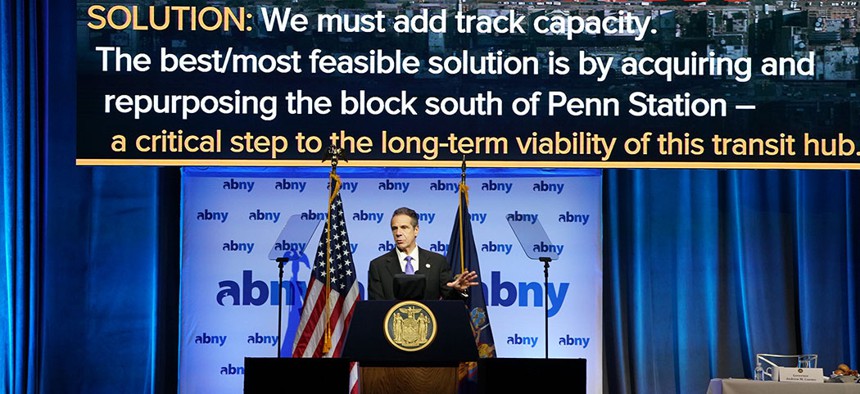 Among the more than 30 proposals Gov. Andrew Cuomo has released ahead of his 2020 State of the State address Wednesday, it's clear that a few, like expanding Penn Station and passing a state equal rights amendment, stand out as bigger blockbusters than, say, rebuilding the Mid-Station Lodge at Whiteface Mountain Ski Resort.
But as these proposals trickled out over the past two months, we noticed that nearly a third of them focused on technology, the internet and the future of work. Numerous other tech issues – like e-bikes, facial recognition in schools and gig worker rights – are sure to be grappled with in Albany, but Cuomo's State of the State proposals show what he is thinking about proactively when it comes to technology. 
For a quick reference guide to see what the governor is thinking about tech at the start of a new decade, City & State rounded up his 2020 proposals that directly impact New York tech companies and how everyone across the state uses technology. 
Protecting net neutrality
Proponents of a "free and open internet" – one in which internet service providers don't discriminate or charge different prices based on user, content or other variables – have railed against the end of net neutrality protections since the rules were repealed by the Federal Communications Commission in 2017. Despite outcry from open internet advocates and a lawsuit against that repeal, the FCC's move was upheld a few months ago in a federal appeals court ruling. That ruling also, however, opened the possibility that states and localities may work on their own to enact net neutrality protections, and it looks like Gov. Andrew Cuomo has taken notice.
Since 2017, Cuomo has taken several steps to ensure that net neutrality doesn't disappear in New York, including issuing an executive order in 2018 mandating that state government entities don't do business with internet service providers unless they follow net neutrality principles. Cuomo's 7th State of the State proposal this year would codify that executive order, as well as go a step further. 
The governor promised to introduce legislation to prevent blocking, paid prioritization of content and throttling – intentionally slowing internet service – and not just with respect to state contracts. California passed a similar law in 2018, though it held off on enforcing it prior to the federal appeals ruling this year. While nothing's a sure thing in Albany, Cuomo's proposal may end up being one that both Democrats and Republicans can agree on, as net neutrality has in general been popular on both sides of the aisle.
Keeping sex offenders off social media
Cuomo's 11th State of the State proposal for 2020 may not be a big ticket item, but it's still a relatively lofty one. The governor said last month that he will propose legislation to prevent convicted sex offenders from using social media accounts, dating apps and video games to exploit children. State law currently requires convicted sex offenders to disclose current email accounts and screen names and other internet identifiers to the state Division of Criminal Justice Services. Cuomo's proposal would also require disclosure of their usernames for any social media, dating app or video games they use.
The proposal comes on the heels of reporting by The New York Times and other outlets finding that these digital spaces – especially chat functions through video games – have become prime "hunting grounds" for sexual predators. While Cuomo's new proposal would not necessarily nab any new offenders, it does also make it a crime for sex offenders to misrepresent themselves online. 
"The Governor's proposed legislation will create digital accountability on many fronts––with social networks and offenders," Emil Skandul, technologist and founder of Capitol Foundry, wrote over email. "What it may not do is track user activity on the deep or dark webs, where most criminal internet activity takes place." Prevent Child Abuse New York, an advocacy group for tougher child-abuse laws, has also praised the proposal. 
Getting serious about high-speed rail
There's no time like a new year – or a new decade – to revive age-old ideas. Cuomo did just that with his 13th idea for 2020, a proposal to study building high-speed rail along the Empire Corridor from New York City to Buffalo. But like hoverboards, high-speed rail is one of those futuristic goals from the 20th century that still has yet to really pan out in the 21st century. 
This time around, Cuomo would call on a panel of experts to reimagine how high-speed rail might work in New York – much like he did to avert the L train shutdown by relying on advice from outside academics and tech experts. The high-speed rail proposal has drawn scrutiny, but at its core it's just a "study" bill to look into the possibility of building that kind of rail. Thus, New Yorkers may not want to hold their breath for this ultra-fast transportation mode coming to the state anytime soon. "Real, 125mph+ high-speed rail between New York City and Buffalo is a highly improbable dream, with so many more urgent needs crying out for attention," Columbia University doctoral candidate Jon English wrote in City & State this week. "Still, there are plenty of opportunities to improve rail service in meaningful and affordable ways, and consulting with experienced rail operators around the world is a good way to figure out how to do them."
Creating a state health care website
New York's health care marketplace is a confusing tangle of information and Cuomo wants to change that with a new, consumer-friendly website where residents can compare prices of procedures at hospitals around the state. The governor's 14th State of the State proposal calls on the Department of Health, the Department of Financial Services and the state Digital and Media Services Center to create such a website – dubbed NYHealthcareCompare.
The goal of increasing transparency in health care costs is an admirable one that few are likely to oppose. Still, we remember one health care website that had a bit of trouble getting off the ground from which New York may want to take lessons.
Combatting robocalls
Cuomo may not relish comparisons to President Donald Trump, but as it happens, both he and the president had the scourge of robocalls in mind last week, as Trump signed into law a bill raising fines on robocallers and Cuomo proposed a three-pronged plan to fight the ceaseless, annoying calls. Cuomo's plan is detailed but includes three main components: requiring telephone service providers to use authentication technology to flag questionable calls, requiring providers to deploy robocall blocking technology, and doubling penalties against robocallers who violate existing state law.
Still, the technology isn't perfect, and enforcement continues to be a problem across the country. "Most iPhones do have prompts for scams. The issue is that these work imperfectly and calls are flagged when they shouldn't be," Skandul told City & State. "This legislation will only work if the penalties are enforced. Federal penalties do exist, but the lack of enforcement have made them symbolic."
Investing in drone research
New York state is turning into a veritable hub for drone research and testing – despite restrictions in New York City which ground almost all of the flying devices. In his 23rd State of the State item, Cuomo proposed burnishing upstate New York's drone credentials with an added $9 million investment to build a small unmanned aerial system test facility at the Griffiss International Airport in Rome. 
"New York's forward-thinking investment in drone technology is placing the Mohawk Valley on the global stage for a growing industry," Cuomo said in a statement when he unveiled the proposal on Sunday. "This groundbreaking project will help solidify the region's status as a national hub for innovation, support our emergency response capabilities and bolster our ongoing efforts to rebuild the upstate economy region by region."
Still, some New York City elected officials will likely note the discrepancy between the state's drone priorities and the city's. Opponents of loosening restrictions to allow more drone flights cite safety concerns, but real estate developers – as well as New York City Council members like Paul Vallone – are advocating for their use in building inspections, which they say can actually increase safety.
Expanding Rochester's tech sector
Much ado has been made about the growth of tech companies in New York City – and in Manhattan specifically – but one of Cuomo's 2020 proposals turns the focus on tech sector development upstate. One proposal from the governor would expand three Rochester companies: cloud management company CloudCheckr, communication hardware manufacturer Mastodon Design and Calero Software. Together, the three companies have committed to creating up to 732 new jobs in the area.
There is, however, an incentive for that job growth. Empire State Development would provide up to $8 million in Excelsior Jobs Tax Credit Program to CloudCheckr, $3 million to Mastodon Design and $1 million to Calero software. These companies may not have the flash of Amazon, Google or even Tesla, but they are hoping to continue the gradual growth of upstate's tech sector.
Creating a new Syracuse STEAM center
Syracuse looks ready to continue surging right along with Cuomo's 31st State of the State proposal. The proposal builds on the original plans to jumpstart tech growth in Syracuse – dubbed the Syracuse Surge – with the introduction of the state's first regional high school focusing on 21st century careers. The facility that houses the STEAM (science, technology, engineering, arts and mathematics) school will also accommodate a workforce training center and apprenticeship program administered by SUNY Empire State College.
Add this education center to Syracuse's 5G deal with Verizon and the upstate region's drone research credentials, and Syracuse may soon be a burgeoning tech hub.
Expanding the state's Workforce Development Initiative
Finally, Cuomo's last tech-related proposal – as of Tuesday afternoon – tackles an enduring problem in New York: preparing workers for the future of work. The governor's 32nd proposal would expand the state's existing $175 milion Workforce Development Initiative that aims to retrain and prepare people for jobs with new skills in emerging industries. Among the actions included in the proposal is investing an addition $40 million to train 40,000 clean energy workers, creating new training for electric vehicles in the next year and expanding early college high school training programs.