Andrew Cuomo
Long-term care providers targeted in Cuomo's budget
Human services funding remains largely consistent in the executive budget, though nonprofit nursing home providers may get squeezed.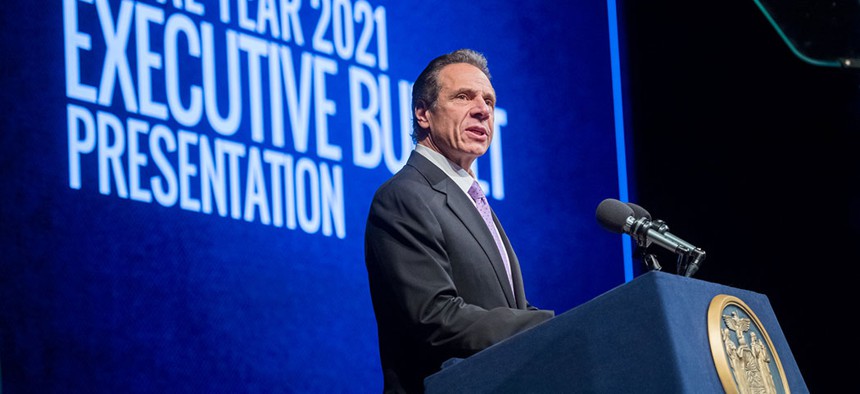 With New York facing a $6.1 billion budget gap, nonprofit organizations throughout the state feared that cuts to social service programs could be on the horizon. Gov. Andrew Cuomo's budget proposal for this year assuaged many of those concerns by keeping funding fairly constant for human services, with its overall contribution increasing by 1.5%. 
But nonprofits providing long-term care to the elderly and disabled through Medicaid may have reason to be concerned, as the governor singled out the program as a major driver of the deficit. Here is the breakdown of how the executive budget would affect various nonprofits:
Health care
Cuomo announced that the state would assemble a Medicaid Redesign Team, for the first time since 2011, to address the budget gap. Its mandate is to find cost savings without a negative impact on local governments and beneficiaries. Already on the hot seat is Medicaid's Managed Long Term Care program, which provides coverage for nursing homes, home care and similar services to the elderly and disabled. In the current fiscal year, the program accounts for about one-third of the state's share of Medicaid spending, according to the governor's office. Nonprofit nursing homes have already pushed back against $352 million in Medicaid cuts proposed to plug the budget hole in 2019, which was blocked by a state judge.
Under regulatory changes implemented by the Trump administration last summer, health care providers can no longer access federal Title X funds, which are for federal family-planning
services, if they offer abortion services or referals. The state budget allots $14.2 million in funding to fill that funding gap for New York institutions that continued to provide abortion access. That's a slight dip from last year's budget, which set aside $16 million for regional organizations financially threatened by the change. 
Housing and homelessness
New York would double its funding of the Homeless Housing and Assistance Program under the governor's executive budget for this year. This means an additional $64 million would go toward providing capital grants and loans to nonprofits and municipalities creating housing for the homeless. Otherwise, the governor's housing and homeless plan has largely remained unchanged from last year. The budget continues to omit funding for the Home Stability Support program backed by many advocates. 
Youth
One major proposal highlighted by the governor is the $157 million in funding set aside to expand the Empire State Child Tax Credit to apply to low-income families with children under the age of four. The expansion would be expected to provide an annual average benefit of about $400 to almost 400,000 families, and has earned early praise from child welfare advocates.
The budget also sets aside $3 million for the transition fund set up to help social services districts comply with the provisions of the federal Family First Prevention Services Act, which aims to shift the foster care system to prioritize placements with family members. This is consistent with the funding allocated last year and falls short of the request from the coalition of child welfare organizations and advocates, CHAMPS-NY, which called to increase the state's contribution to $4.5 million. The budget also expanded funding available for counties to implement programs aimed at preventing youth from entering the foster care system.
The Summer Youth Employment Program also saw a $1 million increase in funding, bringing it up to $45 million total, in this year's budget.
Mental health and substance abuse
Cuomo's budget would continue previously enacted pay increases, amounting to $170 million, for nonprofit employees at organizations working with three state agencies: the Office of Mental Health, Office for People With Developmental Disabilities and Office of Addiction Services And Supports. An additional $15 million will be directed to developing housing for people with intellectual and developmental disabilities and an extra $20 million for community-based residential programs.
Expanding medication-assisted treatment for opioid abuse in emergency rooms and jails is also a priority in the governor's budget, though the details of that plan remains to be seen. 
Security funding
In response to a recent spate of anti-Semitic attacks in New York, the governor has proposed a slew of intitiatives to prevent hate crimes. Among them is a $25 million increase in security funding for religious institutions and nonprofits at risk of such attacks.