Coronavirus
Following ride-hail apps' lead, Access-A-Ride ends shared trips
The coronavirus has lead to an end in shared ride-hail app and Access-A-Ride trips.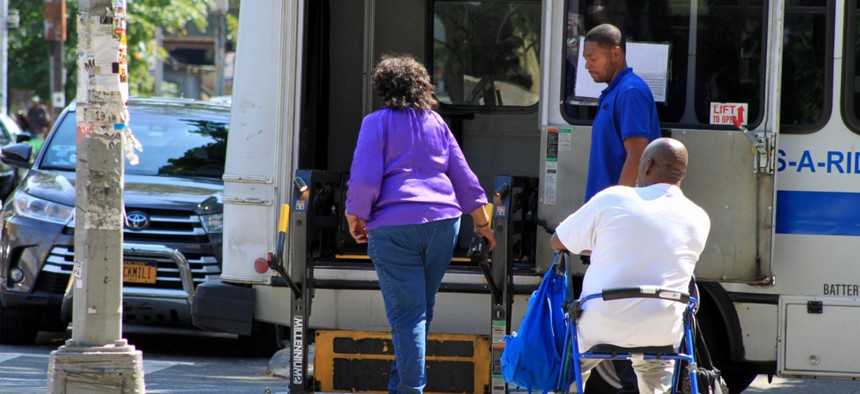 Like it has done to virtually everything else in New York, the coronavirus pandemic is now shaking up the Metropolitan Transportation Authority's paratransit service, Access-A-Ride. This week, both Politico and New York City Councilman Brad Lander noted the irony of New York City Mayor Bill de Blasio ordering ride-hail companies like Uber, Lyft, and Via to stop offering shared or "pool" rides, while Access-A-Ride continued to offer shared rides for customers who could be even more vulnerable to coronavirus. "@MTA's Access-A-Ride continuing to require older & immunocompromised people to take share rides, after Uber & Lyft have stopped doing so, is 'f-cking outrageous,'" Lander tweeted early Wednesday morning.
And stop, they will. Just a day later, the MTA announced that it would end the scheduling of shared rides as of Thursday. The service will still be available, and customers can bring along a personal care attendant or approved guest.
But that's not the only change at Access-A-Ride that's being forced by the coronavirus crisis. The MTA also announced that plans to shake up the Access-A-Ride on-demand pilot would be put on hold – news that was actually welcomed by those who like the pilot program the way it is. 
Access-A-Ride began an on-demand e-hail pilot back in 2017 that allowed a small group of participating riders to summon accessible rides on demand. As opposed to normal Access-A-Ride service, which mostly requires customers to schedule rides one to two days in advance, the e-hail pilot allowed for on-demand booking. Since then, the pilot program has grown popular and expanded to include 1,200 participants able to get on-demand rides for the price of a Metrocard swipe. News last year that the pilot would expand to even more customers – but place new limits on how many rides can be taken per month – was largely met with criticism. The MTA announced this week, however, that those plans would be put on hold because of the coronavirus. "As we deal with the current pandemic, we remain focused on delivering safe and reliable service to thousands of paratransit customers across New York City," Alex Elegudin, the MTA's senior advisor for system-wide accessibility, said in a statement. "Toward that end, we are postponing the next phase of Access-A-Ride's popular on-demand pilot, which will remain unchanged until further notice for its 1,200 participants." If there's an upside here, it's that fans of the existing pilot program are at least happy to see that it will stay in place for the time being. 
For the rest of today's tech news, head over to First Read Tech.