Interviews & Profiles
What does coronavirus mean for school funding in New York?
State Budget Director Robert Mujica explains big plans to change state education spending.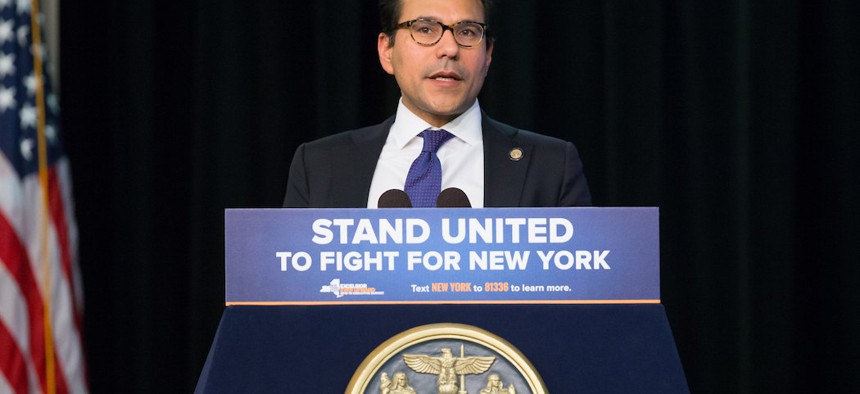 Months of preparations go into developing the governor's proposed every year, but coronavirus means the state is going to have to scramble its financial projections with a little over two weeks to go until the April 1 state budget deadline.
The biggest stock market drop in decades will hit the New York state's bottom line especially hard considering its dependence on tax revenues from Wall Street. In response, Gov. Andrew Cuomo has requested that state Comptroller Tom DiNapoli report back in the upcoming week on how the coronavirus outbreak is affecting state revenues. 
City & State spoke with state Budget Director Robert Mujica on Thursday to hear how the state is pressing forward with the budget and education funding, which makes up one of the biggest chunks of state spending each year. The interview has been edited for length and clarity.
Could you tell me about the process for updating the financial projections and how that will eventually affect funding for education and everything else?
Well, we haven't talked about yet right about updating any of our financial projections. Right now where we are is the governor wrote a letter to the comptroller's office and the comptroller is reviewing our projections. So we're going to wait to see what comes back from the comptroller's office, and then we'll go from there.
Is there like a prescribed process for doing this, or do you have to come up with it on the go at a time like this?
There's always a process in place for consensus revenue forecasts. We rely on that forecast for the executive budget. Obviously, things are changing quickly. So this process is not the usual process. But we'll have to sit with the Legislature, look at where the comptroller is. Everyone's looking at the current state of the economy and revisions to consensus economic forecasts overall. And I think we'll look at all of those things with the Senate and Assembly and then decide how to move forward. But we're not there yet, because these things are changing quickly.
The state has $2 billion or so in rainy day reserves. Does that factor in at all in limiting the fiscal impact?
We have sufficient reserves to deal with immediate needs. On a cash flow basis, we can deal with this. We had the $40 million (in emergency funding approved by the state Legislature). We're appropriating. We're driving money to health care where we need it. But if you're talking long term here, this is not a state issue. The federal government is going to have to step up and assist not just New York, but all the localities that are impacted, just like we did another 10 other times when we've had these kinds of dramatic events. The market itself speaks to the seriousness of what we're talking about.
One big chunk of the budget is education. Could you give an overview of the administration's approach?
New York state spends more per pupil than any other state in the country. We're at twice the national average. So the point is to look at our formula and say: "OK, if we're spending more than every other state in the country, are we spending that equally amongst the students?" When you look at the disparity, you'll see that there are, on the high end, schools that are getting upwards of $34,000, $35,000, $36,000 per pupil. Then there are school districts that are getting $13,000 or $14,000 per pupil. So that disparity is something that the governor has identified as changes that need to be addressed. More money doesn't solve the problem.
How do you identify these high-need districts? 
We look at their special needs. The percentage of the students that are on free and reduced-price lunch is a communicator of poverty. And then you look at the funding per pupil. 
A lot of schools just have free lunches for everyone. Is free and reduced-priced lunch still a valid statistic?
The schools still want to get reimbursed. So just because they decided to make a policy and make it available for everyone doesn't mean they're forgoing the federal reimbursement for the students that are eligible. They're still collecting that information. They may have made a policy decision to provide meals for other students as well, which is great. But that's it doesn't affect the measure.
So how does the administration guide money to these students?
We enacted a section of law in 2019 which says school districts are required to submit a plan on how they're going to fund the underfunded high-need schools. 
If they don't comply, then less money next year?
That's not the ideal outcome. The ideal outcome is that the Legislature has the ability to craft the school aid formula – broad latitude, transparency at the school level. Parents get to see that there's a disparity between the schools. We would think that every legislator who represents that school district would have a strong incentive to make sure that all students at one school building are not being favored over another. So they would have a strong incentive to make sure that that policy is followed.