MTA
The MTA was finally starting to improve service. Now what?
The coronavirus could derail all of the authority's upgrades.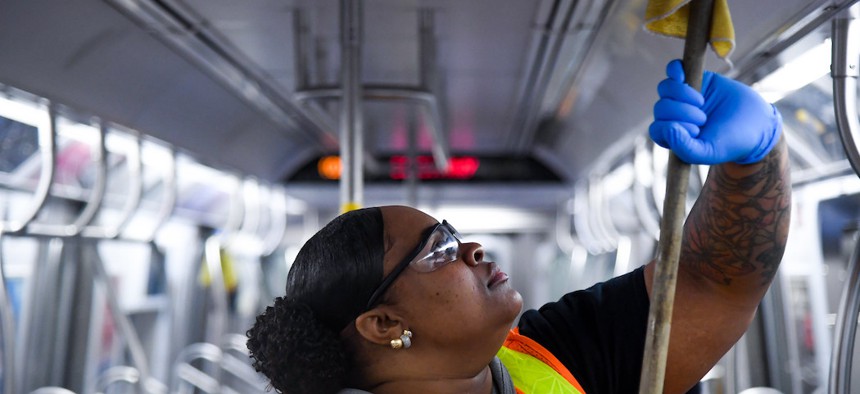 The Metropolitan Transportation Authority has long been New York City's favorite punching bag – a source of near constant public scrutiny that most New Yorkers rely on to get from place to place, but often fails to deliver adequate or reliable service.
But late last year and early this year, things were looking up for the MTA. The agency's new $51.5 billion capital plan was approved, and New York City subways reached new heights for on-time performance and months of consecutive improvement.
Then the coronavirus pandemic hit. The virus's crippling impact on the New York metropolitan area has been well documented, and the impact on the MTA and transit workers in particular has been equally staggering. In mid-April, the MTA said ridership on the subways, Long Island Rail Road and Metro-North Railroad was down more than 90% compared to last year. The number of bridge and tunnel crossings has also decreased by more than 60%, and the authority is spending $300 million on coronavirus-related expenses like disinfecting stations, cars and buses. A recent economic analysis by McKinsey & Company put the total economic impact of the pandemic on the MTA between $7.1 billion and $8.5 billion in its operating budget this year, including losses in fare and toll revenues between $4.7 billion and $5.9 billion.
Of course, it's not the case that MTA was in for smooth sailing for the next decade had it not been for the coronavirus. The authority was already working with a growing deficit in its operating budget – the funds that keep the trains running and workers paid, as opposed to the capital budget focused on long-term infrastructure projects and system upgrades. And earlier this year, the departure of highly praised New York City Transit President Andy Byford left many doubtful that improvements in subway performance would continue in his absence.
But there was at least a plan for continued improvements. Ongoing projects from the previous capital plan included signal upgrades, and the aggressive $51.5 billion capital plan for 2020-2024 was set to kick that modernization project into high gear. The 2020-2024 capital plan was slated to continue improvements in subway performance and bring major overhauls to the rest of the system, with more than $7 billion for signal modernization, more than $5 billion in station accessibility upgrades and $2.5 billion for new buses. Plus, it included new sources of revenue for capital projects, including congestion pricing, the internet sales tax and mansion tax. But the coronavirus-induced financial hits to the operating budget are putting those plans in serious jeopardy, experts say. "The MTA's budget was in many respects a house of cards in December, when it was passed," said Danny Pearlstein, communications and policy director at the transit advocacy group Riders Alliance. "The virus has acted like a stiff wind, blowing that all over."
Those experts also say that the MTA is in the precarious position of being less certain of funding for those critical capital projects than ever, while at the same time being more in need of those upgrades than ever. Not only is a functioning transit system critical to getting New Yorkers back to work when the state reopens, but the authority's ability to run even more frequent trains on reliable schedules will be important to maintain social distancing as the coronavirus pandemic plays out.
"The MTA's budget was in many respects a house of cards. … The virus has acted like a stiff wind." – Danny Pearlstein, Riders Alliance communications and policy director
In January, the MTA celebrated its highest weekday on-time performance rate for the subways – the percentage of trains arriving within five minutes of their expected time – since 2013. "Ridership was rebounding in 2019. Performance was improving," according to Rachael Fauss, senior research analyst at the good government group Reinvent Albany. "But those gains will be completely eroded if they're not able to do at least some state of good repair work to keep the system fixed and upgraded and modern, because it's such an old system."
Crucial capital projects include signal modernization upgrades advanced by Byford's Fast Forward plan, which was slated to upgrade much of the subway's signaling system to the modern industry standard, called communications-based train control. Some lines have already been upgraded to the new signaling system, such as the L and the No. 7 lines, and contracts have already been awarded to upgrade the signaling systems on additional lines. The latest capital plan – the one jeopardized by the coronavirus's impact – would have brought that technology to seven other lines. "Transitioning to CBTC is crucial for them, and it's going to not only enable them to not have meltdowns and trains tripping the signals and getting stuck in the tunnels, but it's also going to enable them to run more trains and help to increase capacity," Fauss said. Running more trains means that each car can be less crowded – an imperative, assuming that New Yorkers still have to maintain social distancing practices as they gradually start to go back to work.
Because of the billions the MTA expects to lose in fare and toll revenue this year – not to mention the diminished revenue it expects to see from state and local taxes, and lower contributions from New York City and state – the first priority for the authority is plugging its operating budget hole. Already, the MTA received $3.8 billion in federal aid through the latest stimulus package. The state budget passed earlier this month also allows the authority to borrow from its capital budget to pay its operating expenses. "We are in a situation where we need to save the subway in order to fix it," Pearlstein said, adding the MTA first has to address the operating budget crisis. "And then, as part of responding to the pandemic, we need to make many of the same modernization upgrades that riders deserved before this."
What MTA officials, and now lawmakers, are pushing for is nearly $4 billion in new federal aid to plug that operating budget deficit through the end of 2020. At a virtual press conference on April 16, MTA Chairman and CEO Patrick Foye asked for $3.9 billion in new federal aid. Getting that aid from Congress is crucial to the MTA's recovery, experts said. And the less that the MTA has to borrow from its capital budget, the better chance those signal modernization and other improvement projects have of actually happening. "Without more assistance, all of the progress that's been made and the plans to modernize the system – they're all in jeopardy," Fauss said. "It really all comes back to ensuring that Congress can deliver for the riders."
But even if the MTA does get nearly $4 billion more in federal funding, the authority will likely have to start thinking about which projects in the next capital plan to prioritize. "I do think the capital plan is in significant peril right now," Nicole Gelinas, a senior fellow at the Manhattan Institute, said. "And they're going to have to start going through this and say, 'What are the most important projects?'"
"Without more assistance, all of the progress that's been made and the plans to modernize the system – they're all in jeopardy." – Rachael Fauss, Reinvent Albany senior research analyst
The MTA has yet to comment on what projects would be prioritized above others, but senior officials have indicated that "state of good repair work" like track and signal repairs will be at the top of the list. "I think in every scenario, signal modernization will be a first-order priority," Foye said at the press conference in mid-April. During that same call, Janno Lieber, who leads capital projects for the MTA, said that the signaling work that was already underway is still ongoing. The MTA has only instituted a 60-day pause on starting new capital projects. In addition, Lieber said that some work on capital projects is able to be done remotely. "The preparatory work for the signal modernizations that are yet to come in the next program has continued while the workforce has been telecommuting," he said. "The design work, which is obviously in-office work and on-computer work, has been continuing."
That leaves the question of what projects should take a back seat, assuming fare revenue remains low and new sources of revenue for the next capital plan don't bring in as much as projected. Gelinas suggested that signal modernization and track repairs should take precedence over projects like opening up Penn Station to Metro-North trains, or replacing buses. "If you can stretch out your existing buses for a few more years, they're going to have to think about doing things like that," Gelinas said.
Other projects in the 2020-2024 capital plan have been a long time coming and have been hard-fought victories for advocacy groups. The plan puts $5.2 billion toward subway station accessibility upgrades. Currently, roughly a quarter of the city's subway stations are wheelchair accessible. "We are a generation past the Americans with Disabilities Act, and our subway system is still overwhelmingly inaccessible to people who have trouble using stairs," Pearlstein said, emphasizing that the coronavirus shouldn't further delay accessibility upgrades. "We still need to maintain that commitment to an accessible transit system."
Both experts and MTA officials say the agency's recovery hinges on getting the $3.9 billion requested from the federal government. If that doesn't happen, or if significant amounts of money are borrowed from the capital budget, even the most important agency upgrades, such as signal upgrades and track repairs that keep the subway from falling into disarray, could be in jeopardy. "You don't want derailments, you don't want to sort of slide back into what we saw happening in 2016, 2017," Gelinas said, referencing overwhelming disruptions and derailments that led to Gov. Andrew Cuomo declaring a state of emergency for the subway system in 2017.
Pearlstein used another example in recent history to demonstrate just how bad things could get if the economic crisis caused by this pandemic results in delayed subway upgrades and federal funding doesn't come through. Following the 2008 financial crisis, the MTA transitioned to an austerity budget, slashing bus and subway service that resulted in ridership declines and cuts to maintenance and repairs. "We are just building out of that now, a dozen years later," Pearlstein said. "And now we're in a worse crisis. So we absolutely, 100% need our delegation in D.C. pulling for us like never before."
It's not yet clear that the MTA will get what it's asking for from Congress. Despite a number of members of Congress from New York holding influential positions, previous stimulus packages have beendisappointing. "I think there's certainly a risk," Gelinas said of the possibility that the MTA won't get more funding, or won't get the full $3.9 billion. "But the Republicans in Congress and the president are going to have to get used to the fact that this is not a time to be a fiscal conservative."
New York's congressional delegation, in a letter addressed to House and Senate leaders – including U.S. Senate Minority Leader Charles Schumer – called for additional federal relief for transit agencies, including the full $3.9 billion to keep the MTA running through the end of the year. "I'm hoping we'll get $4 billion in the next bill," Rep. Jerry Nadler told City & State. "I mean, we have to get the next $4 billion, because they need it to operate."