Budget
A new pot of pot revenue unlikely to save the state budget
Legalizing recreational marijuana is unlikely this year, and wouldn't provide immediate fiscal relief.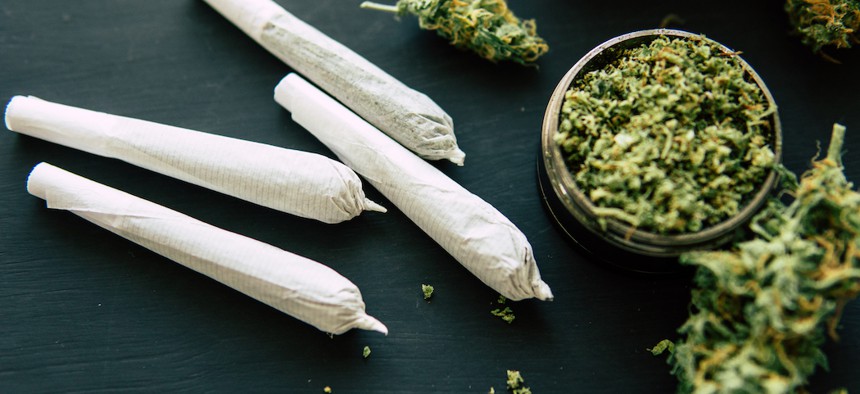 With New York facing at least a $10 billion budget gap this fiscal year, some state lawmakers are looking for something green to help solve the problem: weed. Legalizing marijuana would create a new source of tax revenue to help offset fallout from the coronavirus pandemic. But even if the Legislature managed to pass this complicated legislation in the waning days of session, it wouldn't remedy more immediate fiscal dilemmas.
State Sens. Jessica Ramos, Brad Hoylman and Jamaal Bailey joined with the Legal Aid Society to call for the passage of recreational marijuana legalization to create a new revenue stream for the state. "It's not enough to say the state doesn't have money. We have to find it," Ramos told the New York Post. "I believe legalizing marijuana can help."
But most of the measure's progressive backers have previously called for dedicating the revenue stream from taxing legal pot to investing in communities of color that have been disproportionately harmed by the drug's prohibition – a stance Legal Aid reaffirmed in its recent press release on the subject. 
What specifically to do with revenue has long been a sticking point between these advocates and their allies in the Legislature and Gov. Andrew Cuomo. Social justice and racial equality advocates want much of the tax revenue dedicated to specific communities, whereas Cuomo has wanted to keep the money a little more flexible by not including dedicated funding streams within the bill language. That issue was not resolved during this year's budget season, and there is no indication that anything has changed since then. 
The last day of the legislative session is currently set for June 2, so that lawmakers can return to their districts and prepare for primary elections on June 23. But they haven't met since they passed the budget on April 3, nor have they acted on any legislation since then either, despite continuing to collect their six-figure salaries. The state Senate is reportedly meeting next Tuesday and Wednesday. NY1 reported they plan to take up 12 coronavirus-relief bills. It seems unlikely that pot is on that agenda.
Cuomo on Friday also poured cold water on the prospect of raising revenue through legalization. When asked about the prospect at a press conference, the governor reiterated his support for legalization, but said "we didn't get it done this last session," implying that it was too late to pass it this year. (The New York state Legislature does not bother to meet at all in the second half of the year.) 
States with a recreational pot market have reported spikesin salesof the drug during the pandemic, a rare example of a retail industry that is weathering the crisis fairly well, presumably thanks to the drug's well-documented anti-anxiety properties. The continued appetite for marijuana bolsters the argument for setting up the industry in New York, because it could help stimulate the economy amid a recession, raise tax revenue and provide a safe, legal means of access for people who are unable to obtain pot while socially distancing. 
But New York does not already have an active legal market like in Colorado or Michigan. It could take at least a year to set up the regulatory structure for recreational marijuana and another year or more for businesses to get up and running. 
So the industry would be a long-term revenue stream rather than an immediate salve. Although marijuana is conservatively estimated to bring in $300 million a year when the industry is in full swing, Cuomo only included $20 million in taxes this fiscal year in his original budget proposal, with the sum increasing to just $63 million next year. Those estimates were before the pandemic hit, decimating the state's economy and businesses around the state. If the businesses themselves face roadblocks to opening because of coronavirus social distancing rules such as restrictions on construction, all the demand in the world wouldn't lead to significant revenue gains. 
The bill in the state Legislature also is fairly restrictive in how tax dollars can be spent. The money would not go into the state's general fund, which could then be dispersed where the state is experiencing the worst shortfalls. Much of the revenue would be set aside in a "community grants reinvestment fund" for areas impacted by marijuana enforcement, as well as education and drug treatment programs. Less than 25% of revenue would go towards the state Department of Education. While new revenue is new revenue, the structure of the bill right now doesn't lend itself to filling the state's massive budgetary shortfall.