Nonprofits
Nonprofits mourn cuts to New York City discretionary funding
Advocates say the cuts will disproportionately affect small grassroots organizations.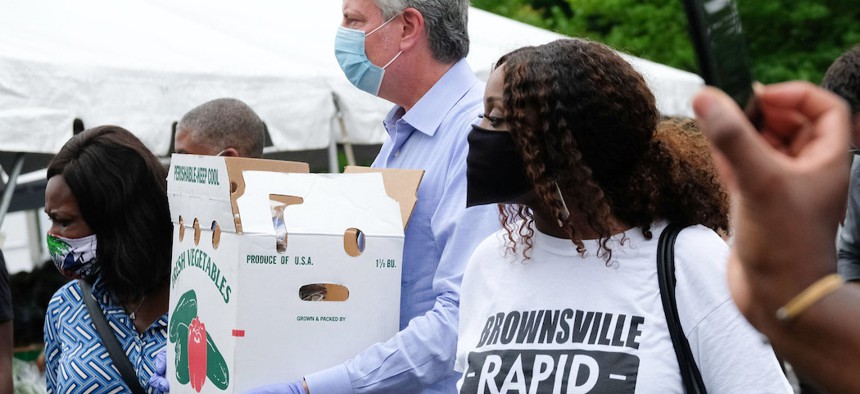 New York City Council members and borough presidents distribute hundreds of millions of dollars to local nonprofits each year through a pot of money referred to as discretionary funding. That funding now faces a nearly 20% cut in the budget approved last week, which had to contend with a $9 billion deficit.
Though those cuts may seem minimal in an $88.2 billion budget, nonprofits say they are particularly harmful to small grassroots organizations, which already operate on small margins. Whereas larger nonprofits may be able to access government contracts through city or state agencies, smaller groups that don't qualify for those contracts because of limited capacity and time find that applying for discretionary funds is a more accessible route. 
"It seems a disregard for the city to ignore that small community organizations in communities of color, that have the trust of the communities, are now getting defunded when they are having to work through these particularly challenging times," said Anita Gundanna, co-executive director of the Coalition for Asian American Children & Families, which represents several community organizations. 
Given that Mayor Bill de Blasio had at one point threatened to eliminate discretionary funding altogether, nonprofits are certainly finding themselves in a better position than they had feared. But he made it clear that between funding the city's nonprofit workforce and paying its public employees, the latter would take priority.
"We do have to consider layoffs and furloughs, but not layoffs and furloughs so we can take from our public workforce, which is the essence of how we keep the city going, and turn that money over to a nonprofit," he said last week. 
Michelle Jackson, executive director of the Human Services Council, which represents organizations that often rely on government funding, pushed back against the mayor's statement.
"Nonprofits are the source of economic recovery for New York after COVID," she said. "And to assume that nonprofits are not doing that work on the front lines every day as opposed to city workers, some of whom are not doing that work every day, is really concerning." 
A few specific initiatives funded through discretionary dollars faced even larger cuts. Several groups expressed dismay that the Communities of Color Nonprofit Stabilization Fund, which helps organizations led by people of color build capacity through financial management, technology and other services, was cut by about 30% in this year's budget. City officials cut an initiative to help formerly incarcerated people reenter their communities and another to give arts programming to senior centers each by almost 70%. While a handful of initiatives, such as the Crisis Management System, which focuses on gun violence prevention, saw marginal funding boosts, the majority either saw their funding slashed or kept level.
Not all was lost in this year's budget for the nonprofit sector. Many organizations successfully advocated for $115 million in youth summer programming to be restored this year, after the city had eliminated its Summer Youth Employment Program and proposed eliminating several other programs. But as organizations scramble to launch these programs with limited time to enroll children and teenagers, structure schedules and rehire laid-off employees, some advocates say they're frustrated that youth services hadn't been protected from the outset.
"It was really unfortunate we were in this situation to begin with," said Nora Moran, director of policy and advocacy at United Neighborhood Houses.