Police Brutality
Viral video of protester's arrest shows regular occurrence for New Yorkers of color
Arrests by plainclothes officers in unmarked vehicles are common in low-income communities of color say some advocates and legislators.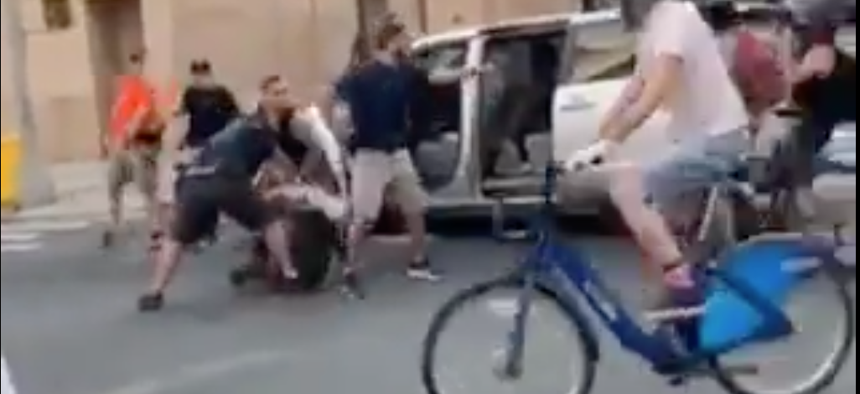 A video of a young protester in Manhattan being hustled into an unmarked van by plainclothes NYPD officers has sparked outrage from lawmakers, liberal activists and police reform advocates. Many compared it to the actions of federal law enforcement officers in Portland, who have been recorded hauling off protesters in unmarked vehicles after failing to identify what agency they were from. 
But as shocking as the footage was, especially in light of events happening in other parts of the country, the sight was not a new one for many Black New Yorkers and other people of color. Similar arrests made by plainclothes officers are a common occurrence in neighborhoods of color. 
As lawmakers expressed their outrage over the video – City Council Speaker called it "incredibly disturbing" and Public Advocate Jumaane Williams said he was "concerned" about what he saw and would seek answers – public defenders and Black New Yorkers were taking to Twitter to say this is nothing new. "This is not a new policing strategy - I mean, maybe for protests, but this is how NYPD polices Black and Brown neighborhoods," defense attorney Rebecca Kavangh wrote in response to the viral video. State Sen. Zellnor Myrie, who represents a largely Black Brooklyn district that includes Brownsville and Crown Heights, tweeted that the NYPD "does this in my district on the reg."
According to the NYPD, the woman arrested, identified as Nikki Stone, had an arrest warrant for allegedly vandalizing police cameras on several different occasions. The officers who arrested her were members of the warrant squad, who regularly work in civilian clothes and use unmarked vehicles. Jenvinne Wong, an attorney with Legal Aid Society who leads its Cop Accountability Project, said that any public defender in the city probably has stories about clients who were arrested using tactics similar to those seen in the video. "I've had clients say they didn't realize that (the people arresting them) are officers until they're tackled on the ground," Wong told City & State. "And then when they were in the back of the vehicle, they saw the badges and that's when they realized 'Oh, they're cops.'" The difference is the arrests happening in Black and brown low-income communities are rarely recorded because they do not happen in the context of a crowded protest. 
Although Stone is white, she is a trans woman and is homeless. Police reform advocates say that the homeless and LGBTQ New Yorkers are disproportionately subject to aggressive policing. "We know that people of color and transgender people are at greater risk of police brutality," Human Rights Campaign President Alphonso David said in a statement to ABC News. 
Wong said that the arrest in the video seemed unusual for the amount of force officers used for the low-level criminal mischief and vandalism charges Stone faced. Multiple cops can be seen wrestling her to the ground and manhandling her into a van, while additional officers used their bikes to keep protesters from getting too close.
Usually, Wong said, those kinds of tactics are used more often if someone is wanted for a felony, but added that doesn't mean it never happens. "It doesn't have to be this violent, but, in many instances, NYPD warrant squads are this violent, and are this aggressive," Wong said. 
And even if they are less aggressive, arrests made by warrant squads can still be unsettling, especially if someone doesn't know they have an outstanding warrant. Wong described a situation where someone is walking down the street with a friend when a group of people jump out of a car, cuff the friend and drive away in an unmarked car. That happens with warrant squads, whose identity may be lost in the confusion of the arrest and who legally don't have to tell the arrestee why they're being arrested.
Myrie told City & State that in Black neighborhoods like those he represents, these types of arrests by warrant squads and plainclothes officers where people get taken away in unmarked cars after unexpected encounters, are "in the fabric of the community," built on "years of practice." He added that he doesn't get the same complaints from the majority-white neighborhoods he represents. "This plays out, to no one's surprise, very much like other enforcement efforts," Myrie told City & State, like the city's history of racist use of stop-and-frisk and the fact that people recently arrested for violating social distancing regulations have been disproportionately Black and Latino. 
Myrie expressed concern that police may begin using outstanding warrants as a way to target and arrest protest leadership in ways similar to federal officers in Portland – although, as of yet, there is no evidence to support this. But Myrie also cautioned against drawing too much of a parallel between the actions of the federal government and the arrest seen in New York City. "We have a tendency to… vilify the actions of this particular federal administration, and I have done so where appropriate," Myrie said. "But when we do that, I think we lose the reality that this isn't something that is new or necessarily attached to this administration. This is in the DNA of the New York Police Department."
Myrie said he hopes that the energy and anger over Tuesday's arrest – which also made headlines across the country and drew condemnation from Massachusetts Sen. Ed Markey – will carry over to helping Black communities that have long experienced the kind of policing that sparked the outrage. But he said he first wants an acknowledgement from Police Commissioner Dermot Shea and Mayor Bill de Blasio "of the brutality of this approach."
That acknowledgement may not come any time soon. In a tweet Tuesday night the NYPD seemed to defend the aggressiveness of the arrest by claiming that protesters were throwing rocks at police. The department did not offer an explanation of why such a presence was needed to aid in the arrest of one person wanted for vandalism. Witnesses interviewed by Gothamist said no rocks were thrown. 
In a request for comment, an NYPD spokesperson referred to an interview Chief of Department Terrence Monahan gave WABC on Wednesday. Monahan said that Stone approached and tried to antagonize the officers waiting for a chance to arrest her away from the crowd. He said "at that point there was nothing else to be done." Monahan did, however, express displeasure that Stone was able to identify the plainclothes officers as police. "It would have been better if they could have been a little less transparent while they were doing the observation on her," Monahan said. He added that he was frustrated Stone was released soon after her arrest.
De Blasio also skirted the issue on Wednesday. "I think it was the wrong time and the wrong place to effectuate that arrest," de Blasio said when asked about the arrest at a press briefing, adding that if someone vandalizes property, they must face the consequences. He did not offer an opinion on when the right time, place and method would have been to arrest Stone, nor did he indicate that any officers involved would be investigated. When asked about discipline, de Blasio replied "I don't think this is about the officers."
Powered By
NEXT STORY: Gig workers rights inch forward during pandemic