Criminal justice
Incarcerated New Yorkers may lose out on stimulus checks
Prisoners have just a week left to claim their stimulus checks. But many say they have not been provided with the paperwork.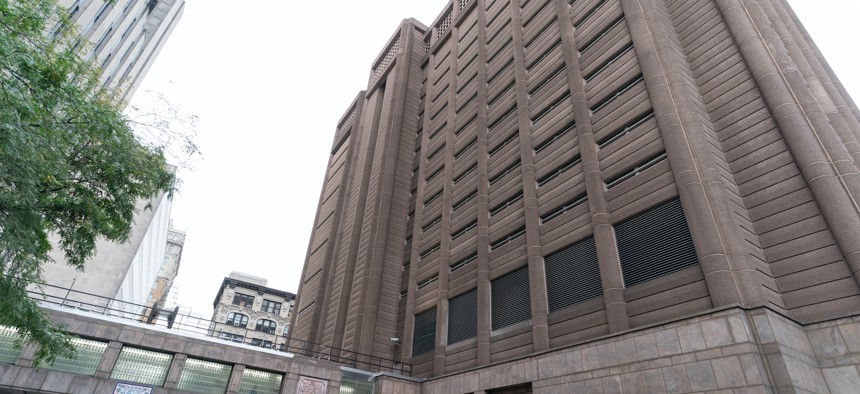 Incarcerated people have just a week left to mail in their applications for stimulus checks before the November 4 deadline. But many aren't aware that they're eligible or don't have the information and forms they need to apply. Unless New York prisons and jails do more to help, prisoners and their advocates say, thousands of incarcerated New Yorkers may not receive the $1,200 payments.
After the federal Coronavirus Aid, Relief and Economic Security Act was enacted in late March, the Internal Revenue Service sent over $100 million worth of economic stimulus check payments to roughly 85,000 prisoners across the country. Then, in early May, the IRS reversed course, declaring that incarcerated people were ineligible for the payments and instructing prisoners to return any money they'd received.
In late September, a federal judge ruled that the decision to exclude incarcerated individuals was "arbitrary and capricious" and that the IRS could no longer deny stimulus checks to prisoners.
Around 42% of the country's incarcerated population will receive a stimulus check automatically because they have either recently filed a tax return or receive certain public benefits, according to an IRS court declaration following the decision. The remaining 58% must fill out the online non-filer's form or mail in the Form 1040, a simplified tax return, in order to apply for the payment.
If the federal percentages are applicable in New York, more than 25,000 currently incarcerated New Yorkers must file applications in order to receive the payments.
New York's public defenders and criminal justice reform advocates have called upon the state's prisons and jails, which are not legally obligated to provide any assistance on stimulus check applications, to distribute individual copies of eligibility notices, the 1040 tax forms, and instructions on how to fill them out. "There should be an effort by corrections staff to go cell block by cell block and make sure people have this information," said Insha Rahman, a vice president at the Vera Institute of Justice.
The agencies overseeing New York's prisons and jails have instructed facilities to offer some assistance. The New York City Department of Corrections has directed wardens at city jails to include eligibility information, instructions and blank 1040s in weekly newsletters distributed in housing areas.
The New York State Commission on Corrections, an oversight body appointed by Gov. Andrew Cuomo, has instructed each of the state's local jails to "immediately disseminate a copy of the attached documents (notices, instructions and 1040s) to every individual currently incarcerated therein."
The New York State Department of Corrections and Community Supervision has not required the state's prisons, which house around 75% of the state's incarcerated population, to distribute 1040s and instructions to each person in their custody. Instead, according to department spokesman Thomas Mailey, the agency instructed prisons to post notices on bulletin boards and to make the 1040s and instructions available upon request in libraries.
But some prisoners and their advocates say that many prisons and jails across the state have not complied with these directives.
One prisoner at Five Points Correctional Facility, a maximum security prison in Seneca County, said over the phone on Thursday that there was no information about stimulus checks posted anywhere in the prison. (All incarcerated people quoted in this article have been granted anonymity in order to protect against retaliation.) According to the prisoner, some people incarcerated at Five Points have received blank 1040s in the mail from outside organizations. Some prisoners have then photocopied and distributed those forms among their friends.
But only a minority of prisoners at Five Points know they are eligible, the prisoner said, and some assume the forms are scams. When he asked a corrections officer for a form, the prisoner at Five Points said, the officer responded, "What, you guys are doing your taxes now?"
A prisoner at Great Meadow, a prison in Washington County, said on Saturday that prison staff "don't give information – no help, no nothing." When asked whether any information was posted, he responded, "I'm looking at the only bulletin board, and there's nothing posted at all."
When asked if the Dutchess County Jail was providing assistance on stimulus checks, an administrator who answered the phone on Friday said, "we're working on it." But she mentioned that the jail was currently looking into whether people in their custody are eligible for the checks, explaining, "it might not apply to county inmates."
The court ruling does indeed apply to all incarcerated individuals, regardless of facility type, confirmed Lisa Holder, an attorney who represented prisoners in the class action lawsuit against the IRS.
Jails on Rikers Island may have distributed more information than prisons and local jails upstate. Staff at the George R. Vierno Center, a jail on Rikers Island, handed out paperwork related to stimulus checks, one person incarcerated there told a trial attorney with the New York County Defender Services. A client of Bronx public defender Tahanee Dunn, also incarcerated on Rikers Island, told her that jail staff gave him a blank 1040 on October 12.
Even so, some people incarcerated at Rikers say they have not received official information. On Friday, one client told Brooke Menschel, the civil rights and law reform director of the Brooklyn Defender Services, that he had not heard about stimulus checks "from anyone at DOC, had not been provided a 1040, had not seen any postings, and had no knowledge of the case or the option to submit a non-filer form other than what he received in the mail" from an outside organization.
Attica Correctional Facility, a prison in Wyoming County best known for a 1971 riot, has made forms available in its Law Library. But staff may have restricted access to the forms, according to handwritten letters from two separate prisoners sent to a prisoner support organization. The organization, which shared photos of all letters quoted in this article, requested anonymity in order to protect the prisoners who wrote the letters against any possibility of retaliation.
"I requested an additional form because the first one I completed and sent out wasn't filled out properly and was denied an additional form," wrote one prisoner. "I tried to make copies of the first form in case of a mistake, and was denied doing that because I can allegedly give out blank forms to other inmates and they won't be able to keep track of who has gotten one."
Another prisoner wrote, "Several weeks ago, I have requested from the administration here for the 1040 tax form. Not surprisingly, the request was not answered."
In an emailed statement responding to all allegations in this story pertaining to prisons, Mailey wrote, "These allegations are baseless and false. All of these facilities have confirmed that the eligibility information is posted and the 1040 forms are available in the law libraries and that no grievances regarding the stimulus checks have been submitted in any of these facilities."
In another handwritten letter, one prisoner at Wende Correctional Facility in Erie County wrote, "An associate of mine received some important IRS papers from you that I need a copy of. I'm writing with a glimmer of hope that you might be willing to send me a copy of my own?"
In addition to facilitating paper applications, advocates and public defenders say prisons and jails should enable incarcerated people to fill out the IRS's online application for stimulus payments, which has a later deadline of November 21.
The Legal Aid Society sent the Department of Corrections and Community Supervision a letter on October 5 requesting that incarcerated people be allowed to use computers connected to the internet, which they are usually barred from accessing, in order to fill out the online form. The state agency did not respond to the letter. In a response to a query for this article, press officers at the state prison and New York City jail systems said technological and security constraints made it impossible to provide access to the online form within jails and prisons.
Bianca Tylek, executive director of the prisoners' advocacy organization Worth Rises, argued that prison staff could facilitate and supervise access to the online form on staff computers. "People go to counselors' offices every single day, with the counselors there, with their computers, with the internet," Tylek said.
Jason Kersten, a spokesman for the New York City Department of Corrections suggested that this would require more training and manpower than the department could provide, especially due to constraints imposed by the pandemic. Kersten had also said that DOC program staff is available to assist with filling out the paper form. When asked why the same staff could not assist with the online form, he said it was an idea worth looking into.
People incarcerated in state prisons can access email, download movies and transfer money on tablets provided by the company JPay. In Ohio, according to screenshots shared by Azzurra Crispino, executive director of Prison Abolition & Prisoner Support, all incarcerated individuals statewide have received a notification through JPay technology about stimulus check eligibility and how to request the 1040 forms. Mailey, the spokesman for New York's prison system, did not respond to multiple questions about why the agency has not sent out a similar notification.
Federal District Judge Phyllis Hamilton ordered that by October 28, the IRS must mail incarcerated individuals copies of the Form 1040, the one page simplified tax form they must fill out to apply.
But prisoners' advocates and public defenders are skeptical that these forms will get to incarcerated people in time for them to meet the November 4 deadline to fill out and mail in the 1040s. "The papers [have] to get into the jails and prisons, be processed, filled out, mailed out and postmarked," Menschel said, a process that she said could take more than 15 to 20 days in some cases. "Whether people will really have enough time to exercise their rights before the November 4 deadline seems really unrealistic," Menschel added.
Rather than relying on the IRS or correctional facilities to distribute the forms, public defender offices and advocates have spent much of October scrambling to mail packets of eligibility notices, blank 1040s and instructions to prisoners across the state. "The distribution of information is so poor inside of prisons and jails, and often so delayed, that the best we can do is try and inform as many people on the outside," said Tylek. "But it's absolutely absurd that the facilities, knowing what they know, would not [adequately] inform the people."

The Bronx Defenders mailed around 170 packets to its clients jailed on Rikers Island, Dunn said. One client said he received the packet on October 22, Dunn added, 15 days after it was mailed.
Prison Abolition & Prisoner Support has been mailing similar packets to thousands of incarcerated people across the country. Some prisons in New York have allowed the packets to go through, said Crispino, the organization's executive director, but others have returned them without explanation.
"There is no way of knowing what else may have been in the envelopes or packages that may have caused the return of the contents," said Mailey. Crispino said there was nothing in the packets other than the eligibility notices, blank 1040s, and instructions on how to fill them out.
In a handwritten letter written on October 20, a prisoner at Altona Correctional Facility in Clinton County wrote that the prison had allowed the eligibility notice and instructions to go through, but not the tax form. "The mailroom deemed the 1040 Form as contraband, stating that there was a 1040 form available in the law library," he wrote.
The prison "has not posted any info or instructions for us regarding this wonderful news" about the court ruling, the prisoner added. "The majority of the inmates in this facility know nothing about it."
This story was published in partnership with New York Focus, an independent investigative news publication covering New York state and city politics. Sign up for their newsletter here.