Housing
The push for new tenant protections gains traction in Albany
Lawmakers and activists say a new eviction moratorium is the first step in a wider 2021 effort.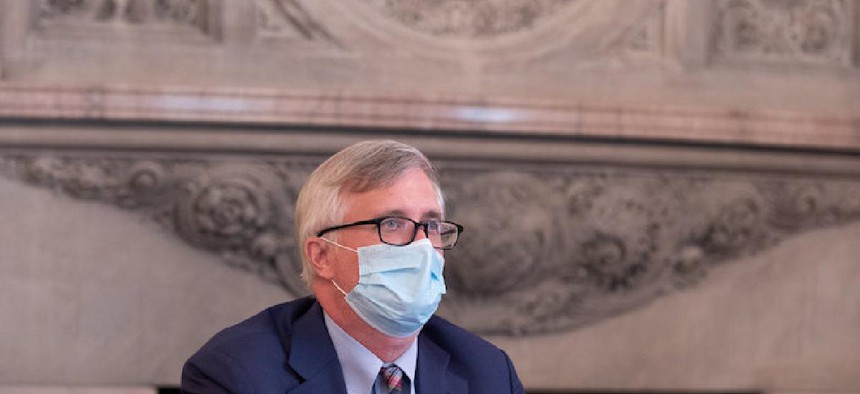 Despite a schedule that has been disrupted for most of the year by the coronavirus pandemic, state lawmakers have managed to reconvene repeatedly, including getting together in the late spring to consider legislation aimed at smoothing the economic recovery from COVID-19, a summertime session to pass new police reforms, and an end-of-the-year meeting to approve what legislative leaders are calling the "strongest eviction moratorium in the country."
A bill expected to pass today (here is a legislative cheatsheet) would block the filing of new eviction cases for at least 60 days while preventing any new evictions for qualifying tenants until May 1, 2021. Homeowners and landlords who own 10 or fewer units would receive similar protections under the legislation introduced on Christmas Eve. "We tend to use a lot of hyperbole, but this might be the most impactful legislation, at least that I've sponsored, ever," Assembly Judiciary Committee Chair Jeffrey Dinowitz, said in an interview. "This is going to keep tens of thousands of people from being evicted or from losing their homes." Gov. Andrew Cuomo, whose own executive orders would be superseded by the new legislation, said Monday that he would sign the legislation. 
State lawmakers – who may or may not still pass additional legislation before the end of the year – and housing activists alike say that passing the new moratorium on evictions and foreclosures is just the first step in a monthslong legislative push to pass a state budget that includes additional housing protections for New Yorkers hit hard by the pandemic. Discussions remain ongoing on how to do that while plugging a multibillion-dollar state budget deficit.
"The eviction and foreclosure moratorium that we're passing will give us and millions of New Yorkers some breathing space to figure that out," state Senate Housing Committee Chair Brian Kavanagh, who co-sponsored the bill with Assembly Member Jeffrey Dinowitz, said in an interview. "We are coming at a moment when we're beginning to see the light at the end of the tunnel of the pandemic, but we still have a long way to go." Kavanagh added that a future relief program as big as $3.5 billion could be needed to help tenants and homeowners during the pandemic, saying it could be funded through additional federal aid and new taxes on the wealthy.
Other additional measures that could pass in the future include outstanding legislation to cancel rent, extending the moratorium on evictions for an additional year after the public health emergency ends, and passing a "Good Cause" eviction bill that would make it easier for tenants to get lease renewals without hefty rent increases. While pushing for more action in the coming months, the new moratorium bill is receiving positive reviews from housing activists. "Passing the legislature's moratorium would be an important first step by state leaders following months of organizing by the Black, Brown and low-income communities facing the brunt of the evictions crisis," reads a Monday statement from Citizen Action of New York. Legal advocacy groups like The Legal Aid Society are also praising the legislation for making it easier for tenants to manage the sometimes tricky details of housing court.
Such proposals could exacerbate tensions between moderate and left-wing Democrats, though some progressives are eager to see Assembly Speaker Carl Heastie and state Senate Majority Leader Andrea Stewart-Cousins strike two-way deals before including Cuomo in negotiating future housing protections. Their success in outmaneuvering Cuomo on new tenant-friendly state rent laws last year demonstrated the efficacy of such an approach, according to Cea Weaver, campaign coordinator at the Housing Justice for All Coalition of advocacy groups. "The same story that we saw in 2019, I hope that we'll see in 2021," Weaver said in an interview. "This sets up really nicely for what we can do with the supermajorities in both houses." 
Powered By
NEXT STORY: How New York could improve vaccine equity