Criminal justice
Why aren't state prisoners being vaccinated yet?
New York goes against CDC recommendations by not vaccinating corrections officers and inmates at the same time.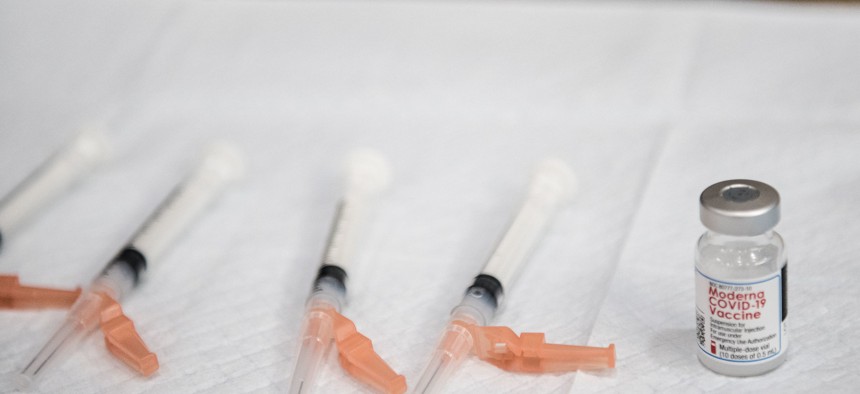 A coalition of public defender groups sent a letter to Gov. Andrew Cuomo demanding that the state vaccinate incarcerated people against COVID-19. The public defenders called the state's policy of vaccinating corrections officers and not inmates "inhumane," and they threatened to sue the state if the policy wasn't changed.
In the letter from Wednesday, the groups argued that the state's failure to vaccinate inmates puts people under the state's charge at serious risk. So far, 30 inmates have died of COVID-19, a third of which have happened within the past month, and 4,942 inmates have contracted the virus since the pandemic began.
"This is deliberate indifference: New York has the ability to protect lives, but lacks the political will," the letter stated. "Your plan is costing lives as people are dying in New York State prisons from preventable COVID-19 illnesses."
Currently, only correction officers are eligible to receive the vaccine under the state's Phase 1B distribution schedule, which began on Jan. 11. Despite the documented high risk of contracting the virus, inmates were placed in Phase 2.
"We demand that you change this policy effective immediately and authorize vaccinations for people held in jail and prison custody," the letter stated. "If you do not change your policy, we will have no choice but to seek legal remedies for our clients."
The state Department of Corrections and Community Supervision has not yet indicated when incarcerated people will receive the vaccine but has said it "is still working" with the state Department of Health to "develop a plan."
"We have people dying on a weekly basis," Stefen Short, a lawyer for the Prisoners' Rights Project at the Legal Aid Society, told The New York Times. "What are the plans? There's got to be a consistent message coming out of Albany and coming out of these agencies on this. Otherwise, you're just generating a lot of fear."
The Centers for Disease Control and Prevention recommended that inmates receive vaccines at the same time as prison employees, as they have a "shared increased risk of disease." Additionally, prisons are congregate settings, which means outbreaks can be incredibly difficult to get under control, as individuals shower, eat and sleep amongst each other with limited to no ability to isolate. "Prisons are incubators of infectious disease," Dr. Eric Toner, a co-author of a Johns Hopkins Center for Health Security report on vaccine distribution, told the Times in November.
Since October, the state has had to grapple with large COVID-19 outbreaks at two of its prisons, the Elmira Correctional Facility in Elmira and the Greene Correctional Facility in Coxsackie that resulted in hundreds of prisoners contracting the virus. But in December, seven of the state's prisons saw surges of the virus among their incarcerated populations – and things have only continued to worsen.
Prisons, though isolated environments, do not exist in a vacuum, as corrections officers and other prison employees as well as attorneys move in and out of them on a regular basis. This means that the health crisis being experienced inside of prisons has greater ramifications for the general population.
Some surrounding states, including New Jersey and Massachusetts, have already begun vaccinating inmates, and Connecticut is expected to begin doing so next month. In New Jersey, both prison guards and inmates were vaccinated at the same time, based on CDC recommendations. Massachusetts took a similar approach, scheduling inmates and other individuals living in congregate settings to receive vaccines after health care workers.
The CDC also strongly recommended that inmates with chronic health conditions be prioritized to receive the vaccine. So far, one 65-year-old incarcerated man with chronic lung disease was given the vaccine in New York, after a state judge ordered the corrections department to administer the vaccine in mid-January.
"This is a landmark decision," Short told Gothamist. "It sort of reifies what we've been saying for weeks, which is that is that our clients are uniquely susceptible and that the vaccination is an important step to protect them."
Prisons are also disproportionately populated by Black and Latino people, and some attorneys argued that not providing the vaccine to inmates is just another, in a series of examples, of how the coronavirus has inordinately harmed people of color in New York.
"There truly is no good rationale for it. There's no health rationale. There's no bioethical rationale," Mary Lynne Werlwas, director of Legal Aid's Prisoners' Rights Project, told Politico New York. "It's clear to us that it's just indifference to the lives of people who are incarcerated, who are predominantly Black and brown people."
While medical professionals largely agree that inmates should be prioritized to get the vaccine, after medical workers and other first responders, not everyone feels that they should not be among those first in line to receive the vaccine since doses are in limited supply throughout the country.
"I understand the issues in congregate settings," Republican state Sen. Patrick Gallivan, who serves on the Health Committee, told the Times. "My concern is that if we were to use the short supply of vaccines, it's at the expense of some of these other priority groups."