Housing
NYC's reluctance to end contracts with notorious nonprofits
The New York Times' bombshell report about one of the city's biggest homeless shelter providers points to its inability to hold shelter operators accountable for their troubling behavior.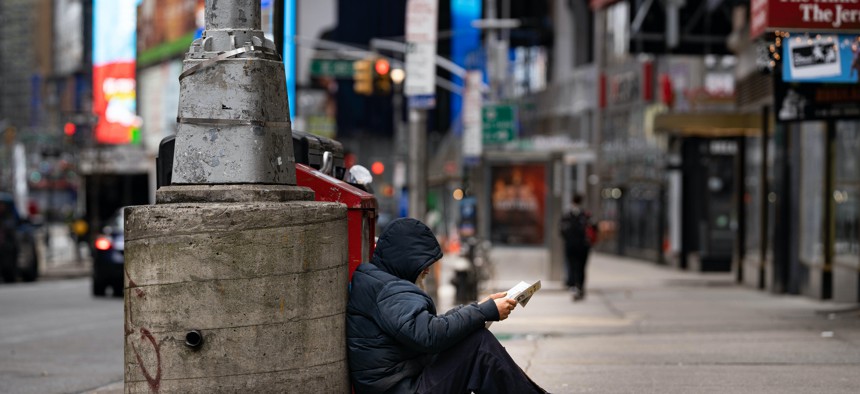 On Sunday, The New York Times published a damning investigation into Bronx Parent Housing Network's chief executive Victor Rivera, who has been accused of sexual and financial abuse while running one of New York City's biggest nonprofit homeless shelter systems. The report draws attention to a troubling pattern among nonprofits contracted by the city to provide shelter services: despite persistent complaints, the city is often reluctant to cancel contracts due to a need for shelter space. 
Ten women, who were housed in shelters run by Rivera or worked from him, alleged he had coerced them into sexual acts by threatening their housing or employment. While several of the women named in the Times' report had filed reports with the NYPD, little was done about Rivera. Some former employees were even paid hush money to keep quiet about the abuse and harassment they endured while working with him. 
Rivera also reportedly used his position at Bronx Parent Housing Network to hire family members, including his wife. As the number of contracts Rivera had with the city ballooned from 2017 and on, so did his paycheck. In 2018, the city put the network of shelters on a "corrective action plan," which meant that it would be facing additional supervision from the city. Currently, 10 out of 70 shelters citywide are under corrective action plans and continue to receive city funding.
Rivera was put on leave following the report's publication but has denied all of the allegations levied against him. "I have always treated the women I work with at B.P.H.N. with dignity and respect. These allegations are unfair, baseless and without merit," Rivera said in a statement.
New York City Mayor Bill de Blasio announced he would be launching an expansive investigation into the city's homeless service operators following the Times' scoop. Prosecutors in the Bronx have also opened up a criminal investigation into Rivera's alleged activities while running his expansive network of homeless shelters.
The city has a legal obligation to provide shelter to anyone who asks for it, but as the homelessness crisis has worsened considerably over the years the city has become overly reliant on a limited number of nonprofits who are prepared and able to take on the responsibility of running shelters. "It seems to me that this group was huge, and the city didn't want to rock the boat because they needed the beds," Christine Quinn, former City Council speaker and chief executive of Win, a shelter and homeless services provider, told the Times.
Throughout the past few years there have been several similar incidents that appear to indicate the city's reluctance to part with unscrupulous shelter providers, in an effort to meet its growing demand for shelter space.
In March, 2020, Childrens Community Services, one of the city's largest operators of shelters for homeless families was sued by the city for fraud after being paid over $500 million in contracts since 2017, failing to provide services and supplies. City & State's sister publication New York Nonprofit Media initially reported in 2018 that, despite being a top homeless service provider, the group did not appear to be operating at the capacity it was expected to.
In 2019, the city also launched a probe into Acacia Network Housing, one of its top homeless shelter operators that had been awarded over $1 billion in city funding since 2010, after it was revealed that it had ties to a for-profit security company.
Those familiar with the city's contracts suggest that the issue can be pegged to a lack of oversight over the city's shelter operators overall. City Council Member Stephen Levin, chair of the General Welfare Committee, which supervises the city's various social services, took to Twitter, following the release of the Times' report, questioning how much the city's Department of Homeless Services already knew about Rivera and why it had not dealt with this matter sooner. "In 15+ years in govt and housing nonprofit, I can't recall seeing anything as egregious as this-a powerful CEO coercing clients into sex in exchange for helping them," Levin tweeted.
Regardless of how much the city needs space for individuals experiencing homelessness, the city should be ensuring that its shelter providers continue to be held accountable for their behavior, Isaac McGinn, a spokesperson for the Department of Social Services, told the Times last week. "When an issue is identified that a provider must resolve, we use every tool at our disposal, including corrective action plans, to enforce compliance, since we have a legal and moral obligation to provide shelter to all those who need it, no matter what," McGinn said. "Our first objective is therefore to resolve matters collaboratively."
Powered By
NEXT STORY: There might be a new way to free up more COVID-19 vaccines