Andrew Cuomo
3 contentious post-budget issues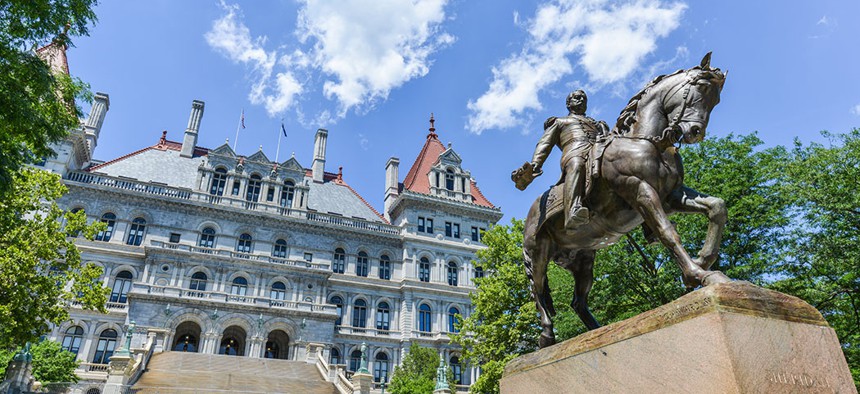 The state budget is done, but the 2021 legislative session is hardly over. The remaining nine weeks could even be more contentious than recent months. 
Gov. Andrew Cuomo still faces multiple investigations related to alleged sexual misconduct, his handling of COVID-19 in nursing homes and a litany of other scandals. Democratic lawmakers may or may not actually impeach the three-term governor, but relations between the governor and the Democratic legislative supermajorities that can override his vetoes will remain strained for some time. While the budget highlighted how this dynamic can work to legislators' advantages, controversial provisions like relief for undocumented people showed how simmering tensions between moderate Democrats and their left-leaning colleagues can blow up at any time. 
Single-payer health care is one hot-button issue that could ignite some inner-party strife. Past fights over limiting cash bail suggest parole reform will also test Democratic loyalty. And then there's the billion dollar question surrounding whether progressives can sell their colleagues on a proposal to tax the heck out of fossil fuel polluters to fund the state response to climate change. Whether the issue is big or small, the bottom line is Democratic lawmakers have to bridge some significant differences to get things done in the months ahead. Three outstanding proposals illustrate this.
Climate and Community Investment Act
State lawmakers and the governor struck a deal two years ago on a landmark law called the Climate Leadership and Community Protection Act, which mandates an 85% reduction in state carbon emissions by 2050 compared to 1990 levels. That effort is going to be expensive, which is why some environmentalists are pushing legislation to raise billions of dollars to support the implementation. 
The Climate and Community Investment Act proposal has the backing of a broad coalition of progressive environmental groups and lawmakers. Supporters say it could raise $15 billion per year by instituting a fee on greenhouse gases and other pollution. That money would then be invested in communities of color that were particularly affected by the longtime use of fossil fuels. 
Like the recent effort to legalize recreational marijuana, a lot comes down to where exactly this money goes. Solar panels are an obvious way to reinvest a tax on polluters, but the legislative language of the Climate and Community Investment Act features an expansive idea of what counts as infrastructure related to combating climate change and its myriad effects. Expanding child care services, for example, is included in the legislation.
A bill has only been introduced into the state Senate so far this year and it remains to be seen whether proponents of the legislation can mobilize the support of big environmental groups and key moderate Democrats like state Senate Environmental Conservation Committee Chair Todd Kaminsky. He has not signed onto the legislation as a co-sponsor, but he will co-chair an April 13 hearing on the legislation. 
New York Health Act
Nothing splits Democrats (remember the 2020 presidential primary?) like the idea of setting up a single-payer health care system. That is not likely to happen nationwide anytime soon, but could theoretically at the state level. This year marks the first time there have been enough co-sponsors of the New York Health Act, which has passed the Assembly in past years, to get it through the state Senate. However, the details of using federal money are complicated. The huge price tag of instituting single-payer at the state level will also make moderate lawmakers skittish. A likely gubernatorial veto does not make it any easier to overhaul the state health insurance system this year, but progressives say they are going to make a big push for the proposal this spring. 
Parole reform
The recent passage of new limits on solitary confinement makes it appear that progressive lawmakers and activists have the political initiative for parole reform. Key lawmakers like state Sen. Liz Krueger are backing two bills this year. The first proposal would make it easier for incarcerated people over age 55 to get parole if they have already served 15 or more years of their sentences. 
A second bill would change the standards by which the state Board of Parole decides releases. Currently, they can say that someone is not fit for release by considering the seriousness of an original crime, no matter how much time has elapsed since it was committed or how much rehabilitation the person has had. The legislation would change that by requiring the board to presume someone is ready for release as long as they serve the minimum time on their sentence and there is not a clear reason to keep them incarcerated. Ideas like these are opposed by powerful unions representing corrections officers and police, which could make swing district Democrats think twice before supporting them if they are worried about how the GOP might use it in the next election cycle.
Democrats' experience with limiting cash bail shows how tricky the politics of changing the criminal justice system can be. Reforms originally passed in the 2019 budget were partially rolled back the next year to allow more categories of criminal defendants to be subject to cash bail. It is a good example of how political realities complicate what are otherwise popular ideas among Democrats.