Policy
Johnson & Johnson pause could affect vaccine equity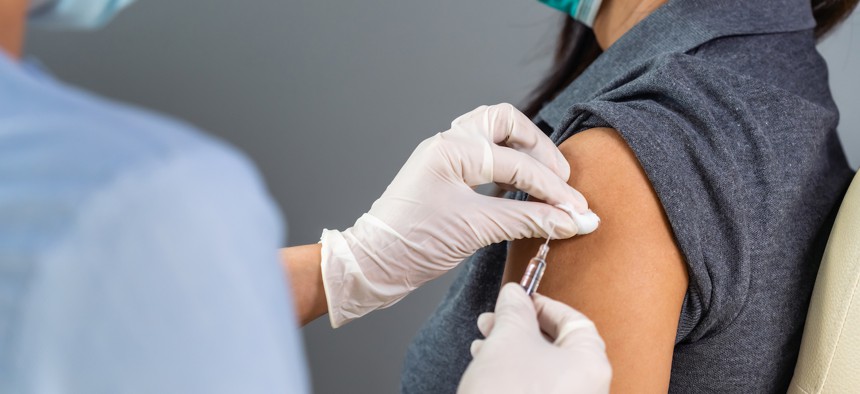 New York state hit a milestone on Monday, announcing that one-quarter of the population statewide is now fully vaccinated against the coronavirus. But staying true to the roller coaster of the last 13 months, that good news was accompanied by a setback. On Tuesday morning, the state announced that it would halt administration of Johnson & Johnson's one-dose COVID-19 vaccine, following federal authorities' call for a pause because of a very small number of recipients experiencing severe blood clotting issues.
The U.S. Centers for Disease Control and Prevention and the Food and Drug Administration cited six women across the country, among nearly seven million who received Johnson & Johnson's one-dose vaccine, who developed a "rare and severe" type of blood clot. One woman died and another is in critical condition. Though that represents a tiny fraction of all those who have received the shot, the regulators recommended a pause in administering the Johnson & Johnson vaccine out of an abundance of caution, while they review the blood clot cases. 
While it's unclear how long this pause will last, it will likely impede efforts by New York City and the state to vaccinate people – in particular, people who face barriers to accessing the vaccine. The Johnson & Johnson vaccine has some advantages over the other vaccines that have been approved for emergency use in the United States. Johnson & Johnson requires only one dose and it is also less cumbersome to store and ship than the Moderna and Pfizer-BioNTech vaccines, which each require storage at unusually cold temperatures.
These qualities make the Johnson & Johnson vaccine somewhat simpler to deploy for pop-up vaccination sites and in administering the shot to homebound people. New York City has relied exclusively on the Johnson & Johnson vaccine for its door-to-door program vaccinating homebound people, and Mayor Bill de Blasio said that program will have to be suspended for now. The state, meanwhile, has used Johnson & Johnson for its pop-up vaccination sites at New York City Housing Authority developments, community centers and churches, though not exclusively. These sites have also been administering the Pfizer and Moderna vaccines. 
A spokesperson for the state Department of Health told City & State in an email Tuesday afternoon that the state has enough Pfizer and Moderna vaccines to keep up the current vaccination rate, including at 16 new community-based pop-up sites announced last week. But on Tuesday night, after the deadline for this story had passed, the spokesperson sent a new statement and clarified that not all pop-up sites will immediately be able to adapt to offer Moderna or Pfizer in place of Johnson & Johnson. That means that fewer New Yorkers will be able to be vaccinated at pop-up sites while the Johnson & Johnson pause is in effect. "Some pop-up sites were able to adjust operations in order to proceed as planned while others are rescheduling for later dates," Samantha Fuld wrote in an email Tuesday night, noting that people with Johnson & Johnson vaccine appointments should check for updates from their medical providers. "We will continue to work with all providers and use all means necessary to get this life-saving vaccine to eligible New Yorkers statewide, particularly those in hard-hit communities."
These pop-up sites and at-home vaccinations are part of a larger effort to increase vaccinations among populations hit hardest by the pandemic, including people of color and low-income people, and among those who may be hesitant about getting the vaccine or who lack easy access to it. Not having the convenient one-dose Johnson & Johnson vaccine in New York's arsenal could mean a setback for that effort. "The optimism around the J&J shot was the feasibility," said Dr. Melody Goodman, associate dean for research at the New York University School of Global Public Health. "I do think it's more challenging getting everyone vaccinated and making it easy for people to get vaccinated," she said, of the Johnson & Johnson vaccine being put on pause.
Goodman added that all medications have side effects, and that the cases of blood clot shouldn't discourage people from getting the vaccine. Vaccine hesitancy remains an issue across demographic groups, and has been shown to be highest among white Republicans. But New York has made a concerted effort to address concerns about the vaccine in Black communities, where distrust in the American medical system stems from the deeply rooted systemic racism of American health care.
Some public health authorities, including Tom D'Angelo, president of the Pharmacists Society of the State of New York, said they hope the pause on the Johnson & Johnson vaccine will last only a few days. Janet Woodcock, the acting commissioner of the FDA, also said it was expected to last a matter of days. 
For however long it does last, it will likely affect the administration of some of the city and state's programs to vaccinate hard-to-reach populations, possibly making it more difficult to bridge the gap in vaccinations that still exists between white New Yorkers and people of color. Statewide, white people account for over 75% of people who have received at least one vaccine dose while making up 70% of the adult population, and Black people account for 10% of that group, despite making up roughly 17% of the population. 
New York City's program to vaccinate homebound people – including seniors and people with disabilities – has relied exclusively on the Johnson & Johnson vaccine. De Blasio said Tuesday that the program will have to be suspended for now. New York City Health Commissioner Dr. Dave Chokshi said that the city will try to shift people with Johnson & Johnson appointments at city sites to either the Pfizer or Moderna vaccine when possible. But the details on how the city will cope with the loss of Johnson & Johnson remain unclear.
Meanwhile, some of the state's efforts to combat inequity in vaccinations have been focused on pop-up vaccination sites at NYCHA developments, churches and other community sites. The Johnson & Johnson vaccine is used at these pop-ups, though the other vaccines have been used as well. Fuld, the Department of Health spokesperson, said that pop-up sites are re-established at the same location three to four weeks later, in order to provide people their second doses of the Pfizer or Moderna vaccine. While not all pop-up sites will be able proceed as planned to offer the Moderna or Pfizer vaccine in place of the Johnson & Johnson, some of them will, Fuld said. For now, public housing residents and others accessing those pop-up sites will have to count on making that return visit.
April Simpson, president of the Queensbridge Houses Residents Association, said that she received the two-dose Moderna vaccine at a pop-up site at Queensbridge, and said it was easy to come back for the second appointment. "I was hesitant at first, but all my doctors encouraged me," Simpson said. "My first shot was a breeze. My second shot left a little more to be desired. I had the symptoms of a little cold and body aches, and I had a headache. It lasted about two-and-a-half days, and then I was fine." Simpson added that after she received her first dose, she was told when to come back for her second and received several reminder calls ahead of the scheduled second dose. 
While administration of the Johnson & Johnson vaccine is paused, Goodman said it's important to remember that New Yorkers shouldn't be afraid of getting that vaccine or any of the others approved for use. "I think people are willing to tolerate a large number of side effects, but it's like vaccines are not allowed to have any," she said. "I think that's a ridiculous expectation for us to have, given that almost all medications we take have side effects."
This story has been updated with a new statement from the state Department of Health.