Labor
When union endorsements matter, and when they don't
In 2021, the smaller the race, the bigger the bounce from organized labor's backing.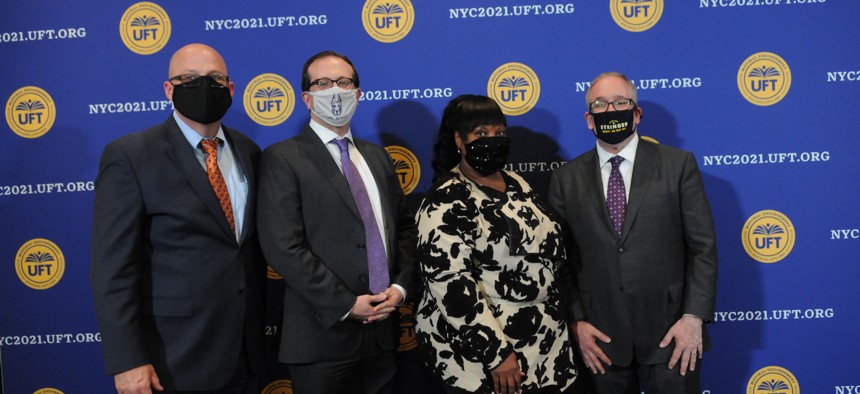 Every eight years, New York City has its own version of a political Olympics. Many municipal elected officials face term limits, forcing them from posts they'd rather cling to forever. The mayor, the city comptroller, the public advocate, the borough presidents and a majority of the City Council are usually ejected from their offices, and a huge crop of newcomers runs to replace them. 
This year, Mayor Bill de Blasio and City Comptroller Scott Stringer are term-limited, as are the presidents of every borough other than Queens and a large majority of the City Council.
Into this fray come the endorsers – the activist groups, political action committees, nonprofit organizations, county machines and the politicians themselves. Although every candidate would love the backing of a celebrity like Jay-Z, the endorsements that pack the biggest punch are not always the most glamorous. New York is still a labor town where a few major union endorsements can mean thousands of dollars, thousands of votes and a long-awaited victory.
But the outsized attention on the mayoral race – and a lack of media focus elsewhere – has meant that most members of the public and various political insiders are scrutinizing the endorsements that matter least. Scott Stringer winning the backing of the United Federation of Teachers, Maya Wiley scoring the support of 1199SEIU or Eric Adams seizing both the New York Hotel and Motel Trades Council and service workers union 32BJ SEIUwonplenty ofcoverage in prestigious outlets like Politico and The New York Times. The reason is understandable: These unions are all very big and could, in theory, tip the outcome of the race at the top of the ticket.
No candidate, however, has united the support of labor, potentially making this primary a repeat of what happened in 2013 when the major labor unions divided their support among four Democrats. Then-Public Advocate Bill de Blasio ended up winning comfortably, despite having fewer endorsements than Christine Quinn, who was City Council speaker at the time, and former city Comptroller Bill Thompson.
In general, organized labor's backing matters less in high-profile races. Voters learn more about the candidates and support who they want based on shared values or a gut feeling, rather than what the teachers union or health care workers union tells them to do.
"I think labor, when united, can still have an impact citywide," said Neal Kwatra, a veteran Democratic operative who has worked closely with labor unions. "However, they are definitely most impactful these days in the down-ballot council and legislative district races where manageable electorates make organizing on scale more viable, and voter contact strategies are cheaper and more efficient."
In other words, the smaller the race, the lower the turnout and the less the candidates are known – the more likely labor union endorsements will move the needle. These days, with diminished local press coverage and the Times editorial board's decision to not endorse in down-ballot contests, union and advocacy organization endorsements are one of the few ways, besides interacting with a candidate or campaign directly, that voters can get a sense of who their City Council candidates are and where they stand ideologically. 
Labor unions play that role for candidates through two crucial functions: pumping money into campaign coffers and contacting their own members who live in the district. Member-to-member contact is the most effective mechanism a union has. I learned this firsthand when I ran for the Democratic nomination for my local state Senate seat and found myself up against an opponent who had won the backing of several labor unions, including New York State United Teachers, the state teachers union.
My Brooklyn district was filled with many public school teachers, both active and retired. About a month before the primary, I learned from a teacher friend that NYSUT had already sent campaign mail for my opponent to his household. The union sent several mailers to every teacher in the district and made phone calls to them. My opponent was effectively benefiting from a free, parallel campaign being run on his behalf.
At that point, I had a sinking feeling that I wasn't going to win, and I turned out to be right. While I can't entirely attribute my defeat to labor unions not endorsing me – tactical errors and the relative strength of my opponent mattered too – I understood intimately that having these large organizations oppose me was going to be a major disadvantage. In total, a little more than 15,000 people voted in that Democratic primary. On a scale that small, I don't doubt that these endorsements mattered.
To figure out who's going to win the Democratic nomination – which is tantamount to the election in many districts – for City Council or the state Legislature, you can usually just look for who has the most labor endorsements. Some of this might be that the most organized campaign attracts union backing, or that unions choose candidates with deep political connections who appear to be front-runners. But it's also that amassing these endorsements means a lot of different unions will be contacting members, sending mail and kicking in campaign cash from their political action committees. 
A look back at labor endorsements from 2013, the last time most of the City Council seats were open, shows that a vast majority of their chosen candidates triumphed. The same will likely be true in 2021.
Within New York City, labor unions are one of the only organizations with the capacity to regularly dispatch volunteers on campaigns when they choose. Their only rival, on a much smaller scale, is the Democratic Socialists of America, which can deploy hundreds of volunteers for select campaigns.
Truly special local campaigns can overwhelm the might of organized labor. Alexandria Ocasio-Cortez beat then-Rep. Joseph Crowley, even though the fourth-ranking House Democrat and Queens party boss had every labor union in town stumping on his behalf. In gentrifying areas such as northwestern Brooklyn and Queens, labor's power appears to be diminished. DSA upstarts such as state Sen. Julia Salazar and Assembly Member Zohran Mamdani, my old campaign manager, have dispatched labor-backed incumbents. 
While organized labor as a whole is much more moderate than the DSA, the two forces aren't always at odds. In eastern Queens, Jaslin Kaur, a DSA candidate, is running with the support of 1199SEIU. In Brooklyn, Alexa Avilés, another DSA-approved contender, has consolidated labor support.
Unions are not as powerful as they were a half-century ago, when incredibly charismatic and well-known leaders like UFT's Albert Shanker, Transport Workers Union President Mike Quill, Central Labor Council leader Harry Van Arsdale and public sector boss Victor Gotbaum were on the front pages of newspapers, commanding great loyalty from rank-and-file members.
"They were household names. Everyone knew who they were," said Joshua Freeman, a professor of labor history at the CUNY Graduate Center. 
Today's labor leaders, Freeman said, are removed from that radical political worldview, in which labor was at war with capital – Shanker and Gotbaum had been young socialists, while Quill, a firebreather in his own right, had fought with the Irish Republican Army. If labor leaders of the 21st century no longer dominate the popular imagination, they still command highly sophisticated political operations. The best political operatives in the state can often spend time working for a union. Statewide, with campaigns costing tens of millions of dollars, their war chests become even more crucial. Gov. Andrew Cuomo is not doomed yet if organized labor stays in his corner.
In this June's mayoral primary, it's far less clear what labor's impact will be because the unions did not consolidate behind any candidates, and most voters heading to the polls will have some familiarity with the top-tier candidates. By June, heavy spenders like front-runner Andrew Yang and Brooklyn Borough President Eric Adams will have unloaded their war chests on advertising. A single endorser, in such a sea of information, may not have such a tremendous impact.
A mayoral race, as every cycle shows us, can be a visceral experience for a voter. In 2001, a majority of New York City voters decided a centrist business executive should lead the city's recovery from 9/11. In 2013, the city's liberal-leaning electorate was fed up with Bloomberg, choosing an antithesis candidate in de Blasio, a lifelong progressive politico. 
In 2021, one candidate will capture the zeitgeist and win the election. So far, Yang, despite a near-total lack of organized labor backing, seems to be doing the best job of appealing to voters eager for a more energetic answer to the outgoing mayor. If Yang wins, it will show that endorsers can't determine a mayoral race that's inevitably headed in a different direction. But if Adams pulls off the upset, it could demonstrate that unions still have a lot of electoral muscle.
Powered By
NEXT STORY: Is NY reopening too quickly?