Education
NYC is moving almost 5000 school safety agents out of the NYPD. Will that help calm fears about policing in schools?
The city is working on completing the transition by June 2022, leaving the school safety agents under the oversight of the Department of Education.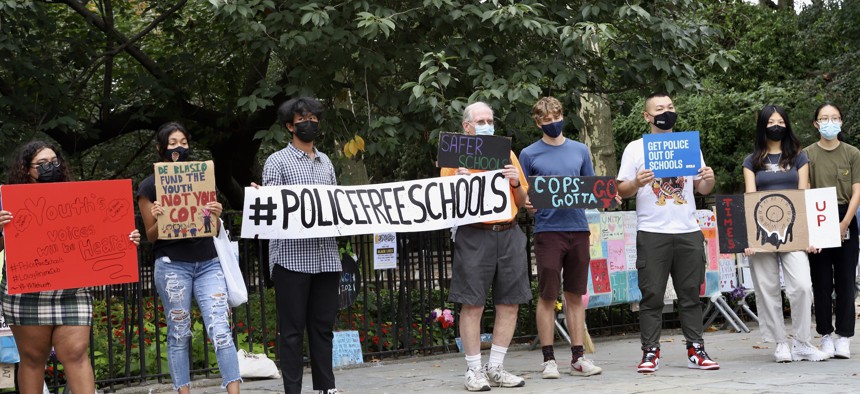 It was a cloudy morning in mid-August, as New York City student activists gathered in Carl Schurz Park near Gracie Mansion to call for something that has been hotly debated for years: police-free schools. They said they want an education system that prioritizes mental health care and restorative justice over punitive practices. 
Around 25 students, many of whom are organizers with the New York Civil Liberties Union's Teen Activist Project, shared experiences they've had with school safety agents in their schools. Jonathan Rampagoa, a student at Bard High School Early College Queens, said he was questioned by school police a few years ago when he was in middle school. He had a pair of scissors in his bag he'd intended to use for an art project. After the scissors triggered the metal detector at the entrance of his middle school, Rampagoa said "a couple police officers put me in the corner and started questioning me with the intention I was up to no good." He said only after he was asked to call his art teacher to confirm the intended use of the scissors and answer the principal's questions was he allowed to go to class – 30 minutes after first period started. 
Others talked about the role police have played in breaking up fights between students. 
"When fights break out in schools, police are the first called, but what about guidance counselors and social workers? What about restorative services instead?" said Benjamin Boateng, a student at Humanities Preparatory Academy, explaining that he was lucky enough to have access to restorative justice programming at his school when he was having issues with a fellow student. Restorative justice is an approach that focuses on reconciliation between the offender and the victim, rather than just punishment for the offender. "I am lucky enough to have the situation where I was not suspended, and there is no record of me that would impact how the world looks at me. While I am fortunate that I did not get suspended, however, my peers in other New York City schools are not given the same satisfaction." 
The Department of Education and city officials have announced a number of measures in the past few years to expand restorative justice programs and other mental health services in New York City schools. This includes hiring an additional 500 social workers this fall, but some activists feel the measures don't go far enough. 
There's a gray area where having that safety in the school is good, but at the same time it could hurt the student that misbehaves in schools, so it doesn't become a school problem, now it becomes a police problem.
– Michael Simmon, Bronx social studies teacher
School safety agents, while they don't carry guns, are currently part of the New York City Police Department. Every public school has at least one agent, and some schools have more than one. Their duties in schools include monitoring metal detectors at building entrances, responding to fights, checking in visitors as they enter schools, responding to student mental health crises and sometimes making arrests. There are currently 4,400 school safety agents – around 650 less than previous years, according to Phyllis Shafran, director of communications for Teamsters Local 237, which is the union currently representing the school safety agents. The starting salary for the job is $32,834, according to the NYPD. Approximately 70% of the school safety agents are women and 90% are people of color, Shafran said. Nathaniel Styer, deputy press secretary for the city Department of Education, said 250 new school safety agents will begin training immediately to address the current shortage which, according to him, was caused by attrition and retirements. 
While the number of arrests and summonses has declined over the years, racial disparities persist, and Black and Latino students disproportionately face higher rates of suspension, use of force and arrests. According to the New York Civil Liberties Union's analysis of Student Safety Act data, Black and Latino students, while making up 66% of the student body, were the subject of 88.9% of police interventions during the 2018-2019 school year. The vast majority (80%) of arrests in schools are carried out by armed police officers, not school safety agents, as of 2019 data. 
Last summer, facing pressure during citywide and national protests against racism in policing, New York City Mayor Bill de Blasio agreed to transition control of the then approximately 5,000 school safety agents – which would rank as one of the largest police forces in the U.S. – from the NYPD back to the Department of Education by June 2022. This date will roll around six months after de Blasio leaves office. By then, Eric Adams, Brooklyn borough president and a former police captain, will almost certainly have taken his place as mayor. 
De Blasio had opposed such a transfer for a long time, citing a "huge safety challenge in our schools" and saying that school safety agents have done a lot to reduce crime and violence. After the policy change last summer, de Blasio said the Education Department should step in to train school safety agents on how to use less punitive discipline practices against students. 
"I think school safety will be more effective if it gets more deeply trained in those approaches and deepening the dialogue with young people and their families," de Blasio said, according to Chalkbeat. 
Adams' spokesperson did not respond to requests for comment about his thoughts on the  transition, but while campaigning, Adams said he wanted school safety agents to remain in schools with some changes to how they operate. He has emphasized that there should not be a "police culture" within schools, and in March said he supports moving unnecessary funding from school safety agents into support services like counseling, though he didn't specify what qualified as unnecessary funding. 
When fights break out in schools, police are the first called, but what about guidance counselors and social workers? What about restorative services instead?
– Benjamin Boateng, a high school student 
"Public safety is a prerequisite. I don't want our young people to ever be in an environment that is unsafe not only from students in the school, but people who lurk around schools and attempt to harm students … We need to make sure that the school buildings are safe, but at the same time our focus should not be on heavy-handedness, it should be on making sure (students) have access to self care," Adams said in response to a student question about policing in schools during a BRIC TV broadcast. 
Styer of the Department of Education said the city is on track for transitioning the school safety agents to the Department of Education by June 2022. Doing so, he said, is "part of ensuring all of our students have a caring adult to go to when in crisis." School safety agents began training with the Department of Education this spring in conflict resolution, mediation, restorative justice and implicit bias – something they will all go through to ensure they are aligned with their school's social-emotional work and are integrated into the school community, Styer said. Additionally, four transition committees, co-led by the Department of Education and NYPD, met throughout the past school year to create policy recommendations for the transition. 
"Schools must be safe havens for learning, and school safety agents play a critical role in ensuring that every student feels both safe and welcomed in their building. As we transition (school safety agents) back to the Department of Education over the next year, we will work to deeply integrate them into our schools as partners in creating healing-centered schools," Styer said in an email. 
Jake Martinez, the New York Civil Liberties Union's director of youth programs, said he believes transitioning oversight of school safety agents to the Department of Education will further entrench policing in schools. "The students have made it very clear, and advocates have as well what they need to feel safer in schools," Martinez said, noting that there are currently more school safety agents in schools than there are guidance counselors and social workers. According to the Education Department, there are 4,332 full-time social workers and guidance counselors and 4,480 part-time social workers and counselors. When the 500 additional social workers begin work this fall, the full time count will be about 4,832. "That is restorative justice practices, counseling, other services investing in training for our teachers, implementing more mental health professionals in our schools – after-school programs." 
Surveys of attitudes toward school safety agents show mixed feelings. According to a Chalkbeat analysis of Education Department survey data from 2019, at schools where less than 20% of students are Black, about 83% felt school safety agents "promote a safe and respectful environment." That number was 76% at schools where more than 80% of students are Black. Another survey of 1,330 New York City youth ages 14-24 conducted by nonprofit Citizens' Committee for Children of New York found that less than half agreed with the statement: "Having police officers in schools makes me feel safer." 
Johanna Miller, director of the New York Civil Liberties Union's Education Policy Center, said she's deliberate in referring to the force as officers rather than school safety agents as many young people don't realize that an agent in their school actually has the power to arrest them and use force. She said the NYPD has never disclosed how many school safety agents are assigned to each school or the way they are deployed, and that this is information the New York Civil Liberties Union has been trying to get for a long time. 
"The loose rule is that they have to have one officer for every entrance to the school, but we know that while that is the minimum, many high schools and middle schools have a dozen or more officers, and schools with metal detectors have the most officers," Miller said. 
Styer said investments the city has made toward integrating school safety agents into the community appear to be working. Comparing the first three quarters of 2016-2017 with 2019-2020, arrests declined 60% and suspensions decreased 40%. The city intends to expand its restorative justice pilot program to 500 middle and high schools across the city this coming year.  
Michael Simmon, a social studies teacher at IN-Tech Academy in the Bronx, attested to the power of positive reinforcement, such as students participating in sports teams and extracurriculars as opposed to harsh punishments and police involvement that leaves students with records. "There's a gray area where having that safety in the school is good, but at the same time it could hurt the student that misbehaves in schools, so it doesn't become a school problem, now it becomes a police problem," Simmon told City & State. "Giving these students something to do and making them feel like they are part of the school starts to take away that negative behavior while now you have better classroom management, grades get better, there's more spirit in the school so now you don't need so much of a law enforcement presence to actually keep everything in line."
He said that at his school, the school safety agents are a positive presence where they attend student sports games and dance with kids during back to school block parties, but he knows this isn't reflective of the police's presence in all schools. 
Diverging opinions on school safety agents aside, teachers, educators, activists, students and city officials all largely circle back to the same thing – the necessity of social-emotional support and robust mental health care for students. 
During the rally in August, Tania Hernandez, a student at University Heights High School in the South Bronx, recalled transitioning from a middle school where she saw students get knocked down to the ground by police to a school where she was pulled out of class by a guidance counselor after a teacher noted she was having a difficult time. 
"In middle school, the only time I would be pulled out of class would be if I had been in a fight or if I had witnessed a fight. Being pulled out of class by my guidance counselor just to chat helped me build an amazing relationship with her. Now I'm able to go to her whenever something is bothering me," Hernandez said.