Policy
Ride-hailing companies getting better on accessibility
But the New York City Taxi and Limousine Commission has stricter requirements in place this year.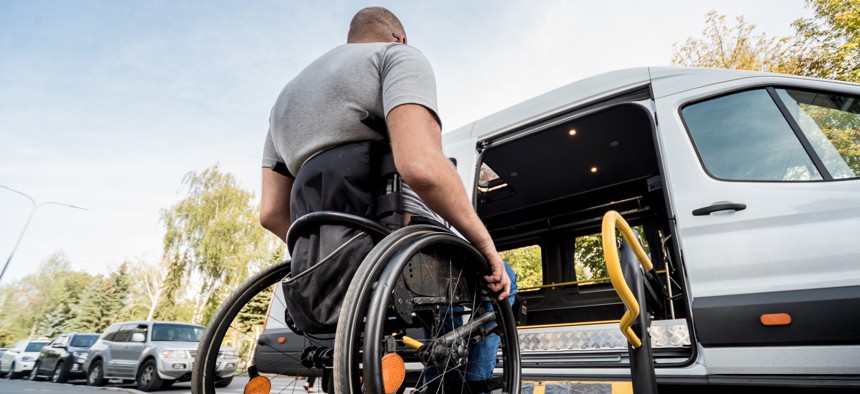 When ride-hailing companies came cruising into New York, accessibility was not at the top of their agendas. But just as New York City slowly began to slap new regulations on those companies in recent years, so too has the city started to require more of companies like Uber, Lyft and Via when it comes to accessibility.
Under a regulation from the New York City Taxi and Limousine Commission that went into effect in 2019, Uber, Lyft and Via – the dominant ride-hailing companies in the city – are able to fulfill the city's requirements for wheelchair accessibility by meeting a certain percent of wheelchair-accessible ride requests within a certain time frame. In short, ride-hailing companies have to start serving customers who use wheelchairs as well as they serve any other customer – or at least make a start at delivering equitable service.
A report released this spring evaluating the for-hire vehicle industry's progress with accessibility from July 2019 to September 2020 found that some strides were indeed made. In that time period, Uber, Lyft and Via were required to fill 80% of accessible ride requests within 15 minutes, and 90% of accessible ride requests within 30 minutes. Although the evaluation period was extended because of the COVID-19 pandemic, the report found that in June, July, August and September 2020, Uber met both those minimums, Lyft met both requirements in two of the four months and Via only had one month in which it met both requirements. The report notes that the ban on shared trips during much of the pandemic last year may have affected Via, which focuses primarily on shared rides.
The Taxi and Limousine Commission broadly characterized these performance metrics as showing signs of improvement. "The 2020 (wheelchair-accessible vehicle) report illustrated significant compliance by high-volume providers during the period, despite the challenges posed by the COVID-19 emergency, while also highlighting some areas where we believe improvement is necessary," TLC Commissioner Aloysee Heredia Jarmoszuk said in an emailed statement. But with a stricter mandate this year – the companies have to meet 80% of requests in 10 minutes or less and 90% in 15 minutes or less – some advocates for people with disabilities said the progress made so far is insufficient. "I think the basic problem is that there's still no reliable, affordable service for people who need an accessible vehicle for any reason," said Justin Wood, director of policy at New York Lawyers for the Public Interest, a nonprofit that has released reports highlighting the disparity in cost and reliability of accessible versus nonaccessible ride-hailing trips.
Heredia Jarmoszuk, too, acknowledged room for improvement. "While NYC has seen demonstrable improvement in the accessible service offered by the high-volume providers, the TLC recognizes that the industry has a long way to go and together we will continue improvements in the availability of accessible service in the for-hire vehicle and taxi sectors," she wrote.
The lack of wheelchair accessibility in ride-hailing vehicles has been the subject of litigation, including a 2017 class-action lawsuit in New York City in which plaintiffs argued that Uber was discriminating against people with disabilities by not providing enough wheelchair-accessible cars. The Taxi and Limousine Commission came out with a regulation that year requiring 25% of all for-hire vehicle trips to be made in wheelchair-accessible cars by mid-2023, even if the rider didn't request an accessible vehicle.
Uber, Lyft and Via sued over that rule, and reached an agreement with the TLC in 2019 that provided companies with another option for meeting accessibility requirements; the wait time requirement. The 2019 agreement established what's called the "Central Dispatch Exception." Uber, Lyft and Via are each certified as "accessible vehicle dispatchers" in the city, meaning that other for-hire vehicle bases – like a livery or black car company – are able to choose to have their accessible ride requests serviced through those dispatchers, which are subject to the wait time requirement. For the majority of the period evaluated in the city's latest report, Uber, Lyft and Via were the only certified accessible vehicle dispatchers.
According to the report, only 267 for-hire vehicle bases are subject to the original mandate instead of the wait time requirement. Last year, those bases were required to provide at least 10% of all trips in a wheelchair-accessible vehicle. The report states that 84% of those bases failed to meet that requirement.
Under the Central Dispatch Exception, Uber is currently serving the highest number of affiliated bases at 366 bases, compared to Lyft's 79 and Via's 55. That means that when those bases receive a call or request from someone who wants to schedule a ride in an accessible vehicle, they're able to direct that request through to one of those dispatchers.
Josh Gold, director of policy and communications at Uber, said that the customers in those scenarios still only deal directly with whatever base they're using, while Uber fulfills the request behind the scenes, including through a website Uber built for affiliated bases to use for this purpose. "The TLC continues to make good suggestions, and one of the things that they focused on from the very beginning is that it's not only individuals who are able to access the Uber app, but others who call their local car base, their local livery base or their local black car base – that they're able to have that access in the same manner as someone who would use a standard vehicle," Gold said.
Gold added that he was pleased with progress shown in the report, as did representatives for Lyft. "Lyft has been working throughout the pandemic to ensure New Yorkers have access to (wheelchair-accessible) vehicles, and we continue to look for ways to improve our service during this unprecedented time," spokesperson CJ Macklin wrote over email. Representatives for Via did not respond to a request for comment.
In the next report, these companies will be evaluated on tougher metrics. According to the data from this report, there was only one month in which one of the companies met 80% of requests within 10 minutes. That was Uber in August 2020. That month, Lyft met only 66% of riders and Via met only 53% of riders within 10 minutes.
Wood said that these wait time requirements are still not as strong as they could be and that more could be done to encourage the expansion of accessible ride-hailing trips. Wood mentioned the possibility of companies incentivizing drivers to use wheelchair-accessible vehicles with higher wages, or the city prohibiting companies from implementing surge pricing on accessible trips, as Portland, Oregon, has done. "We're for the city making other policy interventions to increase the supply of accessible vehicles, and make sure they're more affordable," Wood said.