Housing
How do you make underground apartments safer? Many legislators and housing advocates say legalize them.
Though recent events have thrust the issue to the forefront, advocates have been working on the issue of expanding cellar and basement housing units for decades.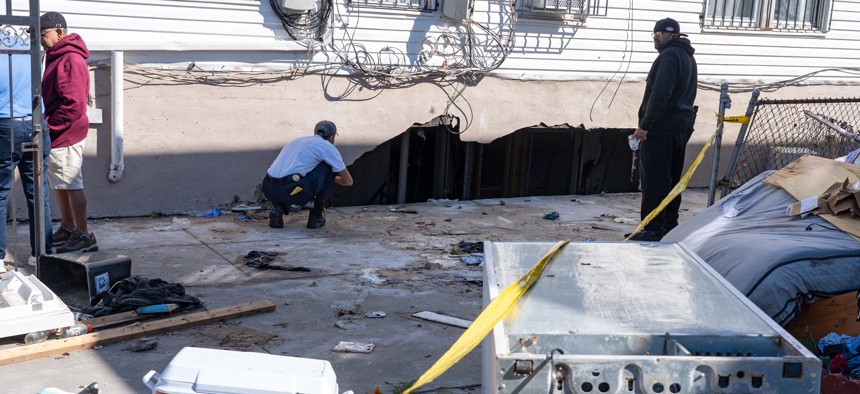 For New York City Council Member Darma Diaz, like so many others, an unsafe basement apartment once served as the only attainable option for housing. After many families living in illegal basement apartments suffered the brunt of the remnants of Hurricane Ida earlier this month, Diaz recalled her own experience living underground.
"I also have a serious concern for individuals that are living in basements because it's an often-substandard living. In my younger years, when I was experiencing homelessness, I moved in with my sister temporarily into a basement apartment that had sewage backup," Diaz told City & State. "You look back, and to think of all the families that endured what I endured long ago – this is 33 and a half years later. And still, the community that I'm in is suffering from this. It doesn't make a whole lot of sense to me."
In the years since Diaz lived in a substandard basement, not much has changed in the city to make more basement dwellings safer. Homeowners who can't afford to bring the basement units into compliance without financial help instead opt to rent them illegally, meaning there is little oversight in apartments that are home to estimated tens of thousands people. Basements, which can be legal dwellings, are defined as those units more than half above grade, while units that are mostly below ground level are considered cellars and currently cannot be inhabited legally due to lack of exits and ventilation issues among other concerns. 
While the recent tragedies resulting from the remnants of Hurricane Ida have spurred renewed interest in basement apartments, advocates have been pushing for the better part of two decades to legalize more of the units and create programs that'll provide financial support to low- and middle-income homeowners to make the units safe and livable. State and local leaders have often referred to the legalizing more basement apartments as one way of helping alleviate the city's housing crunch, but it's been political posturing, advocates say, as little has changed. 
Eleven of the 13 people who lost their lives during the storm earlier this month died in basements, and that has brought up frustrations for advocates who have been calling for reforms for years, citing the dangers of unregulated housing and the susceptibility of those living in basements from losing their homes through city-issued vacate orders. 
"This is a painful moment, for us to see this catastrophic loss of lives and loss of homes and the level of displacement," said Annetta Seecharran, the executive director of Chhaya Community Development Corp., which has been at the forefront of advocating for basement apartment legalizations for about 20 years. She said they're now calling for the use of FEMA money to house those who lost their homes and money to retrofit basements so they can be legal, while also launching an amnesty program to get homeowners of illegal basements to come forward. 
Chhaya is one of the founding organizations of the BASE campaign (which stands for Basement Apartments Safe For Everyone) that's been pushing elected officials to do more for basement apartments and other kinds of accessory dwelling units, or ADUs. In 2009, the Pratt Center for Community Development and Chhaya released a report titled "New York's Housing Underground," which read "These phantom apartments are the city's housing underground: units that have been created in spaces that are not approved for living." Earlier this year, BASE released the Blueprint for Basement Apartments, calling for establishing funding for a citywide program, making it more affordable for homeowners to safely convert their basements into apartments, and updating the city's zoning and building codes by allowing cellars to be made legal and waiving parking requirements.
BASE's efforts have seemed to gain traction in recent years. Nearly all major Democratic mayoral candidates included basement apartments in their housing plans. New York City Comptroller Scott Stringer suggested creating a zoning designation just for basement apartments and accessory dwelling units. And Democratic Mayoral nominee Eric Adams, as he tried to dispel rumors he lived in New Jersey, invited members of the press to his three-story Bedford-Stuyvesant townhouse, where he showed off his basement apartment. In his housing plan, Adams said basement apartments, along with other accessory units, should be allowed to be built or legally used.
In his 2020 State of the City,  Mayor Bill de Blasio touted the city's efforts to legalize basement apartments and other accessory dwelling units with a commitment to making needed zoning changes, cutting red tape and helping homeowners afford such changes. "We expect at least 10,000 units of safe, legal housing stemming from these changes within the next decade," he said. But as the city was financially decimated by the pandemic, a basement apartment conversion pilot in Cypress Hills and East New York, Brooklyn, BASE's biggest win since its founding, was virtually gutted during budget cuts. The pilot would provide homeowners low or no-interest, possibly forgivable, loans to convert their basements or cellars into safe and legal units, based on more lenient building code legislation. 
While the program set out to legalize 40 basement apartments, only eight apartments had been approved and none had yet been made legal, according to reporting from The City. Last week, the mayor reckoned with basement apartments, saying that there's no easy fix. 
Assembly Member Harvey Epstein said providing a financial mechanism to homeowners is a critical part of making basement apartments a legal and viable housing solution. Along with state Sen. Pete Harckham, Epstein introduced a bill this last regular session that would do just that, while also forcing municipalities to adopt ADU-friendly legislation. The legislation is also crucial because across the state for dwellings in which three or more families live independently of each other, the multiple-dwelling units law is triggered, bringing a host of other regulatory hurdles. The bill allows those buildings to come into the fold. 
The legislation didn't make it out of committee, Epstein said, because they still needed to gin up support from municipalities across the state. But he said that in the wake of recent events, there's more momentum behind the bill, with hearings on the legislation expected in the coming weeks. But as someone who has been advocating for basement apartment legalization since before he was elected in 2018, Epstein said deaths could have been avoided if more had been done on basements sooner. 
He rebuffed de Blasio's recent claims that tackling the basement apartment issue is a difficult one, saying he and others suggested the mayor would have created a multi-agency task force to deal with basements. "We've been talking to the mayor about this for years. If the mayor really wanted to tackle this problem, he could have," Epstein said. "The answer the administration has up until now is, 'We'll issue a vacate order, and those families will leave.' So that pushes people further in the shadows." 
Diaz is forthright about her reservations about basement apartments, saying that her issues with them are that landlords ought to document their income earned from renting them and that tenants are living in substandard conditions. She said there has to be more financial support to bring basement apartments into compliance. As one of the council members representing East New York, she said she's asked the mayor to immediately restore funding for the pilot program. Her predecessor, Rafael Espinal, one of the sponsors of the pilot, stressed that living in basement apartments isn't ideal – but it's one of the few options for thousands of families in the city. He said he was disheartened by the recent events and the de Blasio administration slashing funding for the pilot. 
"Unfortunately, the city of New York has a history of only responding to issues instead of being proactive," Espinal said. "And if we would have taken a corrective approach, years ago. I truly believe that we could have avoided the deaths that we saw this past week."
For one basement dweller, who asked not to be identified for fears it could affect her or her landlord, she said Hurricane Ida has made her living circumstances all the more worrisome, cognizant that a storm could leave her homeless overnight. She lives in Auburndale, Queens, and said she had it much better than others in her area, receiving about an inch of rain in her basement and losing a bookcase, a fan and some computer equipment. She said she prefers to live alone but can't afford apartments at the current market rate anywhere in the city. While she's concerned that climate change is becoming an increasing threat, she said efforts to help bring basement apartments up to code could help make them safer.
"Yeah, so I definitely want to move out," she said. "But right now, there's nowhere to go. There's certainly nowhere that I can afford, and pretty much anybody who's in my situation is also looking. And then there are folks that I know of whose landlords have evicted them after the storm who are in far more dire straits than I am."
Powered By
NEXT STORY: Cornell's ag program solves farmers' toughest problems