Health Care
Will New York allow terminally ill people to end their lives?
A bill to legalize so-called medical aid in dying has been introduced in the state Legislature for years. It's fate in 2022 is still uncertain.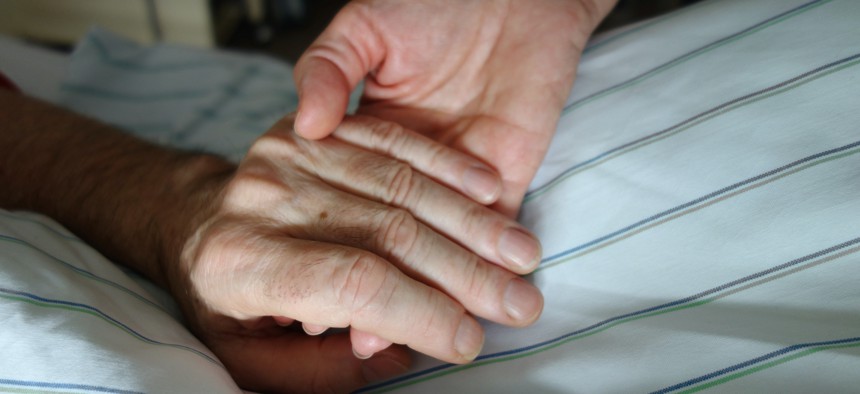 Most of the political debates that divide Albany lawmakers pit Republicans against Democrats or left against right, but every now and again a bill emerges that skews the typical ideological divides. A case in point is outstanding legislation to allow terminally ill people to end their life on their own terms.
It is hard to generalize about who supports or opposes the Medical Aid in Dying Act. The New York State Catholic Conference, the Center for Disability Rights and the American Medical Association are among the organizations that oppose what they call assisted suicide. They face a coalition that includes medical, religious and disability rights groups that support the proposal. Both moderate Democrats and avowed democratic socialists are among the co-sponsors of the bill. While no Republicans currently co-sponsor the bill, a 2020 Gallup Poll found widespread support among the GOP rank-and-file nationally for "doctor-assisted suicide."
"It's a very personal choice whether you support it or not," Democratic Assembly Member Amy Paulin of Westchester said in an interview of the bill she sponsors with Democratic state Sen. Diane Savino of Staten Island. "So it's not been uniform across the political spectrum."
The bill faces an uncertain future in New York though nearly a dozen other states have enacted similar legislation in recent decades. Dozens of Democrats, moderates and lefties alike, have signed onto the proposal, but powerful interest groups remain opposed, and some lawmakers have their own qualms with the idea of allowing doctors to help people end their own life on their own terms.
One possibility is that Gov. Kathy Hochul, who is Catholic, might include the proposal in her upcoming State of the State address. She declined to tell City & State her opinion on the matter when asked at a recent press conference in the Capital Region – and appears to be in no hurry to stake out a position for or against the bill.  "My personal opinions do not have a place in public policy," she said. "I will be listening to both sides of the debate, but also, it has to originate in the Legislature." That likely means that the proposal will either pass as a stand-alone bill (not in the state budget) sometime before the regular legislative session concludes in June – or not at all for the seventh straight year since it was first introduced in 2016. 
Proponents say they are focusing for now on recruiting more legislators to their side. Dozens of Democrats are backing the bill, but nowhere near a majority in the 63-seat state Senate or 150-member Assembly. That might make legislative leaders wary of considering the bill whatever their personal feelings are. Representatives of Assembly Speaker Carl Heastie, Assembly Majority Leader Crystal Peoples-Stokes and state Senate Majority Leader Andrea Stewart-Cousins did not respond by publication time for a request for comment. State Senate Deputy Majority Leader Michael Gianaris is a co-sponsor in his chamber.
Opponents of the bill have focused on the moral principle at stake and the supposed side effects that would result from the bill. "There's a big difference between stopping treatment and actively taking a human life or even your own life," Dennis Poust, executive director of the New York State Catholic Conference, said in an interview. "We spend a lot of money in the state, rightly so, on suicide prevention efforts. We've seen an epidemic of suicides among young people in particular, and we are afraid it sends mixed messages to them that some suicides are okay." Some disability advocates have also argued that the Medical Aid in Dying Act would result in abuse or mistakes.
The bill sets forth requirements that people must meet to take advantage of medical aid in dying: They must be 18 years old, capable of offering consent affirmatively and have an "incurable and irreversible" condition that "reasonable medical judgment" gives them six months to live, according to the legislative language. A doctor authorizing such a request, which would be self-administered through a variety of means depending on personal circumstances, would also need a second opinion from another physician. "We didn't reinvent the wheel," Paulin said of how her bill compares to legislation that has been enacted in other states. Oregon voters approved a referendum in the 1990s that was the first state law in the nation allowing physician assisted suicide. The U.S. Supreme Court upheld the law in 2006. The details of the Medical Aid in Dying Act, however, have little to do with the ongoing public debate around it. 
Proponents in New York have tended to emphasize the libertarian aspects of the proposal, however that might line up with their overall political ideology. This includes highlighting stories from people and their family members who would be affected by the bill. An October Marist poll found that 58% of adult New Yorkers supported the basic idea behind the bill, which suggests that the public at-large might be OK with the idea of allowing sick people to decide what they want to do, given dire medical circumstances. Members of the Legislature, however, are who pass bills, and proponents are not sure they might ever have the votes to overcome a unique array of opponents. "I'm always hopeful that legislation can move," Savino said in an interview. "But I'm not really sure, so I'll be honest: It's always been a tough one."