Ask the Experts
How can New Yorkers return to the office safely?
Workplace health experts weighed in on the best practices companies should be taking to protect in-person employees.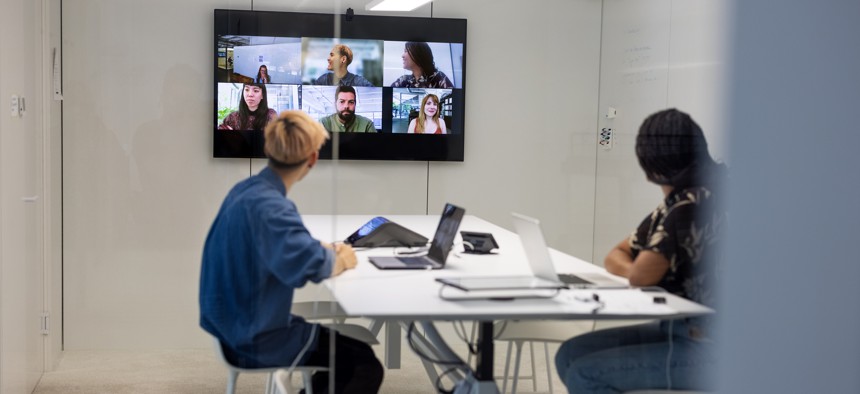 After two years of predominantly remote work for office workers in New York, companies are starting to have their employees leave video conference calls behind and reopen their doors for in-person work. Some larger names operating out of New York City like CitiGroup have asked their employees to come back to their offices on Wall Street as of Feb. 7, and both Gov. Kathy Hochul and New York City Mayor Eric Adams have made it clear that they want New Yorkers back to work in person as soon as possible. 
But, there are some major questions that employees will need to have answered before they feel comfortable with sitting down for hours on end in a confined space. Questions of sanitation protocols, flexibility in their work-life balance and how closely their offices will abide by mask and vaccine regulations will all be on the table. And, according to a study done by the Partnership for New York City, many employees simply prefer to be remote as it eliminates the possibility of a run-in with infection and aids them in being able to provide child care, among other personal reasons. 
City & State reached out to several experts to gauge what employees should keep an eye out for from their management, and how employers can strive to make their workspace as safe as possible amid the pandemic: Anna Bershteyn, an assistant professor of population health at NYU Grossman School of Medicine; Denis Nash, professor of epidemiology at the CUNY Graduate School of Public Health and CEO of Epidemic Intelligence Service; and Nellie Brown, director and Lead Programs Manager of Workplace Health and Safety Programs at the Institute of Labor Relations at Cornell University. Responses have been edited for length and clarity.
What are precautions that office building owners, company management and administrators should take to protect themselves and workers during the transition back to in-person work?
Anna Bershteyn: Like schools and any other group settings, it's best to have multiple layers of protection because none are perfect. Some layers, like reduced occupancy and mask requirements, can be dialed up and down depending on levels of transmission. Other layers are always good to have regardless of transmission, for example, making sure employees can stay home when sick. One of the best "always" layers is to increase the number of clean air exchanges in workspaces. This has upfront costs, but it pays back in many ways. It reduces COVID-19 risk without interfering with communication in the same way as masks or occupancy limits, it protects against other cold and flu viruses, and it prevents chronic illnesses linked to indoor air pollution. It also just feels nice to have clean air. All of this adds up to less absenteeism and healthier, happier employees: a win-win.
Denis Nash: I think it is important to understand that workers in the same organization may be in different places. Some feeling more comfortable with in-person work and others less so. To me, that means that it is important to be flexible with policies and procedures in ways that make sense to each environment. It is important for administrators to understand the landscape of comfort levels, and what steps they can take to help employees feel comfortable with how the organization is moving forward. 
Nellie Brown: Use your joint labor-management health and safety committee to develop or implement risk reduction policies and procedures. Make sure that employees know how to access benefits and support for grief, stress, fatigue, depression, work/family balance – put employee well-being into the workplace's written policy. Be prepared to communicate a lot about new or changed policies and procedures with time and accessibility to respond to questions and concerns. 
Encourage keeping vaccinations up to date for SARS-CoV-2, influenza, etc. Even make vaccination for the pandemic a mandatory policy. If the workplace is covered by a collective bargaining agreement, then negotiate with the union.
When a worker decides to start coming back into work in-person, what can they do as individuals to protect themselves even before they step foot into their workspace?
Anna Bershteyn: To reduce your COVID-19 risk and other risks, invest in your health. If you've gotten behind in health care, make sure you are up-to-date on vaccines including COVID-19 and flu, and book your physical, dental cleaning and any specialized care that you need. Be kind to your colleagues, and to yourself. You've all been through a lot.
Before it's time to head to the office, decide how low COVID-19 transmission would need to get for you to personally feel comfortable doing higher-risk things, like large group meetings or taking off your mask around others. If you're older, high-risk, or live with someone at high risk of COVID-19, talk to management about possible accommodations like staggering meal breaks so you can avoid a crowded break room.
Unless your employer is providing them, you'll need high-quality masks like N95 or KN95. If these are tough for you to wear for long periods, try doubling up lower-quality masks like surgical or cloth. Experiment at home to see what works for you. For example, I bought an adjustable behind-the-head strap that attaches to the ear loops of a mask, which makes my mask fit better and helps me stay comfortable.
Denis Nash: In-person work, which is not a choice for many people at all, comes with a host of considerations beyond whether you feel comfortable about the safety of the workplace. It means considerations around the commute and it means considerations for those in the household, including those who may be medically vulnerable or unvaccinated or undervaccinated. In addition to getting boosted, use of higher grade masks in public places, including the workplace, are the best steps that an individual can take. Having some at-home tests in case symptoms develop or in the case of a workplace exposure is also a good idea if you can afford them.
Nellie Brown: Be prepared for anxious feelings and for some changes in our social interactions. Maybe you won't feel comfortable hugging or shaking hands with people – that's a good defense mechanism that has served us well during this pandemic, and we will probably want to continue being choosy with our interactions for a while yet. Be willing to seek help if your emotions become too much to bear – we are all grieving the changes in our lives. Keep your vaccinations up-to-date for SARS-CoV-2 and influenza to protect yourself and to protect others, especially the vulnerable among us. Practice good hand hygiene and cough etiquette. Wear a good quality face mask or N95 respirator in indoor spaces other than a private office when you're alone. If you feel sick, stay home or go home; test yourself or get tested, then isolate or quarantine as the CDC advises.
Looking ahead, what changes do you see staying in the workplace even if current mask or vaccine restrictions are lifted across the state and in the city?
Anna Bershteyn: Some COVID-19 measures are a good idea even without a pandemic. Increasing clean air circulation in the workplace is great for general health. Making sure sick employees can stay home from work would help stop the spread of cold and flu. And even with offices open, remote work and virtual communication have many great uses and are sure to have a larger role than before the pandemic.
Denis Nash: I hope that there is more of a culture of workplace wellness. A culture of workplaces doing things to promote the health and safety of workers, including around infectious diseases like COVID-19 and flu. There are some times when people should just stay home, and they shouldn't be penalized for doing so. It is actually helping to ensure continuity and minimize disruption in the workforce. 
Nellie Brown: Improvements to ventilation systems are probably here to stay. Professional societies involved in making ventilation recommendations have been advising that we rethink ventilation and building designs for airborne disease control. More provisions for outdoor dining and extending the seasons for outdoor dining will be here to stay. Mask-wearing will probably continue by individuals who are more vulnerable to infection, and maybe by people who have a cold as a courtesy to others. Cleaning and disinfection of commonly-touched surfaces will probably continue for a while. Flexible and hybrid work arrangements have proven so popular, as well as having no loss in productivity, that employers will probably continue a variety of arrangements. This means that some organizations will downsize their office space requirements accordingly. Along with more remote work, technology needs and upgrades will continue to increase to support it.
Offices will be trying to present themselves as the better alternative to virtual work and the never-ending Zoom fatigue that has plagued so many office workers. What should workers be on the lookout for to let them know that their office might be taking a flawed approach to COVID-19 safety, or focusing too much on safety measures proven to be ineffective?
Anna Bershteyn: We know that multiple layers of protection can be used to prevent COVID-19 transmission: masks, physical distancing and avoiding crowds, clean air exchanges, and hand hygiene. Workplaces should use every layer of protection when transmission is high, and then might relax some layers when transmission is lower. Transmission in most of the country is still high right now, so expect your employer to have most of these layers of protection in place until things improve. Very frequent testing (at least weekly) can also reduce transmission. Just as importantly, testing can be used to see if your layers of protection are working well. If anyone has been positive in the workplace, employers should consider testing everyone who was possibly exposed. If the fraction who test positive is more than the general positivity rate in the community, that's a danger sign that more precautions are needed.
Denis Nash: I think a red flag would be if there are policies and dialogue that is not supported by a clear rationale for why policies and policy components were chosen. There should be a coherent plan and it should make sense to those that are developing it and those that are subject to it. It should address how to maintain a safe work environment, and what to do if someone is found to have COVID-19 (or flu). It should address how future surges will be handled if there are any. If there is no plan, or no attempts to communicate the plan to all those that need to know, that would be a red flag to me. If a workplace is making masks optional in public places, but not requiring boosters and/or routine testing, that would be a red flag. There is a lot that the workplace can do to help, such as making sure people have access to higher grade masks for being in public places in the office, as well as during the commute. They can provide time off to get vaccinated and boosted and tested as needed. They can even facilitate access to testing when needed, or as part of routine workplace procedures/safety.
Nellie Brown: Widespread area spraying of disinfectants, especially if not approved by the U.S. Environmental Protection Agency for that purpose or application method, can produce serious overexposure to building occupants. Hybrid meetings where remote workers do not receive equitable treatment; that is, flexibility and remote work are allowed, but the workers are not regarded as being productive or important to the organization. Use a joint labor-management health and safety committee to assist in responding to staff concerns or complaints, as well as obtain technical information on ventilation or other hazard reduction methods to verify that these are working and effective. The committee can help to build trust, as well as field concerns that people may not feel comfortable voicing on their own. Provide an employee assistance program to support workers who are feeling anxious, overstressed or otherwise need help.