New York City
What is Midtown's post-pandemic recovery playbook?
It probably won't look quite like lower Manhattan's post-9/11 plan to create a well-rounded neighborhood.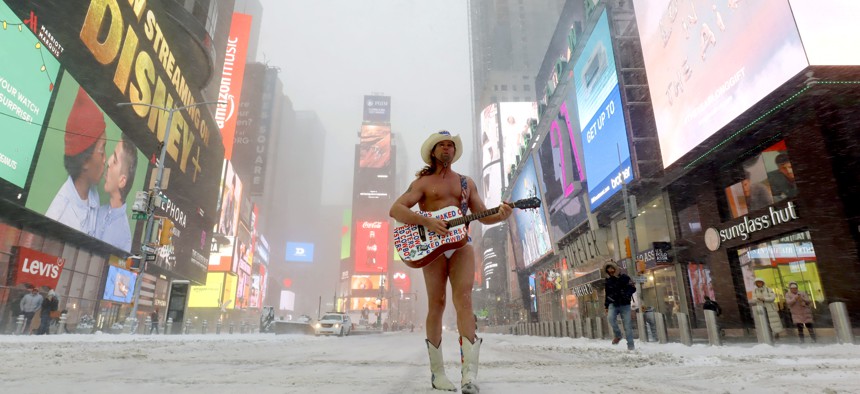 The much-hyped return to in-person work office in New York City has not gone as planned. Despite high COVID-19 vaccination rates among adults in New York City and cases currently decreasing, the emergence of the delta and omicron variants postponed some companies' timelines for returning to the office. Plus, some workers and companies aren't sure if they're ready to go back – or if they ever will be. The New York City comptroller's office found in a recent report as of late January that time spent in workplaces was down 29% from pre-pandemic levels, according to Google mobility data.
In midtown Manhattan, an area overwhelmingly reliant on commercial and tourist activity, it's not just office buildings that have emptied out. A report last fall from the Real Estate Board of New York found that nearly 30% of storefronts in the office-dependent retail corridors of Midtown East and around Grand Central were unoccupied as of last summer. Before the pandemic, vacancy rates ranged from 10%-15%. "Pre-pandemic, they relied heavily on office workers and tourists, both of which have not returned in numbers close to the levels before COVID struck our city," Andrew Rigie, executive director of the New York City Hospitality Alliance, said of restaurants in Midtown. "Now, nearly two years into the pandemic, the challenges continue to compound. And the uncertainty makes it very difficult to plan for the longevity of your business."
The challenges Midtown will likely confront in the coming years share some similarities with what lower Manhattan faced after 9/11 emptied out the then primarily commercial neighborhood in the early 2000s. Although the flight of workers from downtown office buildings didn't last long, it helped to accelerate conversions of those commercial office buildings to residential buildings. Like the finance executives who the neighborhood had relied upon, lower Manhattan had to learn to diversify. With help from state and federal subsidy programs, those residential conversions ramped up. You started to see "strollers and dogs" on the streets of lower Manhattan, as Ross Moskowitz, a real estate partner at Stroock, put it.
Those conversions were accompanied by efforts to sell lower Manhattan as a cultural and entertainment destination. Groups like Wall Street Rising, founded by City Council Member Julie Menin, promoted the neighborhood and its small businesses by hosting free art exhibitions and public concerts. Meanwhile, new kinds of commercial tenants in tech and media moved into the neighborhood's gleaming new office towers. Though the pandemic still took a toll on lower Manhattan, that transformation arguably made the neighborhood more resilient. "Because lower Manhattan is more of a live-work-play neighborhood, you don't see the same adverse impact on retail in lower Manhattan during the pandemic as you do in Midtown," Basha Gerhards, senior vice president of planning at the Real Estate Board of New York, told the Commercial Observer.
Some urban planning experts, real estate executives and local representatives agreed that lower Manhattan's post-9/11 transformation holds lessons for how midtown Manhattan might reinvent itself when the city starts to emerge from the COVID-19 pandemic. "There's not really a choice but to think about diversifying uses in Midtown, as we did in lower Manhattan after 9/11," Kathryn Wylde, president and CEO of the Partnership for New York City, told City & State.
Menin, too, said that Midtown is in need of revitalization. "It was about reimagining and restamping lower Manhattan as a major place to work, live and visit," Menin told City & State. "We now need to do the same thing for Midtown. If you go to Midtown, you can see block after block, street after street, so many small businesses have closed. They've closed because there simply isn't the foot traffic from the commercial buildings."
There's not really a choice but to think about diversifying uses in Midtown, as we did in lower Manhattan after 9/11.
– Kathryn Wylde, president and CEO of the Partnership for New York
The idea of turning Midtown into a so-called "live-work-play" neighborhood is one that makes sense on the surface. Residential neighborhoods already border the business district, and transit hubs and cultural centers like Broadway serve as local and international attractions. While some pointed to lower Manhattan's transformation as a success story, there were key differences in the situation the neighborhood faced after 9/11 and the one facing Midtown now. If Midtown is going to reinvent itself, it might have to write its own playbook.
The COVID-19 pandemic has not had the same effect on business districts that 9/11 had on lower Manhattan. While workers still haven't returned to offices in pre-pandemic numbers, it remains to be seen whether that's temporary and whether companies will move out of office buildings for good. "We're still in a pandemic, things are still in flux," Gerhards told City & State. Lower Manhattan, she said, had a sustained period of high vacancy in commercial buildings and concerns about filling that space predating 9/11. And in Midtown today, newer office buildings may be getting more attention than the more basic, often older buildings referred to as Class B and Class C buildings. "We see very healthy leasing activity in the Class A market," Gerhards said. Wlyde added: "The old office buildings are the ones that are having trouble renting. The new buildings are doing great." She mentioned projects like JPMorgan Chase & Co.'s new headquarters and RXR Realty and TF Cornerstone's mixed-use tower – both supertalls going up on Park Avenue. Rezoning in Midtown East in 2017 laid the groundwork for the replacement of older office buildings with new commercial buildings, like One Vanderbilt, a skyscraper going up next to Grand Central Terminal.
Gerhards said that it won't be landmark buildings – either ones that have official landmark designation or ones that are thought of as landmarks – that are targeted for conversions, but spaces that are considered "obsolete or less desirable." Those are the Class B and Class C buildings. "You're going to see the old office buildings, I think, come down for the most part, and you'll see them replaced with residential or mixed residential and some kind of destination retail," Wylde added.
The work of replacing or converting those buildings, as Wylde and real estate experts acknowledged, won't be cheap or straightforward. Older buildings with smaller amounts of leasable space can be easier to convert to residences because of the requirements for homes to have access to natural light and air. It was these older buildings in lower Manhattan that were ripe for conversion in the late 1990s and early 2000s. "In Midtown, we are talking about significantly larger floor plates and lot sizes, and there's going to be constraints there in terms of what it means to bring light and air on the interior side of these buildings to any habitable dwelling units," Gerhards said.
Structurally speaking, converting hotels to residential buildings is perhaps easiest, and while the state established a program last year to encourage the conversions of hotels into supportive and affordable housing, regulatory and financial hurdles remain. Only one applicant applied to a fund set aside for the program so far.
The high costs of potential office conversions inevitably leads to a conversation about incentives. The commercial to residential conversion wave that kicked off in lower Manhattan two decades ago was helped by a raft of federal, state and local policies. In the mid-1990s, the state established a now-expired tax exemption and abatement program, known as 421-g, tailored to lower Manhattan. (Affordable housing requirements were not built into the state program, but the units were subject to rent stabilization.) Meanwhile, federal bonds incentivized commercial and residential development in the area.
Conversions in Midtown today would have their own problems. Among other restrictions, local zoning does not allow buildings built after 1961 to be converted into residences. In her executive budget, Gov. Kathy Hochul proposed steps to make those conversions easier, including by allowing commercial to residential conversions in pre-1980 buildings, including in Midtown, through 2027. Five years, however, is a relatively short period for such conversions to get underway, especially amid an unpredictable pandemic.
The track record of rapidly deployed tax breaks is one that makes you pause. And honestly, the post-9/11 housing subsidies are one of those cases.
– New York City Comptroller Brad Lander
Some in and around the real estate industry argued that financial incentives for taking on the cost of converting unused office buildings into residences will be necessary to see conversions on a large scale. That's especially true, they said, if affordable housing was required with these conversions. "I think if you're going to add the element of affordability, you absolutely need a subsidy for that," said Mary Ann Tighe, CEO of the New York Tri-State Region of CBRE, a real estate firm.
Moskowitz, the real estate partner at Stroock, said that both financial relief and regulatory changes will be required to see conversions in Midtown. "You have to recognize that just because you're offering incentives, you can't overlook building code or multiple dwelling law, or other things that are related to the construction of any kind of housing," he said.
But an incentive program like 421-g might face more pushback today than it did in the '90s. New York City Comptroller Brad Lander questioned whether incentives were necessary – especially if they'll go primarily to the construction of market rate housing. "The track record of rapidly deployed tax breaks is one that makes you pause. And honestly, the post-9/11 housing subsidies are one of those cases," Lander said, adding that the lower Manhattan conversions didn't adequately incorporate affordable housing. "These are expensive conversions and giving billions of dollars for overwhelmingly market rate housing, I don't think is the most efficient use of our subsidy dollars," he said. An incentive program tailored to Midtown that prioritized "genuinely deeply" affordable housing is something Lander said he would consider.
Samuel Stein, a housing policy analyst at the Community Service Society, suggested it wouldn't be realistic to expect developers to undertake conversions that incorporate affordable units unless they're given some financial motivation. "Without incentives, it would take a lot longer for the market to really bottom out and for the owners to come to the conclusion that it's worth it," he said. Still, that doesn't mean the state would have to – or should – pursue a new version of 421-g, he said, noting that a new program focused on Midtown could include stronger affordability requirements. (In her budget, Hochul proposed a newer – but not all that different – version of 421-a, a controversial tax program meant to incentivize the creation of affordable housing.)
Some in the real estate industry were skeptical that a residential transformation of Midtown was even needed. "I don't think Midtown is at the point yet where it has to think about converting most (commercial) real estate into more residential," said Dan Biederman, president of the 34th Street Partnership and Bryant Park Corp. "The one exception is buildings that are so hard to convert to modern office use, that they're better thought of as converting (to residential)."
New York City Council Member Keith Powers, who represents Midtown, said it was too soon to predict the area's real estate needs. Still, there's value in diversifying. "Certainly, it makes sense to look at ways to loosen up and make Midtown more flexible in the way that we use it," Powers said. "But I think we're still trying to figure out what the future exactly holds."
Despite that uncertainty, it's a safe bet to say that midtown Manhattan will likely have some surplus of unused office space coming out of the pandemic. New York City, in the midst of a housing crisis, has a deficit of affordable housing. Converting unused office space into homes seems like a straightforward idea. But it's not the only way Midtown could be reimagined, Lander said. He pointed to the revitalization of the Brooklyn Navy Yard and Industry City as possible models for Midtown. More entertainment destinations, biotech companies and startups reliant on in-person work could be a part of Midtown's future. "The more we can have the kind of activity that characterizes the Brooklyn Navy Yard or the more we can build on the cultural, creative tourist hub that is Broadway – that's generating economic value in New York City that has benefits that just more luxury housing does not have," Lander said.
Shining supertall towers might define the city's skyline, but Lander said he doubted it's what attracts most people to New York: "It's just hard for me to believe that kids out there in the rest of the country were like, 'You know what I'm dreaming of? Going to work every day in a corporate office building."