Housing
11 New York Congress members throw their support behind 'good cause' eviction bill
The lawmakers lauded the bill, which would limit rent increases and aims to prevent "unreasonable" evictions.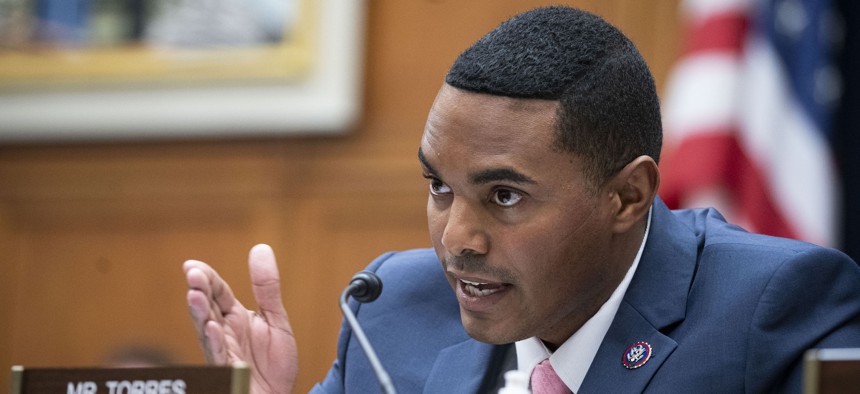 On Thursday, 11 members of the New York congressional delegation threw their support behind the "good cause" eviction bill that seeks to protect tenants from "unreasonable" evictions and significant rent hikes. Among those were members of a more left-leaning faction like Reps. Alexandria Ocasio-Cortez and Jamaal Bowman, but also comparatively moderate members including Reps. Yvette Clarke, Adriano Espaillat and Ritchie Torres. 
"We believe Good Cause Eviction levels the playing field between tenants and landlords and can protect hundreds of thousands of families from unnecessary displacement," the letter addressed to state Senate Majority Leader Andrea Stewart-Cousins and Assembly Speaker Carl Heastie reads. 
"Good cause" would cap rent increases from landlords at 3%, or 150% of the consumer price index, whichever is higher, for 2022. In addition to this, it would require landlords to have "good cause" to evict tenants. So, if a tenant pays rent on time and has not caused any structural damage to their rented space, they would be protected from eviction. The letter from Congress members highlighted that the bill also allows landlords to raise rent for necessary renovations and repairs.
In a text, state Sen. Julia Salazar, who is one of the bill's sponsors, said the backing was welcome.
"The letter and public support from New York's congressional representatives adds even more momentum," she wrote, adding that she is not pushing for the bill to be passed as part of the state's budget, which is due April 1. 
There have been successful efforts for similar tenant protections in multiple smaller municipalities of New York, such as Kingston, Poughkeepsie, Newburgh and the state's capital, Albany. Activists and supporters of the expansion of the bill have been using these areas as an example of what "good cause" could look like when applied on a larger scale, especially after the pandemic left residents behind on rent and no longer protected by the eviction moratorium that expired in January. 
Interestingly, none of the Congress members who represent the municipalities that have enacted these eviction protections, including Rep. Sean Patrick Maloney, who represents Poughkeepsie and Newburgh, signed the letter. 
"This is not a radical reset of the landlord tenant relationship," said Michael McKee, the treasurer of Tenants PAC, an advocacy group for tenants rights in New York. "It's a very moderate form of protection." 
Rep. Ritchie Torres' support is notable following his high-profile campaign for the congressional seat that was enthusiastically supported by real estate industry donors. 
"It's undeniable that Richie has gotten lots of real estate money. When he first ran for Congress, he made no bones about it, but it's to his credit to sign the letter. And he set the tone that the real estate money would not have any effect," said McKee. 
A spokesperson for Torres did not respond to a request for comment in time for publication.
Real estate lobbyists have been outspoken about their opposition to the bill's passage, likening it to rent control. They have argued this is a hit on smaller landlords in the state, and the proposal would lead to higher rents on vacant properties. 
"The Legislation, as envisioned by Albany, will lead to significantly higher rents on vacant units and will have almost no impact on how much current renters pay," said Ross Wallenstein, a spokesperson for Homeowners for An Affordable New York, an organization of homeowners campaigning against the bill. "Eviction is an absolute last resort for any property owner, and this bill does nothing to alleviate renters from being removed due to lack of payment, which is almost always the cause for an eviction." 
Powered By
NEXT STORY: Adams offers tepid support for a controversial real estate developer tax break