Budget
The consequences of a late New York state budget
New York lawmakers are unlikely to pass the Fiscal Year 2023 spending plan before their Thursday midnight deadline.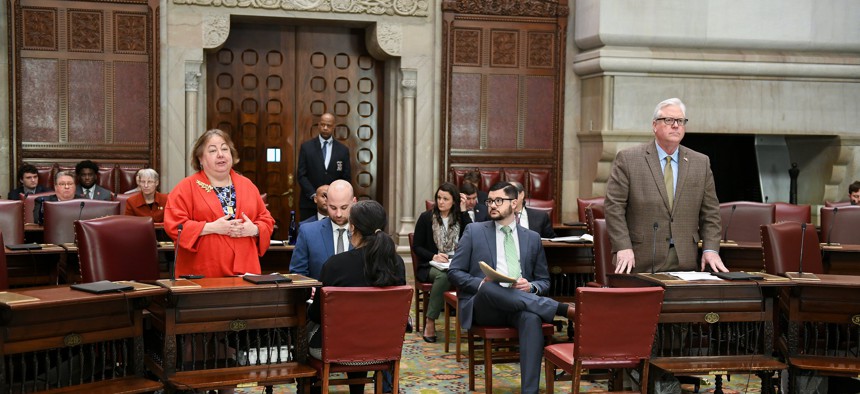 New York's fiscal year 2023 budget is due Friday, and so far, there is no sign that lawmakers are close to reaching an agreement. Multiple issues are holding up the passage of budget bills, including a last-minute proposal by Gov. Kathy Hochul to give the Buffalo Bills the largest U.S. pro sports subsidy of all time for a new NFL stadium, and perhaps the most hot-button issue in New York politics right now: bail reform. 
Lawmakers will reportedly be sent home on Thursday, with a vote possibly coming on Monday. This means that Hochul could need to request that the state Legislature approve an extension to avoid a variety of fiscal consequences. She could also have to issue a "message of necessity" that allows bills to be passed before the three-day aging period required after introduction. 
If the budget is not signed into law before 4 p.m. on Monday, April 4, the state comptroller's office is prohibited from distributing paychecks to state workers, Comptroller Thomas DiNapoli's office warned in a memo sent to state agencies earlier this month.  There are some exceptions. The implications would not affect the State University of New York, the City University of New York or the State Insurance Fund, because their fiscal years begin at the end of June, the comptroller stated. 
John Kaehny, executive director at the watchdog group Reinvent Albany, said that in years past, late budgets have delayed payments not only to state workers, but contractors, including charities and social service agencies, as well. Legislators were given a new incentive to approve a timely budget under a law that took effect in 1998 requiring their salaries to also be withheld.
With just three months between the budget introduction in late January and the start of the fiscal year on April 1, New York has one of the shortest budgetary timelines of any state, Reinvent Albany Senior Research Analyst Rachael Fauss told City Limits. In past years, lawmakers have blown the deadline by months. From 1984 up until 2004, the Legislature failed to pass spending plans on time. Former Gov. David Paterson's final budget passed in August 2010. Under Hochul's predecessor, Andrew Cuomo, the Legislature passed four consecutive on-time budgets during his first term, a streak he broke by hours in 2015. In his final year in office, a budget deal was reached on April 6. Cuomo was notorious for micromanaging the budget process and conducting negotiations in secrecy – something Hochul has vowed to reverse. She has also expressed tempered optimism about passing the budget bills before the deadline. "We're very close to that time. And I don't have any intention of it going much beyond that," she reportedly said in March. 
Lawmakers, sensitive to criticism of a "late budget," have adopted the phrase "timely budget." The term was used heavily by Cuomo. 
Already, lawmakers have complained that Hochul appears to be attempting to slip proposals through in the final hour, namely the $850 million subsidy for a new Bills stadium that she announced on Monday. "The lack of transparency is astounding, especially because the new administration took power on promises of being transparent, open and collaborative. These last-minute deals that they're trying to shove through the budget is indicative of any other previous person who held that office," Assembly Member Ron Kim said in a Tuesday press briefing about the Bills deal.
Kaehny called Hochul's budget negotiations "the most secretive in the 12 state budgets I've looked at . . . The governor has made this point of saying 'I'm not negotiating the budget in public,' but that's crazy, because the budget should be negotiated in public. It's the most important law that Albany passes every year."
A late budget allows the governor to exercise even tighter control over the spending plan, according to experts. "When the fiscal year begins without a new budget in place – as it did from 1984 to 2004 – the temporary biweekly spending bills necessary to keep the state government functioning had to originate with the governor, giving him further negotiating leverage with the Legislature," the Empire Center reported. In 2005, voters rejected the Legislature's attempt to shift this power dynamic via a constitutional amendment that would have established a contingency budget. And the courts have also repeatedly sided with governors when their budgetary powers – established via a 1927 constitutional amendment – have been challenged by legislators.