Education
David Banks lays out vision for expanding remote learning
The New York City schools chancellor also spoke about prioritizing literacy, expanding career training and eliminating waste in a wide-ranging address.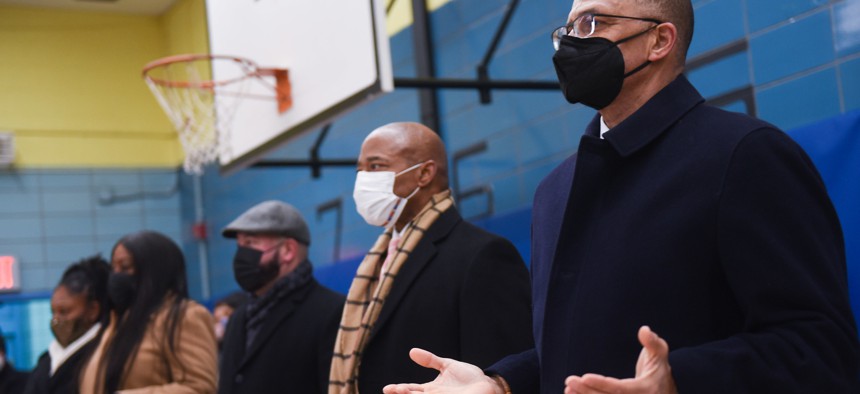 About eight minutes into New York City Education Chancellor David Banks' speech laying out his vision for the country's largest public school system on Wednesday, his teleprompter started to malfunction. "This is our $38 billion bureaucracy," Banks quipped. 
Two months into his tenure as schools chancellor, David Banks addressed a crowd of lawmakers, education leaders and department staff at the Tweed Courthouse, where he talked about improving New York City schools and delivering better educational outcomes for its students, particularly Black and Latino students. Banks' vision – according to both prepared remarks provided to press and his actual off-the-cuff speech born of technical difficulties – includes improving literacy, addressing students' mental health needs and expanding career training for students in fast growing sectors like financial technology. In a step aimed at tackling bureaucratic inefficiency, Banks also said he would eliminate the position of executive superintendent.
The vision laid out in Banks' speech also focuses on expanding and improving remote learning options for students. That includes offering a virtual learning option to what Banks called a "small percentage" of students who prefer learning remotely, who might see increased engagement if they could attend some classes online, or who are looking for flexibility in their schedules because they work during the day.
Deployed systemwide when schools shuttered at the beginning of the COVID-19 pandemic, remote learning has posed countless issues for students, families and teachers – including the expensive task of providing students with the technology needed to learn remotely. Ensuring that students also have reliable access to high-speed internet is another major hurdle, and one that hasn't been entirely cleared yet. 
But remote learning has also opened up new options for students to take advantage of education opportunities that aren't available in their school buildings, as well as to continue classes amid disruptions to in-person learning such as snow days and future COVID-19 waves. (Continuing learning, of course, depends upon all students being able to access the internet and necessary technology.) "The hard lessons learned over the past two years can't be left behind as we emerge from this pandemic," Banks' prepared remarks read. "Virtual learning is here to stay and has the potential to open our classroom doors to let the world in."
Banks announced that the department will launch a "Digital Learning Advisory Committee," composed of educators, families and students to explore expanding and improving the use of technology for learning. There are several ways that might happen. 
One idea is expanding on a pilot program launched before the pandemic, which allowed students at different schools to enroll in supplemental video-conference courses – mainly advanced classes and electives – in order to take advantage of learning opportunities that might not be offered in their physical school building. 
In an emailed statement responding to Banks' speech, Advocates for Children of New York – an advocacy group focused on students most at risk of discrimination and experiencing poor educational outcomes – said that this is one way remote learning options could be useful. "Virtual learning means that individual students don't need to be limited by the training and expertise of the staff who happen to work in their school," the group's statement read. "For example, a teacher with training in evidence-based reading intervention at one school could be matched with students at multiple schools who need support learning to read."
New York City Council Member Rita Joseph, a former teacher and now chair of the council's education committee, praised Banks' proposal to expand the pre-pandemic pilot program offering specialized classes virtually. But she said that in-person learning should be integral to the majority of students' education. "It's no secret that the initial rollout and implementation of remote learning was not successful at many schools," Joseph said in an emailed statement. "The pilot program will allow the DOE to improve and perfect remote learning so that we can avoid the problems that so many teachers, administrators, and students experienced in March of 2020."
An entirely new program included in Banks' vision would allow students to enroll in a virtual option not just for specialized or elective classes, but for most or all of their coursework. "We're going to build a virtual academy, where the principal, the teachers are all going to be working virtually with students who have chosen to be part of this virtual learning experience. So the kids will go to school virtually," Banks said during a Q&A with the press on Wednesday. "There's a small percentage of kids across the city whose families have expressed great interest in doing that. And we want to make that opportunity available for them."
A virtual learning option is something that the United Federation of Teachers, New York City's main teachers union, has wanted to explore since before the pandemic. "We always thought that there should be a way in the future where, if we could figure out how to do it, we could use (remote instruction) to offer certain types of classes and be able to time shift things for students, especially our older students in District 79," UFT President Michael Mulgrew told City & State. "By and large, remote learning was really difficult for everybody involved, especially the students and the teachers. But there was a small percentage of students who did really well." 
It's unclear how large a population of students have or would express interest in this option, but Mulgrew said that there are "tens of thousands" of students who went to work during the pandemic to help support their families financially. "Now, are we going to say, 'Oh you can't get a high school diploma,'" he said. "Is there a way for us to make high school more accessible to them if we do something in a virtual environment or a remote environment?"
Mulgrew said that talks between the department and the UFT about creating this kind of virtual option are ongoing. "I think that we would all like to have something more extensive than the pilot coming into this September," he said. During the campaign, New York City Mayor Eric Adams also discussed the possibility of using remote instruction to have one teacher working with larger class sizes. (The idea got some blowback from those who said that students are already in need of more individualized and hands-on instruction.)
A spokesperson for the education department said that the ideas laid out in Banks' speech on Wednesday weren't set in stone; if the advisory committee decided that a fully virtual option isn't something that families and educators wanted, then the department wouldn't necessarily pursue it. The spokesperson did not offer more details on how enrollment in such a program would work or when it might begin.
Broadly, when it comes to expanding remote learning, advocates urged the department to pay attention to where virtual options can come up short. "We encourage the digital learning advisory committee to look at leveraging remote learning opportunities to support students who need extra help, though caution the DOE to consider the limitations of virtual learning as well, including for students whose disabilities impact their ability to interact virtually or who don't have the technology, adult support, or physical space to work effectively from home," Advocates for Children of New York said in their statement.
Regardless of how exactly New York City expands virtual learning options in the near future, there's broad agreement that it's necessary to improve the existing infrastructure. One result of the pandemic has been the realization that schools can continue classes even amid closures. The apparent end of snow days in the New York City public school system is just one scenario that could see the entire system need to temporarily switch back to remote learning. "Whenever we have to go remote again – if, God forbid, there's another variant that comes and we've got to close schools for any period of time – we will have learned the lessons of how to do virtual learning, and at much higher levels than we currently have," Banks said.