Budget
Hochul prepares for the post-budget tango
Unlike her predecessor, Gov. Kathy Hochul has left the door open to passing items from her agenda outside the budget.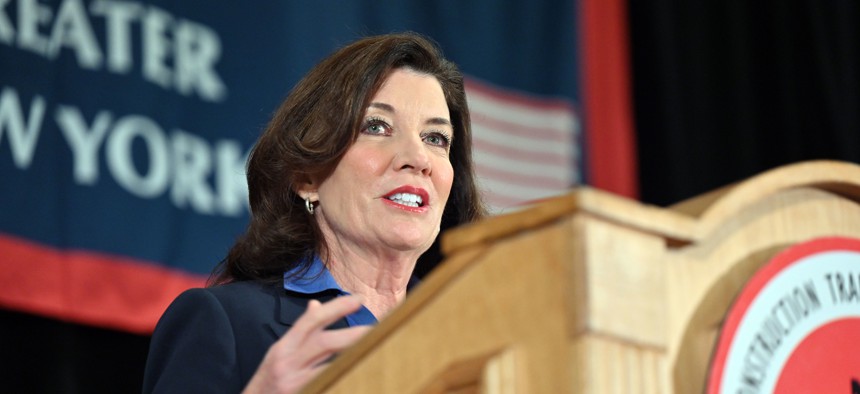 The 3D chess match that is budget negotiations in Albany have begun in earnest as lawmakers made their opening move with their one-house resolutions. It already has Gov. Kathy Hochul ceding ground on some of her policy proposals she included in her own budget plan, most notably to-go cocktails, leaving the door open to working with the Legislature post-budget to get things passed. 
In the past several decades – and certainly during Andrew Cuomo's three terms in office – governors have tried to get their big-ticket policy priorities done as part of the budget. It's where they have the most control. Hochul's willingness to work on her agenda outside the budget marks a notably different strategy for the chief executive. While she risks losing the advantages she has in the budget process, Hochul could benefit from her cooperative approach and well-timed legislative victories as she seeks her first election to the governorship. 
Hochul laid out a bold policy agenda when she presented her executive budget in January. She included ethics reforms, term limits for statewide electeds, the legalization of takeout alcohol and the extension of mayoral control of schools in New York City, among a plethora of other items. And, in keeping with recent tradition, legislative leaders responded by removing a lot of non-fiscal policy from their budget resolutions. Assembly Speaker Carl Heastie took a harder line than state Senate Majority Leader Andrea Stewart-Cousins, proactively stating his intentions to remove all policy from the fiscal plan. "We'll just have discussions on that later on," Heastie told reporters on Monday of the decision. "We just wanted to put forward a fiscal document."
In recent history, Cuomo had a track record of washing his hands of policy if he couldn't pass it in the budget. Essentially, if it didn't make it in before April 1, it became the Legislature's problem. He took that line perhaps most notably on legalizing adult-use marijuana, repeatedly saying that if it didn't get done in the budget, it wouldn't get done at all. Certainly, Cuomo made it clear that he would not engage in negotiations post budget, putting the weight – and therefore the blame when it failed to pass – on lawmakers. 
Hochul has done a 180 this year. She expressed her willingness to continue engaging with the Legislature to get her priorities passed. "We'll find the right venue to get it done," Hochul told reporters Monday evening of takeout cocktails being removed by lawmakers from the budget. "I want to make sure that we get it through before the end of session." This comes after she took out a controversial affordable housing proposal from her own budget plan with assurances that she would work with lawmakers and local stakeholders to get the item passed outside the budget.
For the governor, the apparent concessions make political sense despite the risks that may come with it, political experts say. "She has a primary on her hands," political consultant Jake Dilemani told City & State. "She wants as many friends in the Legislature as possible over the next couple months." He also noted that getting priorities done after the budget – and closer to the election – has its benefits as well. "You now have the ability to do some big press tour around that in May, a month out when people really start to pay attention."
The shift away from Cuomo's style of governance has not been lost on political observers either. Basil Smikle, another consultant who used to serve as the executive director of the state Democratic Party, said that Cuomo came into office amid particularly bad Albany dysfunction in the wake of an attempted coup. Voters wanted to see a strong presence in the Executive Mansion exert control, a role that Smikle suggested Cuomo would ultimately abuse. "Gov. Kathy Hochul doesn't have that same mindset going into these negotiations," Smikle told City & State. "This is her first and best opportunity to form a different relationship with the Legislature than the governor did."
This approach does not come without risks for Hochul. Failing to get items done in the budget means the possibility of fights with the Legislature closer to the June 28 election, generating negative news stories about Albany gridlock. Smikle said the biggest risk for Hochul, though, comes with the prospect of lawmakers forcing her further to the left than they could have during the budget process. "She has a far more progressive Legislature in both houses than Andrew Cuomo," Smikle said, adding that he also benefited from the counterweight of the Independent Democratic Conference, a breakaway group of Democrats that shared power with Republicans. "That ends up creating more problems for her in some of the more moderate parts of the state." While this doesn't represent a problem during the primary, it could hurt her in the general election, especially in a year political observers expect Democrats to underperform across the country. 
Despite Hochul's cooperative approach to the end of the second half of the 2022 session, scheduled to end June 2, she hasn't given up on getting policy done in the budget. "Yes, we'll have policy in the budget," Hochul recently told reporters. "And I believe that it makes sense, especially when we have a shortened time frame." The legislative session has gotten shorter the past few years thanks to primaries moving from September to June. And Hochul has at least one open ear from Stewart-Cousins. "We've obviously done different policies in the budget before, so we're not opposed to all policy being removed," she told reporters on Tuesday. "I'm willing to have a discussion about what can be done and what cannot be done in the budget." Unlike the Assembly, the Senate left a few big ticket policy items in their one-house proposal, including legislation to clear the criminal records of many convicted of felonies. 
A spokesperson for the governor would not opine on the potential strategizing behind Hochul's decision making regarding the budget. "Governor Hochul's Executive Budget includes bold initiatives to embrace this once-in-a-lifetime opportunity to invest in our future, and we look forward to continuing to work with the legislature to finalize a budget that serves all New Yorkers," spokesperson Avi Small said in a statement to City & State. So the chess match between state leaders continues behind closed doors.