Education
Hochul's proposal to extend mayoral control of NYC schools to four years gets pushback
Education leaders and elected officials speaking at a public hearing wanted a shorter extension and to start a discussion on how the schools would be governed going forward.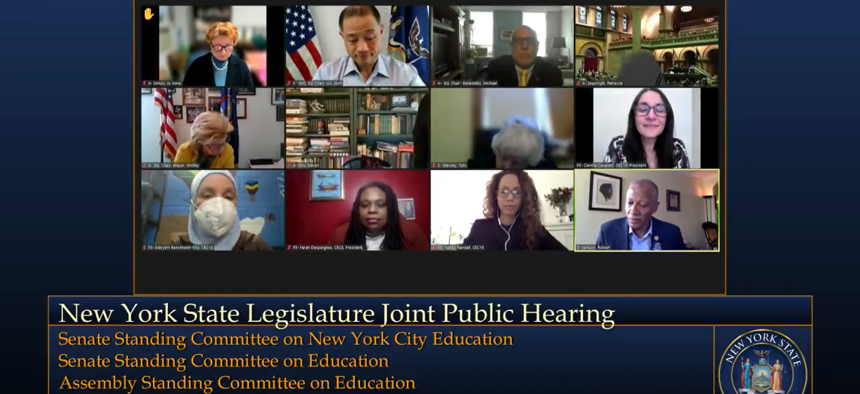 Education leaders, elected officials and parent advocates pushed back against Gov. Kathy Hochul's proposal to extend mayoral control of New York City public schools another four years during a hearing on Friday, but were split on how long an extension should be given.
Suggestions made at the joint, virtual public hearing held by the chairs of the state Legislature's committees on education varied from extending mayoral control from 1 to 3 years, as some at the hearing called for creating a task force to explore a new governance for the schools.
The hearing comes after Hochul made a budget proposal in January that would have the city's new mayor, Eric Adams, retain control of the public schools for four more years and receive $700 million in the 2023 budget. However, extending mayoral control, which expires June 30th, falls under the state Legislature's authority. Lawmakers have until April 1st to make a final decision.
Among those who spoke out against a four-year extension were United Federation of Teachers President Michael Mulgrew; Mark Cannizzaro, president of the Council for School Supervisors and Administrators; Assemblywoman Marcela Mitaynes and state Sen. Simcha Felder. Even state Sen. John Liu, the Chair of the Senate Committee of NYC Education, who hosted the virtual hearing, did not appear to be keen on four years.
"The system has been dubbed early on by myself and others when we were in the City Council as a system of mayoral accountability," Liu said during the opening statements. "In recent years though, it's become more and more known as mayoral control because it appears to be more about control than accountability."
The hearing held several panels in which education leaders and parent advocates gave their thoughts on whether mayoral control should be continued, reformed or dissolved. 
Defending mayoral control were Adams and Schools Chancellor David Banks, both of whom said the old system, run by school boards, does not work. While sitting in the backseat of a car as he was driven to another part of Friday's agenda, Adams explained, "For far too long, the system of our educational process has been leveled to dysfunctionality." 
He explained that is why he chose Banks to be chancellor, who ran an elite group of all-boy public schools under the Eagle Academy banner. "I know he's the right person to do the job. I trust him, I know him, I saw his work during the Eagle Academy, and he personified parent participation. I believe Chancellor Banks is the right person for the right time."
Banks declared mayoral accountability as "the most successful." "It's not perfect, but it is the best," Banks said, adding how mayoral control allowed city schools to have expanded enrichment activities, more direct resources, and the creation of universal PreK. He also repeatedly touted being a product of the city public school system himself.
But not all state lawmakers were fully convinced that mayoral control as it currently is could solve important issues, including class size reductions, the backlog of special education cases, and parent engagement. Banks spoke with excitement on solving these issues, like holding town halls on weekends rather than weeknights, but some elected officials weren't as enthusiastic.
"This has always been a political issue," Mulgrew said. "It's never been based off of, 'is it good for the kids?' It's always about politics and leverage. No more than three (years) because everything has to be reviewed."
Parent volunteers from the city's Community Education Councils (CECs) were also firmly against extending the control to four years, with some calling for reforms of school governance. 
"I'm not willing to settle," said Tom Shepherd, the CEC Presidents' Representative.  "It has not worked for twenty years."
Camille Casaretti, president of CEC 15 in Brooklyn, said the extension should end, but there needed to be more discussion first. "There should be a one year extension so we can create a task force. We should not have this same conversation year after year."
It appeared Liu liked Casaretti's idea.
"By and large, most people do not want to see the school governance system go back to what it was 20 years ago," he said. "But we still need to hear specific changes, if any, should be monitored."