Policy
Kendra's Law hangs in the balance with little recent discussion among Albany Democrats
State lawmakers might approve a state budget early next week that would make it easier to force people to get mental health treatment.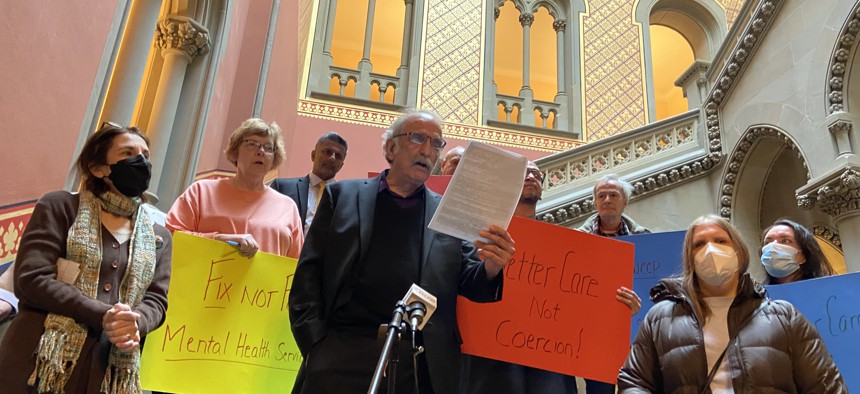 Albany Democrats could approve a state budget next week that could make it much easier to force homeless people to get psychiatric treatment, but the issue has not come up in recent days of murky budget discussions.
Gov. Kathy Hochul proposed an expansion of an expiring 20-year-old state law that facilitates forcible treatment for people with mental illnesses – called Kendra's Law – as part of her broader push on public safety. Legislators have raised concerns about approving the idea ahead of an April 1 deadline, but the issue has not been discussed in depth as budget negotiations near completion. "That's just one part of a very, very complex, very big state budget," Assembly Member Jonathan Rivera told City & State Thursday when asked about Kendra's Law.
"The only thing that we know at the moment is that we all know we need to do something to assist people with mental illnesses, whether it's compulsory or voluntary," said Assembly Member Thomas Abinanti. "We really haven't gotten to a resolution on the issue."
The proposed changes to Kendra's Law did not come up at a Wednesday meeting of the Assembly Democratic conference or among their state Senate counterparts on Thursday. "I don't have a good answer for you on that yet," state Senate Majority Leader Andrea Stewart-Cousins said Thursday afternoon when asked about the status of changes to Kendra's Law. "We're working on it." Representatives of Hochul and Assembly Speaker Carl Heastie did not respond to requests for comment by publication time. 
A series of high-profile incidents in recent months have highlighted how a lack of mental health services can make some people violent to themselves or others. That is the current standard for invoking Kendra's Law to force people to get treatment: which Hochul wants to broaden to include anyone who potentially "lacks significant capacity to provide ... food, clothing, shelter, or medical care" to themselves, according to her 10-point public safety plan. She is also pushing for other tweaks to the law as well as increased funding for mental health services. 
Mental health advocates say the potential changes to Kendra's Law raise civil rights concerns and would be counterproductive when it comes to helping people access treatment rather than a less confrontational approach. "People will be scooped off the street," Harvey Rosenthal, executive director of the New York Association of Psychiatric Rehabilitation Services, told reporters at the Capitol on Tuesday. The law will sunset this summer, so legislators should give themselves more time to consider changes rather than approving them through the budget process, according to critics of the proposal.
Any changes to Kendra's Law need to be accompanied by expansions of mental health services and funding, according to Democratic lawmakers. But the biggest factor in reaching a deal in the budget might be a broader deal on public safety. State Senate Democrats have reportedly floated a proposal, in a memo leaked to New York Focus, that would expand the list of bail-eligible offenses while rejecting the idea of giving judges more leeway to jail people pretrial out of concern for public safety. A similar compromise has support in the Assembly, according to New York Focus. Kendra's Law specifically was not mentioned in the state Senate memo. 
Multiple legislators in both chambers had said earlier this week that a one-year extension of Kendra's Law was being considered for the budget, with discussions on other changes to be determined after a budget passes. Some key lawmakers, however, have yet to signal their willingness to extend Kendra's Law at all – much less expand it in the ways that Hochul wants within the next few days, which suggests that whatever happens in the budget, the fight over how best to get people with mental illnesses off the streets is hardly going to end anytime soon. "Kendra's Law is not the answer," state Senate Mental Health Committee Chair Samra Brouk said in a statement to City & State. "We know that treatment – not coercion – is the best way to help those who are struggling."
With reporting by Holly Pretsky.