Policy
The one part of Hochul's public safety plan that progressives don't hate
Opposition to changing bail reform aside, many Albany Democrats are getting behind gubernatorial efforts to force more people to get mental health treatment.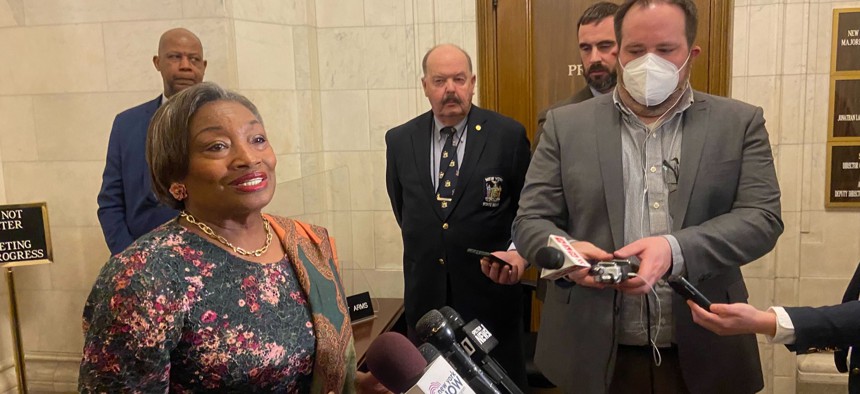 Progressives found a lot to hate in the 10-point public safety plan proposed by Gov. Kathy Hochul. They say there is not enough data to justify changes to bail reform and other criminal justice reforms passed in recent years. An April 1 state budget deadline leaves little time for negotiations, but some of Hochul's proposals could still get enacted in the budget despite legislative opposition to the timing and substance of her wider plan.
Democratic lawmakers say they are particularly receptive to Hochul's ideas on expanding mental health services while making it easier to force people with mental illnesses to get treatment. These proposals come after violent incidents involving the homeless. Hochul wants to extend Kendra's Law – an expiring state law named in honor of a woman pushed to her death in front of a train. 
Current law allows the state to compel people to get psychiatric treatment under certain circumstances. Hochul wants to broaden the scope of who Kendra's law applies to – despite concerns about making more people seek treatment.
The societal effects of the pandemic – rather than state bail laws – are to blame for the ongoing rise in violent crime in New York and the country, according to research from the left-leaning Brennan Center for Justice released this week. "Members really feel that the issues of mental health really need to come to the fore," Assembly Speaker Carl Heastie told City & State when asked how Assembly Democrats feel about the Kendra's Law proposal. The recent case of a homeless man accused of smearing feces on a woman is a case in point, according to Heastie. "Exploring things like that are equally as important (as) just saying you're going to change this law and change that law," he said. His chamber typically opposes including policy proposals in the budget, but Heastie did not rule it out with Kendra's Law Wednesday.
State Senate Democrats are also open to including changes to Kendra's Law in the budget. "We want to see the things that can help mitigate some of what we're seeing," state Senate Majority Leader Andrea Stewart-Cousins told City & State Wednesday. In other words: She too is concerned about recent violence involving people with mental illnesses. Her chamber included a one-year extension in the one-house budget resolution that passed earlier this month. Both chambers also backed increased funding for mental health services in their respective nonbinding resolutions.
The Hochul administration focused on ongoing criticism about what her plan would do to state bail laws in a Wednesday op-ed in the Daily News defending her 10-part plan – but she argued the importance of the last two parts as well. "We need to strengthen Kendra's Law to make it easier for judges to require individuals who are struggling with serious mental illness and present a danger to themselves or others to participate in mandatory outpatient treatment," reads the op-ed attributed to the governor and Lt. Gov. Brian Benjamin, who have faced criticism in recent days for avoiding questions from reporters about the public safety plan. 
Democratic lawmakers are generally in favor of more funding for social programs – and they appear unlikely to oppose Hochul on the tenth part of her public safety plan that calls for more funding for mental health services. This includes a $21 million budget request to fund more outreach teams to help the homeless access services and also alludes to "additional funding" for more residential services. "We have to do more in terms of investing in mental health, and making sure that the supports are there," Stewart-Cousins said Wednesday. 
Activists have highlighted some concerns about expanding Kendra's Law to address street homelessness in particular and any violent crime that might arise from it. "What the governor is proposing here is hugely problematic," Ruth Lowenkron, director of the disability justice program at New York Lawyers for the Public Interest, told City & State last week. "We are just trying to lock people up as a means of feeling safer." 
New legislation, including budget bills, has to be introduced three days before lawmakers can vote on it without a Message of Necessity from the governor. That leaves the governor just a few days to convince legislators to act on her public safety plan in time for the budget deadline. Lawmakers could also extend or change Kendra's Law before the 2022 legislative session is scheduled to end on June 2. 
For now, the Hochul administration is not giving up on getting its public safety plan into the budget. "In addition to landmark investments to improve psychiatric support for those in crisis, proposed modernizations of Kendra's Law, including allowing physician testimony by video conference, will help ensure effective implementation," spokesperson Hazel Crampton-Hays said in a statement. "We will continue to work with the legislature on how best to keep New Yorkers safe."
The current focus on bail in Albany, however, might be holding back efforts to make changes sooner rather than later. "It's being swallowed up by everything else," state Senate Health Committee Chair Gustavo Rivera, who recently tweeted he would not vote for a budget containing bail changes, said of Kendra's Law Wednesday. "That's part of the problem."