Criminal Justice
Lawmakers bristle at leak of Hochul's bail policy
The governor's leaked public safety plan undermines her claims that she doesn't negotiate policy through the media.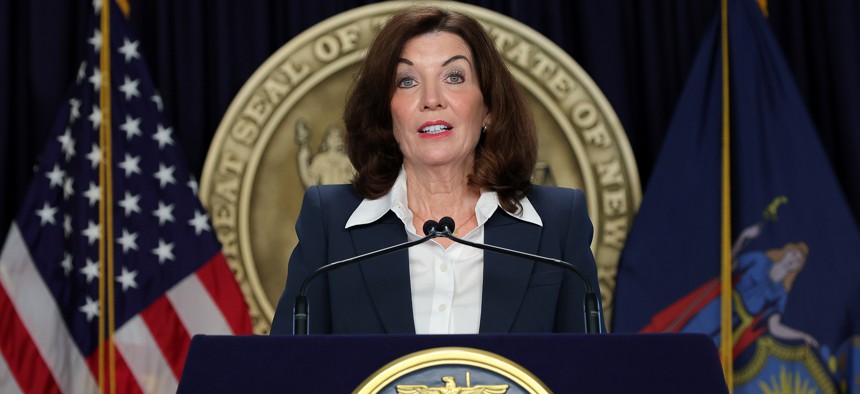 Gov. Kathy Hochul has deflected questions on controversial issues as governor by telling reporters that she does not want to negotiate with legislators through the media. 
But the leak of a 10-point public safety plan – the authenticity of which the Hochul administration has yet to confirm or deny – to the media late last week belies the governor's often-stated commitment to avoid public fights with lawmakers, with prominent lawmakers saying they were left out of the loop. Progressive opponents of her proposals are now aiming to use that disconnect to block her new proposals ahead of the April 1 state budget deadline. 
"This is a negotiating policy through the media and if she wants to have a policy conversation, we're all open to talking to policy," Assembly Member Harvey Epstein told City & State before Hochul's Monday press conference in the state Capitol. "I'm not sure why it's important to do this in the budget. It has nothing to do with budgetary impacts, but it has to do with the time of the year and trying to get something through the media." 
Hochul has yet to officially submit updated budget legislation reflecting her new public safety proposals, but they are likely to face heavy opposition in both chambers. State Senate Majority Leader Andrea Stewart-Cousins and Assembly Speaker Carl Heastie have both expressed their opposition in recent months to changing the state bail laws, especially given the mixed data on the effects of bail reform, despite ongoing pressure from Republicans and some moderate Democrats. Assembly Democrats have also traditionally opposed including nonfiscal proposals in the budget.
Leaking the plan, which Hochul's office denied doing, would make sense for the Hochul administration because it would allow her to appeal to political moderates while still leaving herself some political space if the proposals fail, according to Democratic political consultant Jake Dilemani. "If I'm the governor's people ... I see value in leaking this to the press," he told City & State. "I want people to know that I'm trying to make these changes, and then if they don't happen, it ain't because of me." The political left would presumably then take the blame if no changes get made to the state bail laws through the budget process. 
Hochul's leaked plan would allow judges to jail criminal defendants pretrial based on their perceived dangerousness, as measured by factors like their past convictions or history of gun possession. The plan would also make additional crimes like hate offenses and gun crimes eligible for cash bail. Another provision would make it possible to charge teens under age 18 in criminal court in some gun possession cases. Hochul is also aiming to make it easier to force some people with mental illnesses to get treatment. 
Activists and legislators on the political left say Hochul is bowing to pressure from opponents of bail reform despite data that shows just a small percentage of people released pretrial commit additional offenses. "It is based on a concerted disinformation campaign by anti-reform officials and lobbyists, who have lied not only about public safety solutions but repeatedly and relentlessly about facts in specific cases and the law itself," reads an opposition memo signed by advocacy groups including The Legal Aid Society and the New York City Civil Liberties Union. 
Hochul is getting blowback now for the plan and the way that she allegedly released it. "Hochul released a plan (via the right-wing NYPost) to radically change our bail, discovery and age of criminal responsibility laws in a must-pass state budget less than two weeks before the deadline," tweeted Friday. "It's reckless, wrong and not how we should govern." 
But she might still get what she wants in the end if she leverages her full power as governor. The state Constitution gives Hochul enormous leverage in the budget process that Hochul could use, but that would mean undermining the congenial image she has cultivated as governor. Her push for the changes continued Monday with a meeting between Lt. Gov. Brian Benjamin, who she has tasked with overseeing efforts at addressing rising crime, and state lawmakers. Participants at the meeting were not available for comment by publication time.
A spokesperson for Hochul denied she is negotiating bail reform in public despite the leak of her plan. "As the Governor has said consistently since becoming Governor, she does not negotiate in public. We did not release this memo to the Post, and we look forward to continuing to work with the legislature to deliver a budget that serves New Yorkers," Hochul spokesperson Hazel Crampton-Hays said in an email. 
Representatives of Stewart-Cousins and Heastie did not respond to requests for comment by publication time on what comes next on possibly changing the state bail laws.
With two weeks to go until the state budget deadline, the leak of the memo has created a rift with state lawmakers at a bad time for Hochul as she pushes for final passage of a $216 billion budget stuffed with policy proposals. Recent polling shows voters are worried about rising crime, and the governor could win the war if not her current battle with progressives over bail reform even if it means she might have violated her stated commitment to not negotiate policy through the media. She faces a tough race for a full term in office, so getting grief over bail reform might just work out for her in the end.
"Win or lose she wins the argument," political consultant Hank Sheinkopf told City & State in a text. "Crime is the November 2022 issue. Making the legislature appear to be on the other side of what NYC suburbs where she needs votes is smart."