Criminal Justice
Why corporate America is betting on getting Clean Slate into the state budget
Progressive activists and business leaders say the economy would benefit from making it easier to seal criminal records for formerly incarcerated people.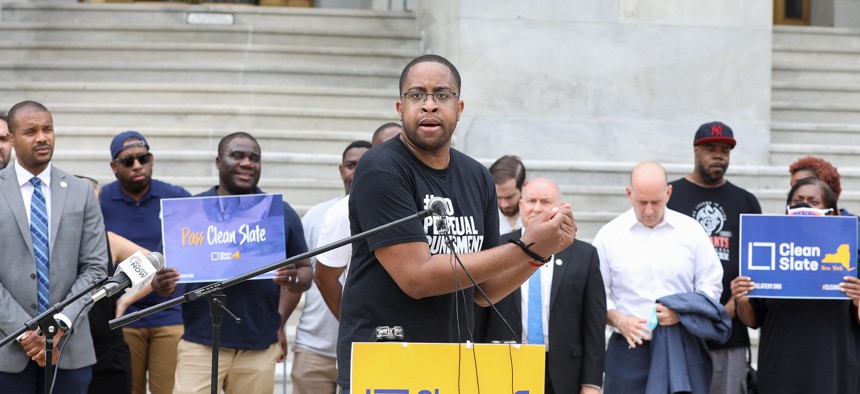 Big business and the political left hardly agree on everything, but both sides are coming together in support of legislation that would help people rebuild their lives following incarceration and parole. 
A growing coalition of businesses, chambers of commerce, labor unions, advocacy organizations and  more are supporting efforts to get Clean Slate legislation in the upcoming state budget. The legislation would automatically seal conviction records for New Yorkers who meet certain conditions and have already completed their criminal sentences. Business leaders say that makes a lot of economic and moral sense considering how society as a whole would benefit if millions of formerly incarcerated people had better access to jobs and housing. 
"This allows employers to tap into a very strong and useful proportion of the workforce," Paul Zuber, executive vice president of the Business Council of New York State, which represents thousands of companies statewide, told City & State. "When individuals – who are formerly incarcerated, who have served their time, done what they're supposed to – are able to get jobs, it's better for the community."
The coalition supporting Clean Slate includes JP Morgan Chase, Verizon, powerful labor unions like 1199 SEIU, chambers of commerce across the state and dozens of law firms. 
Business leaders are making the case for Clean Slate by appealing to elected officials and the general public in a variety of ways. "This is more important than ever in the wake of the Covid pandemic to ensure that New Yorkers with criminal records aren't left behind as the economy reopens," David Lamendola, director of government affairs for New York and Connecticut at the telecom giant Verizon, wrote in a March 25 op-ed in The Buffalo News. 
"Part of our agenda is looking at issues and particularly legislation and potential advocacy in connection with reentry issues," Richard Taffet, co-chair of the legal committee at the Harlem Chamber of Commerce, told City & State. The global law firm Morgan Lewis, where Taffet has his day job, is among the dozens of law firms who recently signed onto a letter in support of the bill. 
More than 2 million New Yorkers have criminal records, most of which could be eventually sealed under the Clean Slate bill. This could help many of them recover the economic ground they lost while they were serving their sentences. An analysis from the Brennan Center for Justice found current laws on sealing records cost incarcerated people $100,000 in lost lifetime income. States like Michigan, Pennsylvania and Utah have already passed versions of the legislation. "Passing this law would create oppor­tun­it­ies for hundreds of thou­sands of New York­ers overnight," reads the January 2022 analysis. "Research shows that record-seal­ing laws increase both employ­ment and wages among bene­fi­ciar­ies." 
Gov. Kathy Hochul included a version of the legislation in her own in the state budget she proposed in January, and there appear to be more than enough votes within the Democratic supermajorities in the state Senate and Assembly. Hochul, however, wants formerly incarcerated people to wait longer before their records would be sealed – a difference that can amount to waiting a decade more to get records sealed in some cases, City & State reported in January. "Over the last couple of days, we have been having very productive conversations with colleagues in the Assembly about any possible suggestions they have around how to make our bill that much more effective," bill sponsor Assembly Member Catalina Cruz told City & State Wednesday. "We are actively listening and working with them." A version of the bill nearly passed the Legislature last year.
Supporters of Clean Slate are trying to get it passed at a time when the governor and moderate lawmakers are pushing controversial changes to state bail laws and other criminal justice reforms enacted in recent years, many of which concern the pretrial process. That is a key difference from Clean Slate, which concerns people who have already been convicted of a crime. Bill supporters say they deserve a chance at rebuilding their lives once they serve their sentences – and the big business leaders among them are doing everything they can to get as broad of a coalition as possible behind Clean Slate. "Our support is helpful in kind of making this … not being a Democrat or Republican or liberal, conservative or progressive issue," Zuber said. "It's about doing the right thing – and adding onto that the benefits that we see to the economy."