New York City
Eric Adams' new budget proposal, by the numbers
The mayor's updated plan comes with a slightly larger price tag and some concessions to the City Council.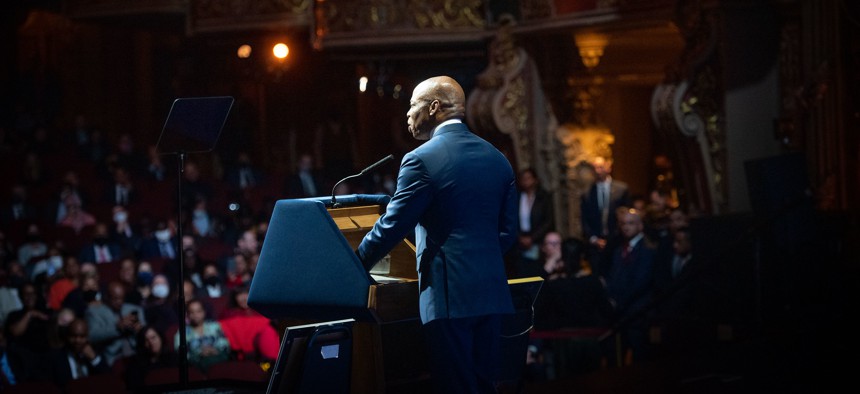 After 116 days in office, New York City Mayor Eric Adams delivered a 54-minute State of the City address and a second budget proposal to a crowd of hundreds of people at Kings Theatre in Brooklyn.
But those aren't the numbers you came here to read about.
Adams presented his $99.7 billion executive budget on Tuesday, marking a $1.2 billion increase from his initial proposal in February. That budget, totaling $98.5 billion, included new investments in the Summer Youth Employment Program, secured funding for the Fair Fares program and boasted a total of $1.9 billion saved through cuts at nearly every city agency.
In its response to the mayor's initial budget proposal, the City Council called for roughly $1.3 billion in additional funding, with specific investments in social services that critics said lacked sufficient attention in Adams' initial budget, including funding for affordable housing, mental health services, and under-resourced hospitals.
Adams' new budget plan addresses some of the council's requests. It would commit $5 billion for capital housing funding over 10 years, as well as expand a pilot program that deploys mental health professionals as primary responders to people experiencing a mental health crisis, rather than police officers. In addressing the crowd of elected officials, local lawmakers, administration leaders and other invited guests, Adams suggested that he was fulfilling a lot of what people asked of him. "Let me tell you something, it's going to be hard for people to hate me," he said.
Here are some of the highlights that City Council members will be poring over in another round of hearings as the city's budget process kicks into high gear ahead of the July 1 deadline.
$99.7 billion – The total proposed spending for the fiscal year starting on July 1. This total, an increase of over $1 billion from Adams' initial budget proposal, could grow to over $100 billion by the time the mayor and City Council strike a final deal.
$6.3 billion – The total funding for the city's reserves, which Adams called a record thanks in part to an additional $200 million boost to the city's rainy day fund. Though Adams painted a fairly rosy picture of New York's future, he pointed to those reserves as an important resource if the city experiences unexpected problems because of new COVID-19 variants or other crises.
$5 billion – Adams committed to spend an additional $5 billion over 10 years on capital housing projects, with that money going to the New York City Housing Authority and the Department of Housing Preservation and Development. On the campaign trail, Adams said he would devote $4 billion to capital housing funding annually, and housing advocates were quick to note that this proposal fell short of that promise. This added money would bump total capital housing spending to $22 billion over the next 10 years. Adams said a detailed blueprint for housing and homelessness would be released in the coming days.
1,400 – The number of safe haven or stabilization beds that are part of Adams' promise to provide better services to homeless people. The administration's clearing of homeless encampments in recent weeks was criticized by homeless advocates and some Democratic lawmakers who argued that the city was uprooting people without providing any better alternatives for shelter.
$55 million – The funding allocated to expand the city's Behavioral Health Emergency
Assistance Response Division pilot program, which deploys mental health professionals as first responders to 911 mental health calls, rather than police officers. That program got off to a slow start under then-Mayor Bill de Blasio, but the idea is popular with progressive politicians who advocate for the diminishment of law enforcement's role in responding to these calls. "You know I did something right because Jumaane stood up and applauded me," Adams joked, when New York City Public Advocate Jumaane Williams cheered for the expansion of the program.
10,000 – The number of new slots that would be created for the city's Summer Rising program offering continuing education during the summer, bringing the total number of slots to 210,000. That's part of an additional $285 million investment in education, with a focus on career development, apprenticeship and enrichment programs.
$118 million – The total amount of Adams' investment in cleaner streets and public spaces, including funding a new trash containerization pilot program and money to expand organics recycling at city schools. Adams' initial budget proposed suspending the expansion of the city's curbside composting program, making composting one of the earliest of the City Council's disagreements with the initial budget.
$3.9 billion, $3.4 billion and $3.7 billion – The projected budget gaps for fiscal years 2024, 2025 and 2026, respectively. These marked slight increases from what was forecasted in the initial budget, but were referred to on Tuesday as "manageable."
20,000 – The number of new trees the Adams administration would plant as part of a $488 million capital funding investment for park improvements.
Correction: An earlier version of this story incorrectly described Adams' funding for capital housing projects.
Powered By
NEXT STORY: Everything you need to know about New York City Mayor Eric Adams' $99.7 billion budget