Policy
Officials are raising alarms about ghost guns – here's what you need to know about the homemade weapons
The NYPD has recovered more than 150 ghost guns so far in 2022, a 314% increase in just three years.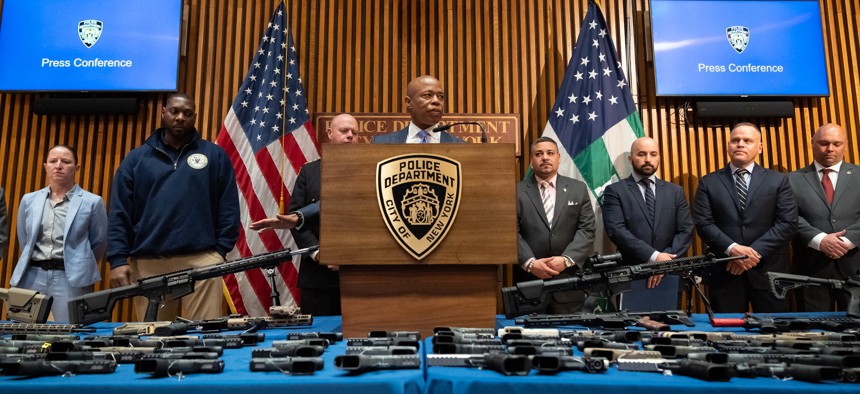 New York City has entered an "alternate reality" and a "real scary place" with the proliferation of ghost guns and the threat of the Supreme Court loosening open carry restrictions in New York, Mayor Eric Adams recently declared. The mayor made the comments while calling on the Bureau of Alcohol, Tobacco Firearms and Explosives to revoke the license of Polymer80, which manufactured parts for 90% of the ghost guns recovered by the NYPD, according to officials. 
Officials say ghost guns pose a unique threat to gun-violence prevention efforts, because they are made from parts that can be ordered by individuals who do not have a gun license and come without serial numbers, making it nearly impossible for law enforcement to trace the firearms if they are recovered from a crime scene. "These guns are sold mostly online, the website selling them can easily circumvent any regulations. And make no mistake about it. They frequently ship their products to criminals who blatantly disregard our laws," NYPD Commissioner Keechant Sewell said during a press conference earlier this month alongside Adams and a representative from the advocacy group Everytown for Gun Safety. 
The prevalence of ghost guns has risen to alarming levels since the NYPD seized its first ghost gun in 2018. This year, police have recovered 153 of the homemade guns as of May 11, a 314% increase from 2018, Sewell said. 
Here are answers to frequently asked questions about these homemade weapons.
What crimes have been committed in New York using ghost guns?
Police said they recovered a ghost gun that was used in the shooting of three people, one fatally, in the Bronx on May 3. The suspect, 25-year-old Edison Cruz was reportedly arrested hours later and charged with murder. Police also recovered a cache of weapons inside his apartment, ABC 7 reported. 
Weeks earlier, officials said a ghost gun manufactured by Polymer80 was reportedly used in the killing of 16-year-old Angellyh Yambo in the Bronx on April 8. Police said they recovered the gun after the suspect, 17-year-old Jeremiah Ryan, threw it from his apartment window.
On April 6, officials said they uncovered an "arsenal" of ghost guns, including four assault weapons, five handguns and four rifles from 51-year-old Dexter Taylor's apartment in Bushwick. The Brooklyn District Attorney's office said law enforcement found rifle and pistol magazines, casings, bullet primers and gunpowder, along with 13 fully constructed firearms, worth an upward of $10,000.
What state laws are in place to regulate ghost guns?
A bill sponsored by state Sen. Anna Kaplan and Assembly Member Charles Lavine, made it illegal for anyone other than a licensed gunsmith to possess a ghost gun kit, defined in the law as "an unfinished frame or receiver." Named after Scott J. Beigel, a victim in the 2018 mass shooting at Marjory Stoneman Douglas High School in Parkland, Florida, the 2021 law also criminalized the sale of ghost gun kits.
Similar legislation, passed in tandem with the Scott J. Beigel Act and named after New York City gun violence victim Jose Webster, requires gunsmiths to serialize and register unfinished frames and receivers. 
Following last Saturday's mass shooting in Buffalo, state Sen. Luis Sepúlveda introduced legislation that would establish mechanisms to allow anyone to file a civil action against ghost gun manufacturers. 
What about federal laws?
Under current ATF regulations, "certain frames and receivers do not qualify as firearms, even if they only require a minimal amount of drilling or milling to 'finish' them," according to Everytown. Most ghost gun kits are sold as nearly fully constructed weapons, sans lower receivers, which house the mechanical parts of the gun, such as the trigger. 
Federal officials in April announced a ban on "buy build shoot" kits that will qualify them as a firearm under the Gun Control Act. The rule will prohibit anyone who is not a licensed firearm manufacturer from selling the kits. It will also require manufacturers to include serial numbers on the frame or receiver and run background checks prior to selling them. The new rule takes effect in August.
How were ghost guns made available in the first place?
In what is widely believed to be the first ghost gun shooting in 2013, 23-year-old John Zawahri used a .223 semi-automatic rifle he built himself to kill his father, brother and three others at a community college in Santa Monica, California, before turning the weapon on himself. 
Since then, as demand for guns in America has increased, new manufacturers have joined the market, realizing how easy it is to circumvent federal regulations. According to Everytown, more than 100 companies now sell ghost gun kits online. Federal officials said law enforcement reported recovering 20,000 ghost guns last year alone, 10 times the number seized in 2016.