Policy
Hochul proposes new gun laws, social media crackdowns after mass shooting
The governor announced a series of measures meant to address the spread of white supremacy online and strengthen gun control laws in New York.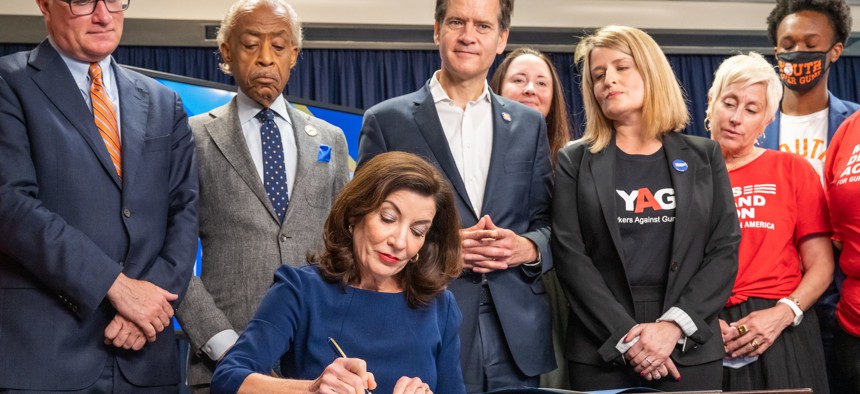 Gov. Kathy Hochul announced a series of new bills, executive orders and investigations on Tuesday meant to strengthen the state's gun laws and help tackle the pervasive problem of white supremacy's spread online. The measures came as the state still reels from the racist mass shooting in Buffalo that claimed the lives of 10 people. 
Hochul had been teasing a package of gun reform bills since last week, saying that she had already planned to announce them prior to the shooting. On Wednesday, she made good on those promises in Manhattan, a day after President Joe Biden visited Buffalo to speak about the shooting. While Hochul still called for the federal government to take nationwide action on the issue of guns and white supremacy, she expressed her hope that New York would serve as a national leader. "Communities are in mourning, and I hope to God that this is the wake up call this nation has needed," Hochul said. "Let (Buffalo) be known as the place where people said, 'Okay, enough is enough,' and did something."
In the most immediate action taken, Hochul signed two new executive orders. One creates a new Domestic Terrorism Unit withtin the state Division of Homeland Security and Emergency Services and establishes a unit within the state police dedicated to tracking hate speech and extremist violence online. "The truth is that the most serious threat we face as a nation is from within," Hochul said. "Not from the Russians, not from people elsewhere – it's white supremacism." This Domestic Terrorism Unit will develop best practices for addressing white nationalist extremism and train local officials. 
The second executive order requires state police to file for extreme risk protection orders under the state's red flag law, which permits a judge to revoke someone's right to purchase a gun if they are deemed a threat to themselves or others. Currently, the law has no such requirement and only recommends that law enforcement seek the order if they have probable cause to believe one is needed. According to State Police Superintendent Kevin Bruen, state police officers already seek to have an extreme risk protection order issued in most cases when one may be deemed necessary, but that the new executive order will strengthen that commitment. He said that since the law took effect in 2019, the courts have granted 300 such protection orders to the state police. Expanding the requirement to other law enforcement would require legislation, which Hochul said she supports.
In addition to the executive orders, Hochul said she had referred an investigation into social media platforms that permitted the streaming of the shooting and otherwise elevated violent hate speech to the state attorney general's office. Shortly after making that referral public, state Attorney General Letitia James announced that her office had opened the investigation. "Time and time again, we have seen the real-world devastation that is borne of these dangerous and hateful platforms, and we are doing everything in our power to shine a spotlight on this alarming behavior and take action to ensure it never happens again," James said in a statement. The probe will specifically look at the social media platforms Twitch, 4chan, 8chan and Discord, though it will not be limited to just those sites.
The final aspect of the announcement came in the form of legislation, though Hochul wouldn't speculate about the likelihood of passage before lawmakers break for the year. The first is new legislation from her office that would close the "other gun" loophole, which permits certain firearms to go unregulated due to definition limitations in the law. The bill would expand that definition so that already existing gun control laws can apply to more weapons currently legal to buy in New York on a technicality. Hochul said she's working with the Legislature to pass two other already introduced pieces of legislation that would help streamline the investigative process into gun-related crimes. 
The state Legislature has only six days of scheduled session left, but state Senate Majority Leader Andrea Stewart-Cousins told reporters this week that her chamber was committed to passing additional gun reform measures before they break for the summer. She said that while she has not had conversations with the governor on the specific package of bills Hochul planned to introduce, Stewart-Cousins committed hat she would "do what needs to be done."