gun control
What have New York lawmakers done to prevent gun violence this year?
State legislators, along with Gov. Kathy Hochul, have responded to mass shootings and the proliferation of illegal guns by introducing a variety of gun control policies and proposals.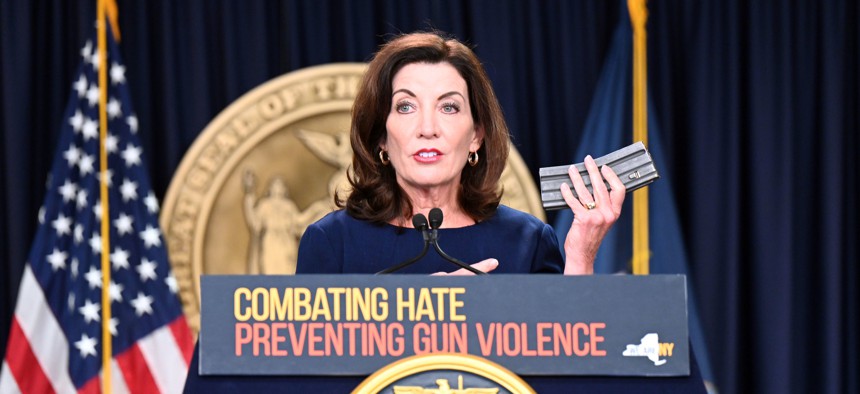 Two mass shootings in May alone prompted state lawmakers to unveil a slate of legislative and policy proposals to combat the gun-violence epidemic, just before the end of this year's legislative session. Prior to the massacres in Buffalo and Uvalde, prior proposals this year targeted ghost guns and the flow of illegal guns into New York from other states. 
At least one major bill has passed – the criminalization of ghost gun sales. Other, less significant pieces of legislation, such as an excise tax on ammunition to support gun-violence prevention efforts, are stalled in committees. 
Here's an overview of some of the gun-violence prevention bills and policies Gov. Kathy Hochul and state lawmakers have proposed this session:
-One of the first firearm-related bills introduced this session, by Assembly Member Linda Rosenthal and state Sen. Brad Hoylman, criminalized the sale of ghost guns by anyone other than a licensed gunsmith. In an effort to make it easier for law enforcement to trace ghost guns – which are often manufactured without serial numbers – the law also requires gunsmiths to serialize all firearms. Hochul signed the legislation into law on March 18.
-In February, state Sen. Andrew Gounardes and Assembly Member Patricia Fahy proposed legislation that would impose a five-cent excise tax on ammunition sales, with the proceeds going to the New York state gun violence research fund. The legislation is currently in the Assembly Ways and Means Committee and the state Senate Budget and Revenue Committee.
-Also in March, Assembly Member Harvey Epstein sponsored legislation that would require ammunition manufacturers to incorporate codes on their products in order to help law enforcement more easily trace ammunition recovered from crime scenes. Versions of this bill have been introduced in every session since at least 2009. It is currently in the Assembly Codes Committee.
-Prior to the shootings in Buffalo and Uvalde, state Sen. Luis Sepúlveda drafted legislation that would set up a mechanism that allows the state or individual to file a civil lawsuit against unauthorized ghost gun sellers and manufacturers. The law is similar to one that took effect last year that allows states, municipalities and individuals to sue firearm sellers, manufacturers and distributors they believe are creating a "public nuisance." Sepúlveda's bill is in the Senate Judiciary Committee.
-On Wednesday, state Sen. Sean Ryan proposed legislation that would put new restrictions on sales of bulletproof vests and other body armor by requiring the transfer of such products to be made in person. The bill, which is in the Senate Consumer Protection Committee, was unveiled in response to the Buffalo shooting, in which the alleged shooter, Payton Gendron, was said to have worn a bulletproof vest.
Hochul's gun-violence prevention initiatives
Hochul on Jan. 5 announced a package of gun-violence prevention efforts as part of her State of the State address. Among them, she promised to "triple the State Police's gun violence intelligence resources." The initiative included a series of measures to enhance coordination between local law enforcement agencies and increase data collection related to gun trafficking and "community-specific crime problems," her office said in a press release at the time. 
The January announcement also included the formation of the Interstate Gun Tracing Consortium, which convened at the end of January and includes officials from the New York City Police Department, federal law enforcement agencies and police from 10 states. The consortium is intended to mitigate gun trafficking operations. 
In May, Hochul joined a call made by New York City Mayor Eric Adams for the federal Bureau of Alcohol, Tobacco, Firearms and Explosives to revoke the firearm manufacturing license of Polymer80, the largest ghost gun supplier in the United States. 
Following the mass shooting on May 14 at a Buffalo supermarket, Hochul vowed to crack down on domestic terrorism, hate speech on social media and loopholes in the state's gun laws. She asked the state Attorney General's office to investigate the social media platforms allegedly used by the accused killer to livestream the shooting and publish a racist manifesto detailing his plans. She also issued an executive order to establish a new domestic terrorism unit and require each county to develop a plan to address domestic terrorism threats by the end of the year. Enhancement of social media monitoring is among the goals of the domestic terrorism initiative, Hochul said. 
A second executive order issued in conjunction with the domestic terrorism initiative aims to strengthen the state's Red Flag Law. The law allows law enforcement, families and school officials to file for an emergency protection order against individuals who exhibit behavior that could be seen as a threat to themselves or others and prevents them from owning or obtaining guns. Hochul's directive was a response to the New York State Police's failure to use the law against the alleged shooter, Gendron, after they were reportedly called to his school to investigate a murder-suicide threat he made, then later said was a joke. 
After the shooting of at least 21 people, including 19 children, at an elementary school in Uvalde, Texas, on May 24, Hochul announced plans to work with the state Legislature to draft a proposal that would raise the legal age for purchasing an AR-15 rifle from 18 to 21.
Powered By
NEXT STORY: Legislators poised to let 421-a expire