New York State
Hochul proposes raising age to purchase AR-15 rifle to 21
Both in Texas and Buffalo, 18-year-old men legally purchased these semiautomatic rifles before their attacks.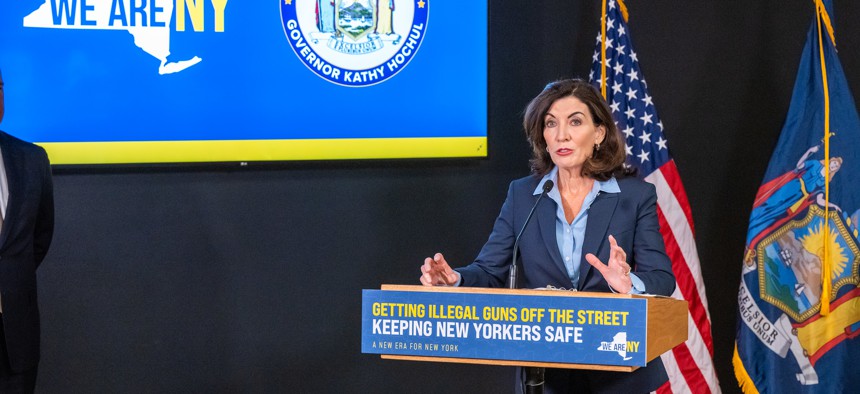 In the wake of yet another mass shooting – this time at a Texas elementary school that left at least 19 children and two adults dead – Gov. Kathy Hochul announced that she would work with the state Legislature to raise the age to purchase an AR-15 rifle from 18 to 21. The alleged shooters in Texas as well as the racist mass shooting at a Buffalo supermarket were both 18 years old and legally bought their semiautomatic weapons.
Speaking after a meeting of the Interstate Task Force on Illegal Guns that she convened, Hochul mourned for the children who died in Texas so soon after New York's own tragedy. "Just this morning, as we're all reeling with the pain, I ask myself as governor, am I supposed to just leave all the flags at half mast? They're still at half mast from Buffalo," Hochul said. "I don't want to, so we harness this anger."
Hochul went on to say that both the Buffalo and Texas shootings shared three common denominators: the alleged shooters were 18, men and used AR-15s. "I don't want 18 year olds to have guns, at least not in the state of New York," Hochul said. She added that she had already spoken with members from the state Legislature's Brooklyn delegation about the proposal and said that "there is a strong commitment." For now, the governor and lawmakers will target AR-15s specifically. With the last three scheduled days of the legislative session happening next week, officials have been working to approve a package of gun bills.
However, raising the age to purchase an AR-15 will face an uphill challenge. California passed a similar law in 2019 that a federal appeals court just struck down this month, deeming it an unconstitutional infringement of the Second Amendment. "We watched closely what happened in California," Hochul said. "Sometimes when another state goes first, you can learn from (its) mistakes." She later indicated that she would be willing to fight for the law in court.
The governor also briefly commented on the pending U.S. Supreme Court decision that may overturn New York's concealed carry law, saying that she would consider calling a special session of the Legislature to address that decision if needed. "I'll do whatever I have to to protect the people of this state," Hochul said.
Powered By
NEXT STORY: What to know about New York City budget negotiations