Budget
What to know about New York City budget negotiations
A little more than a month before the budget deadline, the City Council is still pushing for more funding for affordable housing, neighborhood health centers and safe streets.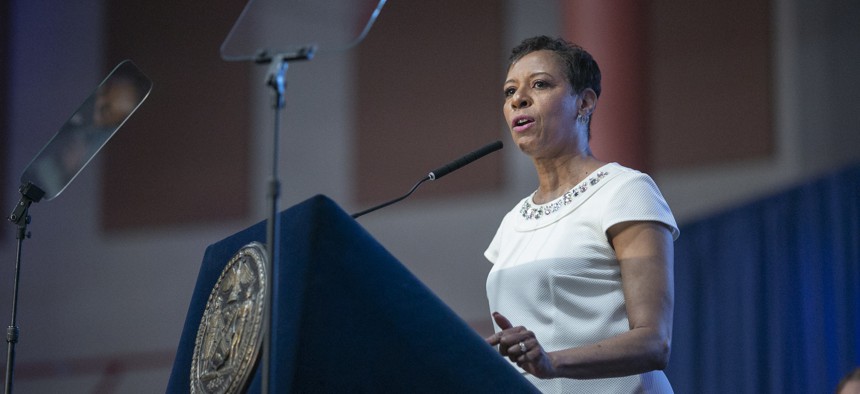 A few days before New York City Mayor Eric Adams released his preliminary budget proposal, the mayor announced funding for two of City Council Speaker Adrienne Adams' major priorities. 
Baselining funding for the discounted MetroCard program known as Fair Fares and expanding the city's summer youth employment program right out of the gate took a few potentially contentious issues off the mayor's and speaker's plates at the start of a long budget negotiating process. Maybe the two Adamses would lead the city through a breezy and uncontroversial budget cycle after all.
That hasn't exactly happened. Although the mayor pitched his second budget proposal last month as one that answered many of the council's and advocates' requests, there's still a fair amount of daylight between the mayor's budget proposal and what the City Council's leadership hopes to get passed by July 1. 
On Sunday, Speaker Adrienne Adams delivered her own State of the City address, highlighting some of the remaining priorities that the council leadership will be negotiating to include in the final budget, such as doubling capital funds for housing and expanding those youth employment and development programs to be year-round. 
Here are some of the other big asks the City Council is still pushing for in the city's final budget and how they stand up to what the mayor has proposed so far. City & State will keep updating this list as negotiations continue.
Affordable housing
What the mayor has proposed: Just over $2 billion per year in capital funding for affordable housing production 
What the City Council has proposed: $4 billion per year in capital funding for affordable housing production
Eric Adams was one of several mayoral candidates last year who pledged to spend $4 billion per year on housing production and preservation as the city confronts an affordability crisis and public housing stares down $40 billion worth of much needed repairs. He hasn't fulfilled that pledge yet, offering roughly $2.5 billion per year in capital funds for housing in his executive budget proposal. But the council will push to get closer to that $4 billion annual pledge, and some of its members are hopeful that the administration's already demonstrated willingness to add funds for housing between the preliminary and executive budget is a sign of some flexibility on this issue. To help tackle homelessness, the council is also asking the administration to prioritize supportive housing – affordable housing with social support services – with an additional $28 million to add units for people involved in the criminal justice system. The mayor's executive budget added $171 million a year that will go towards creating new Safe Haven and stabilization shelter beds, along with drop-in centers and expanded street outreach.
Health equity and access
What the mayor has proposed: Capital funding for a new public health laboratory, $55 million to expand mental health response teams, and expanding emergency food assistance
What the City Council has proposed: $250 million for five new neighborhood health centers in underresourced communities, $61 million to expand mental health response teams, and an additional $100 million for mental health services in schools
When Adrienne Adams was elected City Council speaker at the beginning of the year, she said that pandemic recovery would be the council's first priority, noting that "all roads lead from this thing called COVID-19." It's unsurprising then that addressing the gaps in access to quality and affordable health care is on the speaker's to-do list. Among the council's remaining asks is a push for $250 million in capital funding to create five new Health + Hospitals health and ambulatory care centers in communities with poor health outcomes and low access to care. The council is also calling for additional funds to provide more mental health services and counseling in schools.The mayor has already addressed some of the council's requests, including allocating funds in the executive budget to expand the city's Behavioral Health Emergency Assistance Response Division (B-HEARD) program, a pilot that provides a way for 911 mental health calls to be routed to mental health teams rather than police. The council asked for $61 million for the B-HEARD teams and the mayor allocated $55 million in the executive budget. 
Public safety
What the mayor has proposed: $5.6 billion for the NYPD and a gun crime unit in the medical examiner's office 
What the City Council has proposed: Creating trauma recovery centers and at least $5 million for hate crime prevention
The budget of the New York City Police Department isn't as much of a focal point this budget cycle as it has been in recent years, and apart from the council's progressive members pushing back on the size – and uses – of the NYPD's budget, council leadership hasn't vocalized an intention to fight that specific number. But there's a chance the council will bring up excessive overtime spending in the next month of budget negotiations and attempt to crack down on the hundreds of millions spent annually on overtime costs. The speaker has also called for at least $5 million in the budget for community organizations to respond to and prevent violent hate crimes, and creating trauma recovery centers offering victim services like family therapy and legal assistance.
Street safety
What the mayor has proposed: $904 million for the streets master plan
What the City Council has proposed: $3.1 billion for the streets master plan
The Streets Master Plan passed by the last City Council requires the creation of hundreds of new miles of protected bus and bike lanes, along with millions of feet of open pedestrian space. So far, the mayor has committed $904 million to carry that out, winning some advocates' praise. But a report from the speaker's office notes that the administration's commitment "addressed bike and bus lanes, but largely omitted an expansion of open pedestrian spaces." The speaker on Sunday reiterated the council's call for somewhere closer to $3.1 billion to be put towards the streets plan in order to also expand open pedestrian spaces – especially in neighborhoods with poor health outcomes.
Youth programs
What the mayor has proposed: 100,000 summer youth job opportunities
What the City Council has proposed: An additional $57 million for year-round youth employment and development programs
The speaker praised the mayor's early decision to expand the city's summer job programs for kids, but the council will still push for additional funds to expand year-round slots in youth employment programs. "Let's make the smart choice to expand youth employment and development programs to be all year long, especially for young people disconnected from schools and services," the speaker said at Sunday's address.
Sanitation
What the mayor has proposed: A trash containerization pilot, expanding organics recycling at schools, and $11 million to fully restore Alternate Side Parking to allow better street sweeping and funding bike lane cleaning equipment
What the City Council has proposed: Increased corner basket pick-ups, expanding curbside organics collection, and an additional $4.8 million for rat mitigation
Though it didn't earn a detailed mention in the speaker's state of the city address on Sunday, the city's sanitation budget has been one of the more contested issues between the mayor and the council. The mayor paused a planned expansion of the city's curbside composting program – something the council is continuing to push for – but in his executive budget added funding for a trash containerization pilot program in Times Square and expanding the city's composting program at schools. The council is still asking for an expansion of curbside organics collection across the city to move forward, as well as additional funds for increasing corner basket pick-ups and rat mitigation programs.