Housing
City Council to push for more affordable housing investment in budget negotiations
Council members and advocates said an extra $5 billion over 10 years won't be enough to address a housing affordability crisis.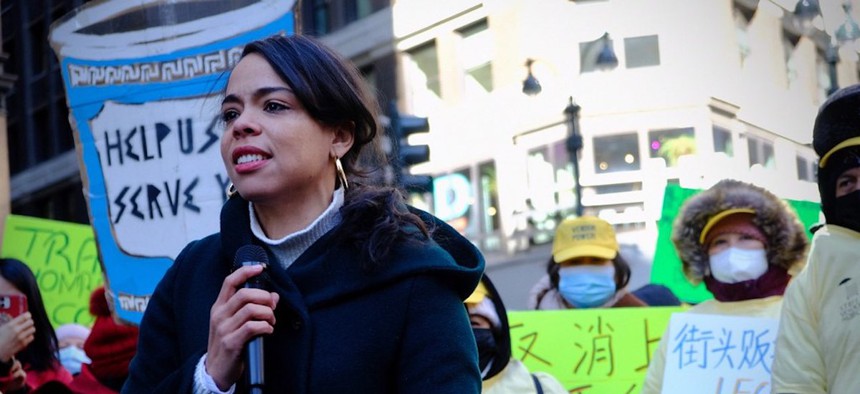 New York City Mayor Eric Adams isn't the first elected official – and wouldn't be the last – to break a campaign promise. But the New York City Council will nonetheless try to get Adams to stick to his campaign commitment to put $4 billion per year in capital funding for housing.
In his executive budget proposal in late April, Adams committed to spend an additional $5 billion in capital funds for housing over the next ten years, bumping up the city's total investment over the next decade to roughly $22 billion. In his preliminary budget released in February, Adams' capital commitments had been consistent with former Mayor Bill de Blasio's final budget. Though housing advocates said the extra investment in the executive budget is a step in the right direction, it would shake out to an average of just over $2 billion per year, falling short of the $4 billion per year that Adams committed to on the campaign trail. 
A coalition of housing advocates called United for Housing called on mayoral candidates to commit to spend $4 billion per year on housing during the Democratic primary last year, and Adams was one of the candidates who signed on to the pledge. After Adams as mayor left that commitment out of his preliminary budget proposal, the City Council renewed the call in its budget response for the city to spend $4 billion per year on "housing preservation, new affordable and supportive housing construction, and public housing developments." Of that total, $2.5 billion would go to the Department of Housing Preservation and Development, and $1.5 billion would go to the New York City Housing Authority.
As budget negotiations continue ahead of a July 1 deadline to reach a final budget deal, the City Council isn't dropping its push to get the city to commit to a $4 billion annual capital housing budget. "The investments continue to fall short of the council's call to radically reshape the city's dedication to increasing the supply of new, deeply – and I'm going to again emphasize deeply – affordable housing by doubling the total investment to $4 billion per year," Council Member Pierina Ana Sanchez, chair of the committee on housing and buildings, said at a budget hearing on Monday of what Adams has proposed so far. "This council will continue to push on this," Sanchez said.
The council's leadership, including Speaker Adrienne Adams, plans to back Sanchez up on that push. Responding to the mayor's executive budget, in which he announced that extra $5 billion in capital funding over ten years, Adrienne Adams praised some of the additions, but suggested there's room for improvement on the city's housing investments. "The areas of focus for us continue to be affordable and supportive housing development, which we know is key for New Yorkers," the speaker said at a press conference late last month, mentioning mental health services, sanitation services and year-round programs for youth as several of the council's other priorities.
City Hall did not comment on whether the capital housing budget might grow between now and July 1. "The administration's $22 billion commitment to creating and preserving affordable housing is the largest ever in the city's history, and it will allow the city to deliver long-overdue funding for NYCHA and continue a steady pace of development for the next decade with a relentless focus on helping the most vulnerable New Yorkers," Jeremy House, a spokesperson for the Department of Housing Preservation and Development, said in response to a request for comment sent to City Hall. 
That statement echoes what the mayor said in a press conference after he released the executive budget. "We're going to continue to evaluate during these tough fiscal times. And the numbers we are at now (are) higher than where we have been historically," he said. "We're at the highest level right now, and we're going to continue to work with our housing advocates to get this right."
Charles McNally, director of external affairs at the New York University Furman Center for Real Estate and Urban Policy, said that while the executive budget does represent an increase in capital spending on housing from the mayor's preliminary budget, it's not a sea change. "I would term it as more of a continuation from the previous administration, which did take some steps in the right direction. This doesn't represent a dramatic increase from what the de Blasio administration committed to," McNally said.
Between the preliminary budget, presented in February, and the executive budget presented in April, the Adams administration has shown some flexibility on what the city will spend on housing. In the executive budget, the administration not only included an additional $5 billion over 10 years, but is also adding 77 new staff positions for HPD. The administration has said that it will release a "housing blueprint" in the coming weeks, which council members and advocates hope will spell out in detail how the administration plans to create more affordable housing. 
HPD Commissioner Adolfo Carrión offered a broad strokes preview of the housing blueprint at Monday's hearing, highlighting general goals of increasing new housing supply and expanding access to home ownership. But details on what that plan will include are still to come.
Carrión said that so far this calendar year, the city has created or preserved 11,000 units of affordable housing and by the end of the year expects to produce a total of roughly 16,000. But the goal, he said, is to produce in excess of 20,000 units – and perhaps closer to 30,000 annually. "We think that this funding will get us there," Carrión said at Monday's hearing, of the current level of investment in the executive budget.
Council Member Justin Brannan, who chairs the committee on finance, asked whether there were plans to get closer to Adams' campaign commitment of $4 billion per year. "I think that every budget cycle presents an opportunity for us to continue to invest in larger ways," Carrión said. "Our administration is fully committed to funding the production of affordable housing and following the need."
Housing advocates said that the roughly $2.5 billion in capital dollars that the executive budget allocates annually for affordable and supportive housing won't make a big enough dent. "It's not enough to meet the crisis," said Brendan Cheney, director of policy and communications at the New York Housing Conference. "It isn't enough to really expand production beyond what they're doing now, because all that money is gonna go to rising construction costs and rising interest rates."
Cheney and Sanchez both said that the city should focus less on the sheer number of affordable units created – as previous administrations have done – and more on offering deeper levels of affordability. "The affordable housing crisis we have in New York City is felt the most acutely among those with the lowest incomes in New York City," Sanchez told City & State. "We need more deeply affordable housing. We need more supportive housing. And we need to make sure that we're serving our vulnerable populations – our seniors, our LGBTQ youth, our former foster children who have aged (out). And it is more expensive to do that."
In 2021, the city produced 4,284 units of affordable housing at the "extremely low" affordability level, defined as tenants at 0% to 30% of the area median income. The category that saw the highest number of units was the next level up – "very low," defined as 31% to 50% of the area median income – at 11,173 units. Sanchez said that many of those units are still out of reach to some of her constituents in the Bronx. "In my district, the area median income is closer to 20%. We have a lot of folks making even less than that," Sanchez told City & State. 
The New York Housing Conference's report that calls for a $4 billion annual investment in housing capital includes a call to create a minimum of 8,000 units per year at the "extremely low" affordability level and for New Yorkers experiencing homelessness. The Coalition for the Homeless – a separate advocacy group that is part of the United for Housing coalition – has called for at least 6,000 new apartments per year for people experiencing homelessness in addition to 6,000 new apartments per year at the extremely low affordability level.
Of that $4 billion annual investment, advocates hope to see $1.5 billion put towards NYCHA annually. That would more than double the roughly $600 million currently allocated from the city for NYCHA's capital budget in the next fiscal year. (They also want the state to match a $1.5 billion investment.) "Every dollar of that $1.5 billion is repairs to NYCHA that right now can't be made. New boilers, new roofs, fixing exteriors, fixing inside units," Cheney said. 
The funding in question is allocated from the capital budget, rather than the expense budget, so Cheney and Sanchez both said that it's feasible for the city to allocate more money in the coming weeks. They pointed to the city's current debt service as a percentage of tax revenue and noted that in coming years it's projected to fall between roughly 10% to 13%, below a target of 15%. "There's room to grow your capital spending within an amount that is still sound fiscal policy," Cheney said. A spokesperson for Adams did not comment on whether this matched their own fiscal analysis.
Powered By
NEXT STORY: What could still get passed in the New York legislative session?