New York State
What could still get passed in the New York legislative session?
Protections for tenants, survivors of sexual assault and formerly incarcerated people are all being considered. Eric Adams' control of New York City schools also hangs in the balance.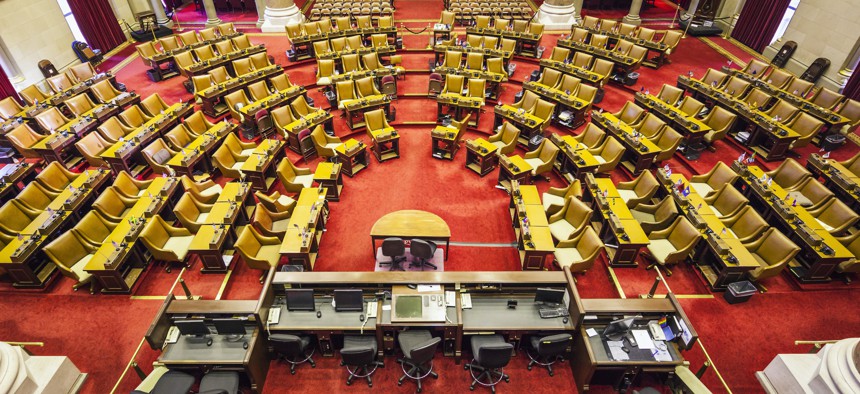 State lawmakers are set to break for the year in less than a month, with the last scheduled session day on the calendar for June 2. And like most years, they still have a fair amount of work to get done with just a handful of days to do it.
Advocates and activists have flooded the Capitol in recent weeks to push for their post-budget priorities, with some organizations sending buses full of people to take their messages directly to state leaders. With visitors once again allowed in the Capitol after two years of COVID-19 restrictions, the end-of-session lobbying blitz has returned in full force as lawmakers scramble to complete their legislative business before heading back to their districts to shift into campaign mode. 
While the majority of the hundreds of bills the Legislature passes throughout the year are fairly mundane and often address hyperlocal issues, several major issues generally drew the lion's share of attention during the budget season, and again at the end of the year. And this year is no different. 
Although many contentious issues got done in the budget, perhaps most notably another rollback of bail reform in the wake of rising crime statewide, many others still remain outstanding in the waning days of the legislative year in Albany. That means lawmakers are in for some more late nights of conference meetings as leaders continue to hash out deals with the governor and among themselves to get as much done as possible, likely in a last-minute omnibus bill.
Here are some of the biggest legislative issues still facing state officials as they count down the days of the session.
Clean Slate Act
For the second year in a row, lawmakers are working to get legislation approved that would clear the records of most people convicted of crimes after a certain amount of time after their release. The intent of the Clean Slate Act is to make it easier for those who have previous convictions get jobs, provided they don't get arrested again. The bill came close to passing last year in June, but a deal between the Legislature and the governor fell apart at the last minute. Earlier this year, lawmakers and Gov. Kathy Hochul appeared to be on the same page regarding the legislation, both having proposed it as part of their budget plans. However, it didn't make it into the final deal as talks continued. The Clean Slate Act once again hovers close to a final deal as legislators prepare to leave Albany for the year. Assembly Member Catalina Cruz, the measure's sponsor, recently expressed confidence that the bill will pass before then, although precedent has shown how quickly a deal can fall apart. 
Good Cause Eviction
As more upstate towns and cities offered their support for local versions of the tenant protections law, legislators at the state level had hoped to capitalize on that success to approve statewide "good cause" eviction legislation. The bill would make it harder for landlords to evict tenants. One of the more controversial aspects would effectively cap rent increases in many cases as the legislation would not allow landlords to dump a renter for nonpayment of rent in the case of an "unconscionable" increase. The highly contentious proposal has faced strong opposition from real estate and landlord groups who have argued that it would disproportionately harm them while making it impossible to afford necessary building upkeep. Lawmakers held a hearing on the measure at the beginning of the year, but it has otherwise made little progress that would indicate it's poised to become law.
Mayoral control
For New York City Mayor Eric Adams, few items on the agenda for Albany lawmakers are as important to him as renewing mayoral control of city schools – though one might not know by the way he's been acting. The former state senator has barely shown his face around the Capitol since taking office, and his relationship with state lawmakers seems lacking at a time one would expect that he would engage in a strong lobbying campaign. Mayoral control is set to expire in June, giving lawmakers and Adams little time to come to a final deal. The mayor had originally planned to visit Albany this week, but chose not to at the last minute, a decision that has raised some eyebrows. Although the state has renewed mayoral control when the time came for years, the specifics of what a deal to renew it this year remain unclear.
421a
The controversial tax break for developers to build affordable housing is also set to expire in June, and lawmakers must decide what they want to do with the program. Doing nothing is an option if legislators choose simply to allow the 421a program to lapse, as they did in 2016 the last time it came up for renewal. Gov. Kathy Hochul had proposed a similarly-structured replacement as part of her initial budget proposal at the beginning of the year, but it faced strong resistance from housing advocates as well as members of the state Legislature. They dropped the proposed program from the final budget, with lawmakers saying they had time to revisit the issue later in the legislative session. However, since budget season, there has been little public discussion on renewing or replacing the tax incentive, leaving its future in a state of limbo. 
Abortion rights
With the leaked U.S. Supreme Court draft decision overturning Roe v. Wade, abortion rights quickly emerged as a hot issue for lawmakers and the governor. Although New York has already codified the right to an abortion in state law, legislative leaders pledged to pass additional protections as well as new means to make access to the procedure easier. Officials also anticipate an influx of out-of-state people coming to New York for an abortion if the Supreme Court officially overturns Roe, something the state wants to prepare for. State Senate Majority Leader Andrea Stewart-Cousins said that lawmakers would not leave Albany before approving additional abortion rights legislation, although neither chamber has yet to pass existing bills. They included bills to create an abortion access fund, to establish a fund for abortion services providers and enabling telehealth abortions. 
Adult Survivors Act
In a repeat of last year's unusual circumstances, the state Senate has once again unanimously approved the Adult Survivors Act, which would open a lookback window for adult victims of sexual abuse to file civil suits against their abusers. It's a similar bill to the Child Victims Act, which became law in 2019. Last year, the Assembly failed to bring the legislation to the floor for a vote despite its broad bipartisan support. Once again, the Assembly has not yet acted on the bill even after it sailed through the state Senate without any objections. Advocates for survivors of sexual abuse have made trips to the Capitol in recent weeks to push the Assembly to vote on the bill this year, though it still remains in committee without it appearing on an upcoming agenda.
Powered By
NEXT STORY: Voting rights legislation advances in New York