Housing
Lawmakers to Hochul: Get that developer tax break out of our budget
State officials say that debate over replacing the controversial 421-a program to incentivize affordable housing should wait until after the budget.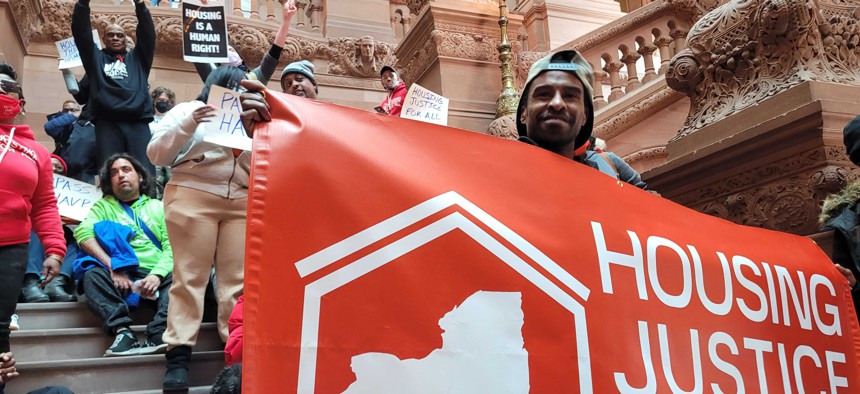 A controversial tax break for developers to build affordable housing in New York City is set to expire in June, and state lawmakers are currently considering a proposal from Gov. Kathy Hochul to replace it with something new-ish. But as the deadline for the budget approaches, many lawmakers say they'd rather punt the discussion to the second half of the legislative session in order to have a more comprehensive debate.
As part of her executive budget proposed in January, Hochul included a tweaked version of the tax break, currently referred to as 421-a, that would require slightly deeper affordability in otherwise market-rate developments, as well as wage requirements for construction workers. This new 485-w program received a warm welcome from the real estate industry and building trades unions. But tenant and housing advocates immediately expressed their opposition to what they considered an extension of 421-a by another name.
Days before the budget is due, many Democratic lawmakers don't seem eager to have a discussion about replacing 421-a months before it expires. Members of both chambers are still getting their heads wrapped around the proposal, which leaders did not include in their one-house budget resolutions. "What I'm hearing is this is a lot more complicated," Assembly Member Marcela Mitaynes told City & State at a rally opposing a 421-a extension. "And it shouldn't be in the budget… We have more than enough time to get into it." She added that more generally, her colleagues don't seem to like the governor's 485-w program either.
Assembly Member Linda Rosenthal offered a similar assessment. "Everyone I've spoken to or I've heard speak up is against it," she told City & State. "But also, people don't want it in the budget." Though it would expire on its own, Rosenthal has legislation to simply end the 421-a tax incentive as a way to signal her and others' positions. And as for the 485-w replacement, she said it still doesn't do enough to create much needed affordable housing in exchange for the tax revenue the state loses from developers who participate in the program.
State Senate Deputy Majority Leader Michael Gianaris said that discussions in his chamber about the proposal are still in early stages even as the April 1 budget deadline nears. In a text to City & State, he said it was "too soon to tell" whether the conference might include some version of Hochul's plan in the budget, or if members prefer to punt the discussion to post-budget. A spokesperson for state Senate Housing Committee Chair Brian Kavanagh said that he and his fellow senators are still reviewing the proposal in an attempt to get a "clearer picture."
State Sen. Gustavo Rivera more directly expressed his distaste for dealing with 421-a in the budget, considering it as one of two major issues that have needlessly upended budget talks, the other being bail reform. "I am extremely disappointed that the governor kind of pulled – and it pains me to say this – pulled a (page) out of Cuomo's handbook," Rivera told reporters. Although the proposal came in January as part of Hochul's executive budget, Rivera considered the recent push by the governor to make sure to include it as a last-minute wrench in what he thought had so far been a smooth budget process. "It expires in June, relax," Rivera said. "Let's take a chill pill, or seven, and then talk about this after budget."
To that end, Gianaris suggested that post-budget talks about a 421-a replacement could include negotiations over the so-called "good cause" eviction" bill that would grant tenants greater protections against rent increases and evictions. He said in a text that it "seem(ed) like a good match" to pair a developer subsidy with tenant protections, but facetiously added "but what do I know" with a shrugging emoji. Gianaris specifically said that he doesn't expect good cause would enter into budget talks, but expressed optimism that the conversation could happen if 485-w falls out of the budget.
If Gianaris has had any conversations about the prospect yet, it hasn't been with bill sponsor state Sen. Julia Salazar. She said that she has not heard any discussion of passing good cause with a 421-a replacement in the budget and that she has "no reason to think" such a negotiation would happen even post budget. "I haven't heard him say that," she told City & State. But like her colleagues in both chambers, Salazar once again drove home the lack of desire to address the housing subsidy in the budget. "I think it's unlikely," she said of the possibility the governor's 485-w plan would make it into the final budget. "And it should be unlikely."