Housing
Activists have returned to Albany, and some lawmakers don't like it
Is preventing evictions cause for yelling? Depends who you ask.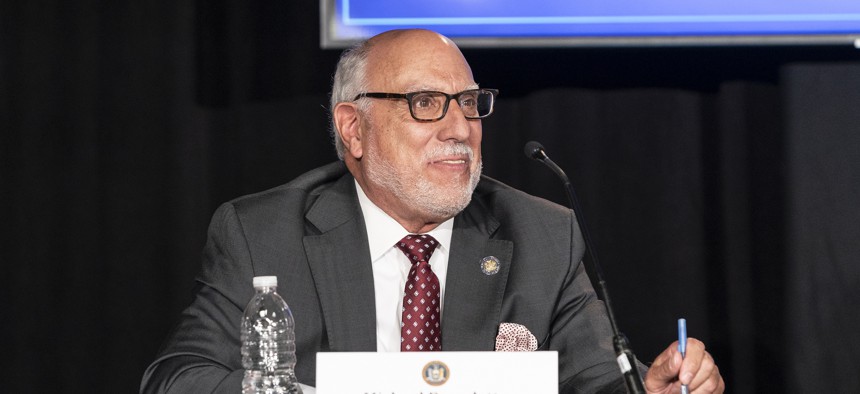 A recent heated meeting between Bronx Assembly Member Michael Benedetto and housing activists showcased how in-person political controversies are resuming as public health restrictions get lifted at the state Capitol.  
About a dozen people supporting Good Cause Eviction legislation appeared unannounced around noon on March 9 at Benedetto's office in the recently reopened Legislative Office Building in Albany. Benedetto agreed to meet with them in a conference room. They asked him why he was not officially supporting the bill. He said he was still considering it. The activists began shouting and chanting. Benedetto then left the room, according to videos shared with City & State. 
The Good Cause bill has become a cause célèbre for the political left because of how it would expand tenant protections statewide by pegging rent increases to inflation and limiting the conditions under which landlords can evict a tenant. Some local governments have passed versions of the proposal in recent months and powerful labor unions like 1199SEIU are supporting the idea. Albany leaders like Gov. Kathy Hochul, state Senate Majority Leader Andrea Stewart-Cousins and Assembly Speaker Carl Heastie – the so-called three people in a room with the most power in state politics – have yet to get behind the proposal before the Legislature.
The argument did not come to public attention until Benedetto released a defiant video Tuesday claiming that he had been "bullied" by the housing activists – who Benedetto claimed were targeting him as he runs for reelection. His response sparked a new round of controversy over whether he was overreacting or whether the activists had stepped over the lines of political civility. 
"Maybe he doesn't remember how Albany works when people are allowed inside," Cea Weaver, campaign coordinator of the tenant advocacy group Housing Justice for All, who was present at the March 9 meeting, said in a text. "That's not bullying. It's lobbying. It's a normal part of the political process."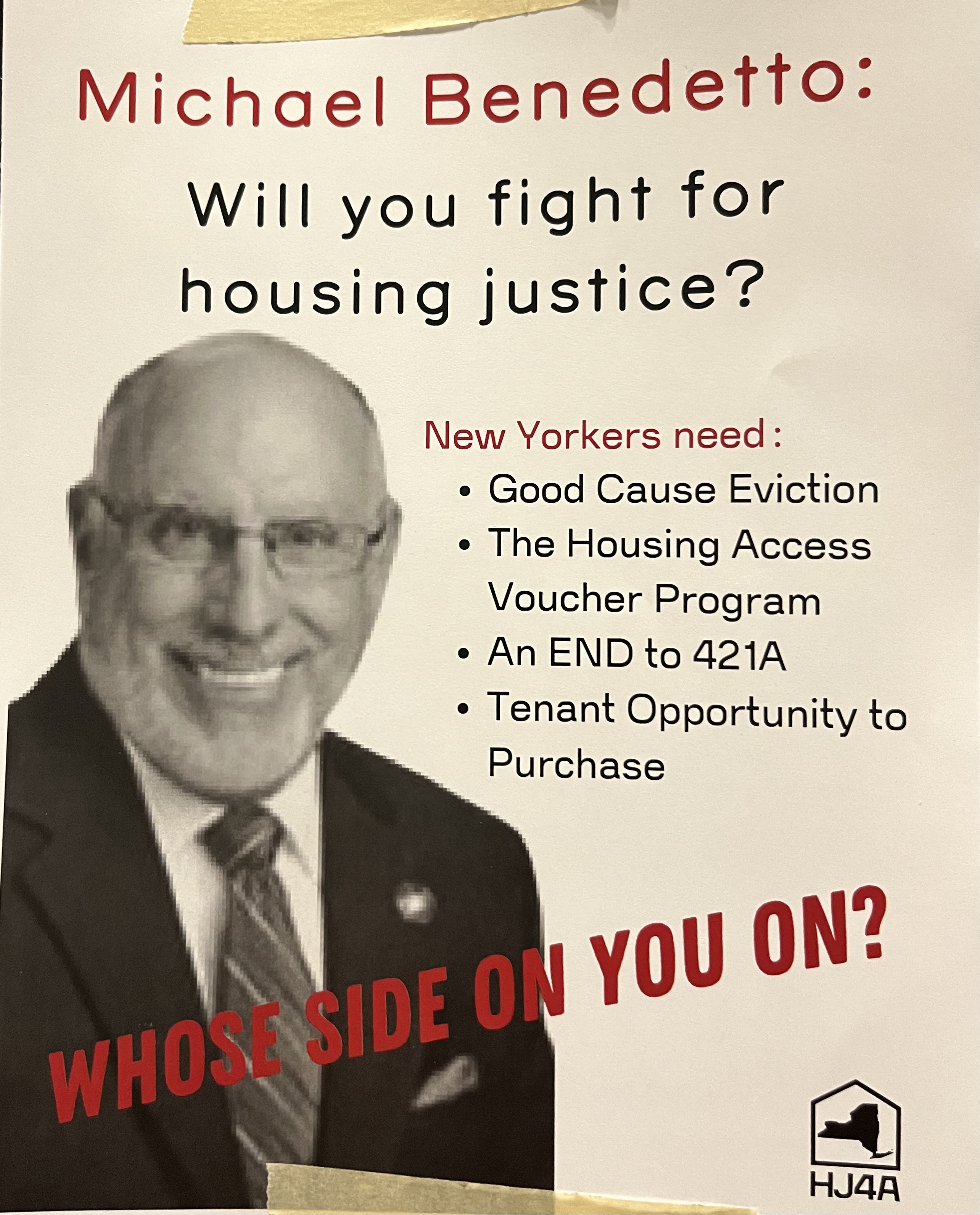 Benedetto told City & State on Wednesday that he did not feel physically threatened by the activists, though he felt they violated standards of decorum. "All these people chanting – and in my office and demanding that I sign onto the bill – can be rightfully looked upon as a type of bullying," he said. "Other people, I could suspect, would be rather intimidated by the yelling." Some of his colleagues have made similar criticisms in the past of activists and colleagues who have used direct action tactics in legislative organizing. 
Some legislators on the political left say that his claim of bullying is off the mark – to say the least. The Good Cause Eviction supporters have less power than an elected official like Benedetto so they cannot by definition bully him, according to democratic socialist Assembly Member Emily Gallagher. "As elected officials, we need to recognize that being in the Capitol and having the opportunity to negotiate bills that impact people's daily experiences and their family's realities gives us more power," she said in a text. "We can't claim bullying by our disadvantaged constituents." 
One of Benedetto's primary opponents – Jonathan Soto, a former campaign aide to Rep. Alexandria Ocasio-Cortez of Queens – is aiming to use the March 9 incident to his own political advantage. "Renters and workers create the wealth in our society and it's time Benedetto legislators accordingly," Soto tweeted Wednesday morning while highlighting plans to join activists outside Benedetto's district office as part of an effort to secure $1 billion to replenish the Excluded Workers Fund. Benedetto said he was still considering his position on that proposal and the Good Cause Eviction legislation.
Benedetto, who is white, will be running this year to represent a district abutting the Long Island Sound that is majority Black and Latino, according to an analysis by the Center for Urban Research at the City University of New York Graduate Center. He is not among the Democratic lawmakers who have signed on as co-sponsors of the Good Cause bill, which has 22 supporters in the 63-member state Senate and 58 supporters in the 150-member Assembly. The addition of his name and the names of other lawmakers targeted by activists would get them closer to getting enough Democrats behind the bill to possibly convince legislative leaders to move on it. 
Legislators differ on whether activists have gone too far in pushing the bill, which some activists say is a matter of much personal importance. Community organizer Nipa Sarker, an immigrant from Bangladesh, told Benedetto that there are a lot of South Asian people like her in his district who need housing assistance before demanding that he support the bill on March 9, according to video footage. And if Benedetto or other politicians do not like how activists make their case – like the talking, yelling, chanting shown on video – too bad, she said. "Whenever we raise our voice from the grassroots ... they claim they are bullied," she told City & State. "People are facing eviction."
Powered By
NEXT STORY: Ranked choice advocates want to tackle broader voter engagement