Politics
To some of their colleagues' chagrin, progessive legislators are normalizing activist tactics
A hunger strike to help indebted taxi drivers highlights how lawmakers are putting their organizing experience to use in office.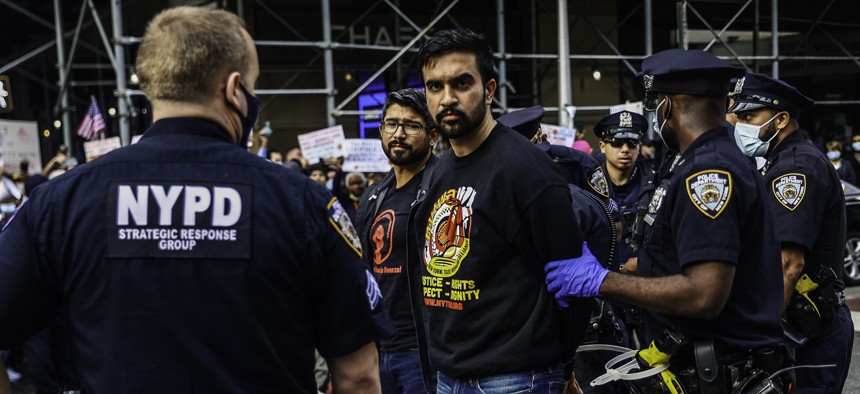 Assembly Member Zohran Mamdani has not eaten in a week. His vision is blurring and sleeping is getting awfully hard, but that is all part of a day's work for the democratic socialist from Queens. "The opportunity we have as elected officials is to do exactly what ordinary people are doing when they risk their lives," he said in an interview Tuesday. In this case, that means joining taxi drivers and their supporters who have declared a hunger strike until New York City backs their plans to help indebted taxi drivers. The hunger strike follows numerous suicides by despondent holders of medallion mortgages in recent years. 
Mamdani is one of a growing group of state lawmakers who are leveraging their backgrounds in activism as elected officials. This influx is moving direct action tactics like hunger strikes and occupations into the halls of power in Albany. While this approach has built progressives new platforms to advocate for a litany of political causes, it has also aroused resentment from some colleagues who believe they are undermining the spirit of compromise that makes the legislative process work. 
The hunger strike involving Mamdani is hardly the only high-profile action taken by a left-leaning legislator with activism experience over the past year. The political left won big gains in the state Senate and Assembly in the 2020 elections, and new lawmakers have not let up with demonstrations. Fellow democratic socialist Assembly Member Marcela Mitaynes of Brooklyn joined activists in a hunger strike during budget negotiations to help win funding for the excluded workers fund. Around that same time, a group of progressive legislators also occupied the War Room inside the state Capitol overnight to call for taxes on the wealthy and more housing relief in the state budget. Some of those same lawmakers were also arrested at a protest this week in support of indebted medallion holders – months after Mitaynes and Mamdani were cuffed at a demonstration in favor of extending the state eviction moratorium.
While lawmakers getting arrested for one cause or another is nothing new, many of the more controversial methods used by lawmakers are – like the hunger strikes and War Room sleepover. "Usually they form coalitions and they bring their positions to conference and then put pressure on (legislative) leaders," political consultant Bruce Gyory said in an interview. "What's new is that they don't just play that inside game." A similar change is also happening at the national level where people like Rep. Alexandria Ocasio-Cortez of the Bronx and Queens and Rep. Cori Bush of Missouri have won attention for causes like climate change and tenant protections through the use of direct action tactics pioneered by activists.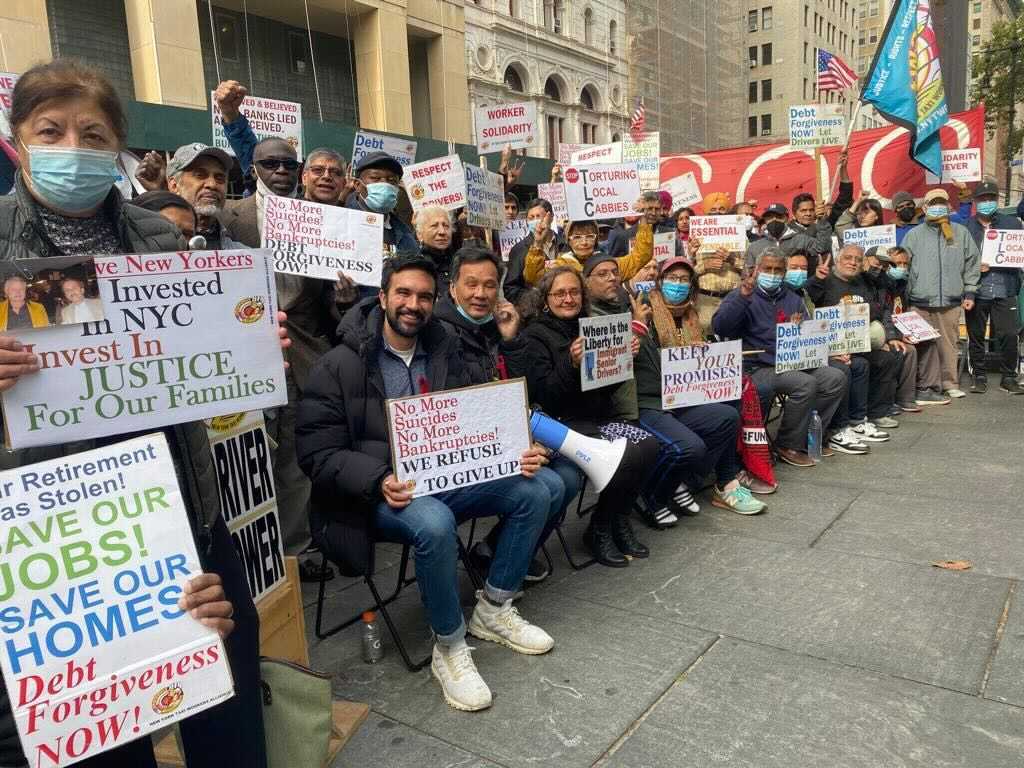 Direct action can refer to a broad range of political tactics. This includes the sit-ins, prayer vigils and protest marches during the Civil Rights movement as well as other forms of civil disobedience, like the hunger strikes that Mahatma Gandhi deployed against the British Empire in India. Political theorist Saul Alinsky outlined more than a dozen tactics in his book "Rules for Radicals," including doing things when and where potential opponents least expect them. That might include having a state lawmaker join a hunger strike in Manhattan to help indebted constituents exert pressure on city government. Mamdani's presence has been a boost to activists who have protested for more than a month. "It sends a message to City Hall that we cannot be so easily isolated," said Bhairavi Desai, president of the New York Taxi Workers Alliance that is advocating for more city aid.  
Not everyone likes how progressive lawmakers are using hunger strikes, occupations and other direct action tactics, especially given the ongoing friction between moderates and their left-leaning colleagues over the past year. One Democratic member of the Assembly, who wished to be anonymous to speak frankly, said in an interview that activist tactics should have no place in the Legislature. "(They're) acting no longer in the realm of the politics of trying to compromise and bring people along by logic and argument rather than pressure," the lawmaker added. "I just don't think it's the role of an Assembly member to apply that kind of pressure." 
Progressives say all is fair in politics – short of violence and illegality of course – and escalation is key to successful advocacy, according to Assembly Member Amanda Septimo of the Bronx. "You want to be respectful of colleagues who have struggles and have experiences, but you also want to compromise only where absolutely necessary and appropriate," Septimo, one of several elected officials arrested this week while supporting taxi workers, said in an interview. 
Mamdani noted that he has tried all sorts of approaches in recent weeks to advocate for taxi drivers. Dozens of elected officials signed on to a letter urging the city to do more to help them. Mamdani said he has tried meeting city officials – but to no avail thus far. Leaning on tried and true activist tactics like hunger strikes though, might yield a different result. "You do have to do the unexpected," he said in an interview. "We live in New York City. Millions of people are here. There are so many things that are going on." 
This story has been updated to include details about legislators' advocacy of extending a state eviction moratorium.
Powered By
NEXT STORY: Amazon workers file for a union election in New York