New York City
Taxi drivers' hunger strike hits its seventh day
A group of protesters hope the action will force a new plan from City Hall to help them pay off what they owe on medallion loans.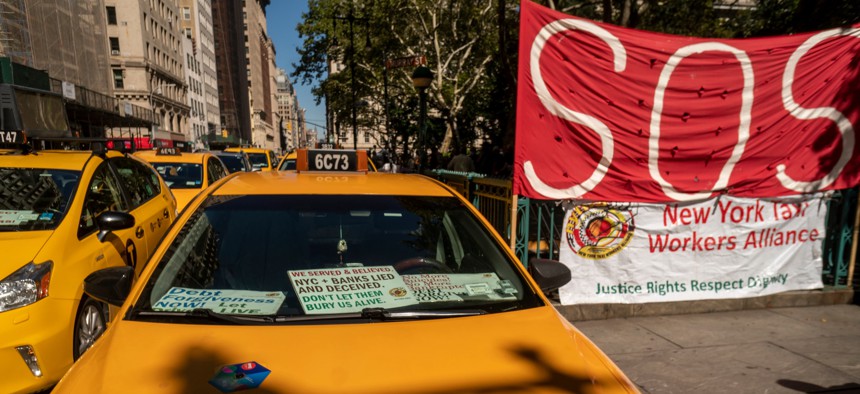 On the sixth day of their hunger strike for taxi medallion debt relief, a group of demonstrators outside City Hall – including several local politicians – were arrested as they protested the city's current plan to help taxi medallion owners out of crushing loans. 
Assembly Member Zohran Mamdani, who has joined taxi drivers in their hunger strike, was arrested during a Monday rally at which protesters blocked traffic, as was Assembly Member Harvey Epstein, City Council Member Carlos Menchaca and City Council candidate Shahana Hanif, the Daily News reported. Assembly Member Amanda Septimo and City Council candidate Shekar Krishnan also tweeted that they were arrested.
It's just the latest escalation that taxi medallion owners and their allies have made to draw attention to their calls for an alternative debt relief program from New York City. The driver group New York Taxi Workers Alliance announced last week that some drivers would go on hunger strike starting on Oct. 20 after a month of protesting for their cause outside City Hall. Augustine Tang, a taxi medallion owner who owes about $490,000 on his medallion loan, is one of those hunger strikers. "We've been shutting down bridges, we've been protesting outside City Hall, outside Gracie Mansion. We're telling (the city) this isn't an issue we can just let go," Tang told City & State last week. "This is why we have to escalate it right now."
On Tuesday, the hunger strike hit its seventh day. Bhairavi Desai, executive director of the New York Taxi Workers Alliance, said last week that medallion owners crushed by loans need a better debt relief plan from the city now. "We cannot wait for the next administration," Desai said. "Leaving drivers at $300,000 (or) $500,000 in debt is not a resolution. It's a set-up for failure."
Earlier this year, New York City announced a $65 million debt relief fund offering up to $29,000 in individual grants to act as down payments to help medallion owners restructure their loans with lenders. The city recently started to roll out this program, and as of Saturday had helped close 144 deals between medallion owners and lenders resulting in a collective $18.7 million in debt forgiveness. The city says those numbers continue to grow. At a press conference on Monday, Mayor Bill de Blasio said that 155 drivers have "initiated" debt forgiveness amounting to a collective $20 million in erased debt. The city has said that their program will allow many medallion owners to see over $200,000 in debt forgiveness, with monthly loan payments of $1,500 or less. But driver advocates and the protesting medallion owners say the city's program doesn't go nearly far enough to help drivers who are upwards of $500,000 in debt, and will still leave them in financial distress. 
The New York Taxi Workers Alliance is calling for the city to adopt an alternative proposal which would have New York City serve as a guarantor for all medallion loans. Their proposal calls for refinancing all medallion loans to $145,000, with monthly payments of no more than $800. The city argues that the Taxi Workers Alliance proposal is not financially feasible, though city Comptroller Scott Stringer has endorsed the proposal and called it fiscally sound.  
Mamdani, who represents Western Queens, joined the hunger strike last week. "Too often, politicians and municipal governments get away with horrific policies because the consequences of them have been out of view," Mamdani told City & State last week. "Sometimes we have to bring those consequences front and center in front of City Hall in order to make people realize what it is that they're actually asking working class New Yorkers to do."
As the value of the taxi medallion has plummeted, an untold number of medallion owners have been overburdened by debt accrued on the once promising investments. Several taxi medallion owners have died by suicide in recent years.
Support for the Taxi Workers Alliance proposal has grown since their protest began, with 12 members of New York's congressional delegation endorsing the proposal, along with dozens of state and city lawmakers. Spokespeople for Mayor Bill de Blasio and the Taxi and Limousine Commission did not comment on the strike last week, but de Blasio said at a press conference on Monday that the city's current debt relief program is working. "We really want to find every way we can help, but this is here and now, and I really want to encourage every driver to take advantage of this debt relief," he said. 
Tang estimated that he's spent an average of 12 hours per day protesting the city's debt relief program outside City Hall over the past 30 days. "It's getting colder. We understand what's at stake, so a lot of people are still motivated," Tang said last week. "It's been tough, to say the least, but it's nothing compared to the life we're going to have if the city rolls out with their plan." 
Editor's Note: This story has been updated from its original version published on Oct. 18, 2021.