Campaigns & Elections
Here are the New York Democratic lawmakers facing 2022 primary challenges
The left is once again coming after incumbent members of the state Senate and Assembly.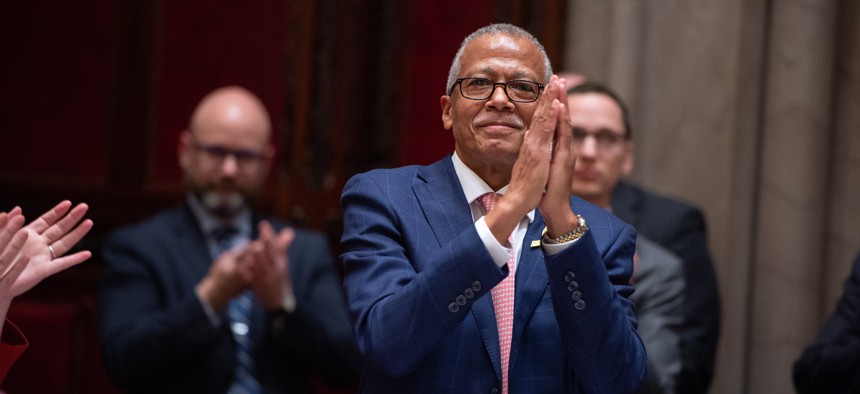 Democratic voters have until June 28 to decide who they want to represent them as the party nominee for the state Senate and Assembly. Longtime incumbents are hoping for another term in office, but a growing list of primary challengers is looking to take them down. That all depends on many electoral factors. Name recognition and endorsements from local powerbrokers are two examples. Money is another.
Campaign filings released mid-January reveal more than just which candidates have the most money to spend. We get to know the names and addresses of donors and how much they might be giving to one person versus another. The disclosures highlight whether candidates are banking their chances on a few key supporters or a larger political base. A willingness to take money from special interests like real estate is particularly controversial in a party that has moved increasingly to the political left in recent years.
A growing list of Democratic legislators are facing primary challenges this June as candidates begin the petitioning process to get on the ballot. That number could grow in the coming weeks – depending on who gathers enough signatures – but the primary fields are solidifying fast. Insurgent candidates' ultimate success will depend on the ongoing redistricting process for legislative districts, which is still awaiting some clarification from the courts. 
Here is a rundown of incumbent Democratic state lawmakers facing 2022 primary challenges as of March 10.
State Sen. Robert Jackson
First elected: 2018
Current district: Parts of Manhattan's west side from Inwood to Chelsea
New district: Parts of Manhattan's west side from Inwood to the Upper West Side
Reported cash on hand: $68,132
Challenger: Angel Vasquez
Vasquez was chief of staff to former Independent Democratic Conference state Sen. Marisol Alcántara, who Jackson unseated in the anti-IDC wave in 2018, but the gay, 32-year-old Washington Heights resident said his campaign is more about education policy than avenging her loss. He's a former junior high teacher with a masters in public administration from Columbia, who more recently was deputy political director at the United Federation of Teachers. Vasquez hasn't reported fundraising numbers yet, but if he gets support from UFT and Rep. Adriano Espaillat, a sometimes Jackson foe, then he could run a formidable campaign in the majority Hispanic district against Jackson, who is Black.
State Sen. Brian Kavanagh
First elected: 2017
Current district: Parts of lower Manhattan and the Brooklyn waterfront
New district: Parts of lower Manhattan and Governors Island
Reported cash on hand: $192,785
Challengers: Yuh-Line Niou and Vittoria Fariello
Assembly Member Yuh-Line Niou is running to the left of Kavanagh (who is already about as left as they come in the state Senate) in what amounts to a test of what lower Manhattan voters value most when it comes to being progressive. Kavanagh's long list of legislative accomplishments includes a leading role in making state rent laws permanent. Niou though has cultivated a reputation as a activist-legislator who rejects donations from the real estate industry and criticizes party insiders to their face. A third candidate, district leader Vittoria Fariella, appears to be focusing more on issues with a relatively moderate ideological bent. Niou is keeping pace with Kavanagh's fundraising, reporting $141,081 on hand, while Fariello lags behind with $27,488.
State Sen. Kevin Parker
First elected: 2002
Current district: Parts of Park Slope and Flatbush in Brooklyn
New district: Parts of central and southern Brooklyn
Reported cash on hand: $85,707
Challengers: David Alexis, Kaegan Mays-Williams 
Kevin Parker, the chair of the state Senate Committee on Energy and Telecommunications faces two primary challengers. The DSA-backed Alexis, who reported $83,547 on hand in his latest campaign finance disclosure, could theoretically win by appealing to the left and fellow West Indian immigrants like himself. Samantha Adler, a nonprofit program manager, dropped out of the race following redistricting, and threw her support to Kaegan Mays-Williams, who was previously running against state Sen. Simcha Felder. Mays-Williams, the former prosecutor of convicted swindler Anna Sorokin had raised more than $104,000 in recent months, which suggests she could also give Parker a run for his money. 
State Sen. Luis Sepúlveda
First elected: 2018
Current district: Parts of the South Bronx, Parkchester and Hunts Point
New district: Largely the same
Reported cash on hand: $121,305
Challengers: Ian Harris
Prosecutors have dropped domestic violence charges against Luis Sepúlveda, but his political problems are hardly over following his lackluster performance in the Democratic primary this year for Bronx borough president. Methodist preacher Ian Harris might benefit as he campaigns on a platform that includes support for free college and increased funding for public housing and local schools. Harris has raised about $24,000 to take on Sepúlveda, who recently loaned $100,000 to his own campaign.
Assembly Member Tom Abinanti
First elected: 2010
Current district: Parts of Westchester County, including Tarrytown
New district: Largely the same
Reported cash on hand: $81,110
Challenger: MaryJane Shimsky
The six-term legislator Tom Abinanti has had his differences with colleagues and activists further to the political left on issues such as a COVID-19 relief fund for undocumented people. That could help Shimsky, the current majority leader of the Westchester County Board of Legislators, in the upcoming campaign. Shimsky, who reported $14,160 in January, plans on attacking Abinanti on that issue as well as Good Cause Eviction and his past comments on vaccines. Her campaign got a boost from Westchester Democrats on Feb. 22, when they voted to support her primary challenge against Abinanti, who claimed it was all just political hijinks ahead of the June primary. Shimsky's also getting support from progressives, including the WFP. Abinanti beat a primary challenger last year by a comfortable margin.
Assembly Member Michael Benedetto
First elected: 2004
Current district: Pelham Bay and other parts of the Bronx
New district: Largely the same
Reported cash on hand: $43,733
Challenger: Jonathan Soto, Algernon Quattlebaum
The changing demographics of the Bronx could help a challenger oust the longtime Education Committee Chair Michael Benedetto. Jonathan Soto, a former campaign aide to Rep. Alexandria Ocasio-Cortez who has previously eyed the seat, is reportedly following the AOC playbook for beating an establishment guy this time around. He has $29,069 in his account and was endorsed in March by the Working Families Party. The campaign website of Algernon Quattlebaum, a veteran and former restaurateur, states that he will make an issue of New York state's "disastrous bail reform law," in the upcoming campaign. He reported having just $2,326 at the July 2021 filing. Another would-be challenger, Community Board 10 District Manager Matthew Cruz, dropped out before petitioning.
Assembly Member Kevin Cahill
First elected: 1992
Current district: Hudson Valley including Kingston and New Paltz
New district: Largely the same
Reported cash on hand: $39,142
Challenger: Sarahana Shrestha
Kevin Cahill, the longtime chair of the Assembly Insurance Committee, is the first incumbent outside New York City to face a challenge backed by the Democratic Socialists of America. The Hudson Valley chapter announced their official endorsement of Sarahana Shrestha, a first-generation Nepali-American activist whose website touts support for lefty causes like the New York Health Act, Good Cause Eviction and a Green New Deal. She has outraised Cahill, reporting $53,745 on hand as of January. Cahill, who has sponsored stalled legislation that would implement a state-level tax on carbon emissions, has a record as a left-leaning lawmaker, but an indeterminate number of progressive constituents evidently feel he is too moderate for their tastes.
Assembly Member Vivian Cook
First elected: 1990
Current district: Parts of Jamaica and South Jamaica in Queens
New district: Largely the same
Reported cash on hand: $3,345
Challenger: Anthony Andrews
Campaign finance records show Andrews, a district leader, has a hundred grand to spend against the longtime incumbent, Vivian Cook, who reported just a few thousands bucks in January. His deep roots in the community give him an additional advantage in the race compared to political novices challenging incumbents in other races. And he's also earned the endorsement of the progressive Working Families Party. Cook could not be reached for comment before publication time about how she might fight back,
Assembly Member Inez Dickens
First elected: 2016
District: Parts of Harlem in Manhattan
New district: Largely the same
Reported cash on hand: $61,384
Challengers: Delsenia Glover, Cherish Patton
Dickens is a Harlem dynasty, who served in the City Council, then the Assembly for more than 15 years, and whose father and uncle both held the Assembly seat before her. So two outsiders are challenging the establishment pol from the left. Delsenia Glover, a longtime housing activist who recently worked in New York City Public Advocate Jumaane Williams' office, has support from progressive groups including the Working Families Party and New York Communities for Change and had raised $13,927 by mid-January. While 19-year-old Black Lives Matter activist Cherish Patton, who hasn't reported fundraising yet, hopes to build on the success of her leftist ally, Council member Kristin Richardson Jordan. 
Assembly Member Erik Dilan
First elected: 2014
Current district: Parts of North Brooklyn including Bushwick and Cypress Hills
New district: Cypress Hills and surrounding areas
Reported cash on hand: $123,649
Challenger: Samy Nemir-Olivares
The Working Families Party is teaming up with the DSA to help District Leader Samy Nemir-Olivares unseat Erik Dilan from the left. Dilan's father, Martin Malavé Dilan, was unseated from the state Senate in 2018 by DSA-backed state Sen. Julia Salazar. Nemir-Olivares has reported $54,825 on hand. But Dilan has deep roots in the community, having served in the City Council for 12 years before winning the Assembly seat. 
Assembly Member Jeffrey Dinowitz
First elected: 1994
Current district: Riverdale and other parts of the northwest Bronx
New district: Largely the same
Reported cash on hand: $331,136
Challenger: George Diaz and Jessica Altagracia Woolford 
Jeffrey Dinowitz easily defeated George Diaz, a former City Council aide, 63% to 36% in a two-way race in 2020. He's running again, and reported having just $1,069 on hand. But Woolford, a former press secretary to U.S. Sen. Kirsten Gillibrand who has the WFP's backing, is hoping to run a progressive campaign based on generational change similar to the ones that led state Sen. Alessandra Biaggi and Rep. Jamaal Bowman to victory in the district. Her fundraising is a long way off from the well-funded Dinowitz as well, having reported $27,435 on hand. Both Diaz and Woolford are Latino, and will also be hoping to capitalize on the district's increasing Hispanic population.
Assembly Member Phara Souffrant Forrest
First elected: 2020
Current district: Parts of Fort Greene, Prospect Heights, Crown Heights and Bedford Stuyvesant in Brooklyn.
New district: Largely the same
Reported cash on hand: $43,867
Challenger: Olanike Alabi
Forrest is facing a primary challenge of her own two years after ousting an incumbent Democrat in the primary. Former District Leader Olanike Alabi is running on a generally progressive platform, but her political style is certainly different from the DSA-supported incumbent. One recent questionaire, for example, shows that Alabi has never been arrested "in pursuit of legislation or for protesting an injustice." The same could not be said about Forrest, whose lefty style has aroused controversy in office. 
Assembly Member Deborah Glick
First elected: 1990
Current district: Parts of Downtown Manhattan including Greenwich Village
New district: Largely the same
Reported cash on hand: $100,438
Challenger: Ryder Kessler
The Working Families Party certainly messed with Deborah Glick's political future in 2018 by running Cynthia Nixon against her to get Nixon off the ballot for governor. Four years later, the WFP is backing tech entrepreneur Ryder Kessler against Glick, the first openly gay person ever elected to the state Legislature. The challenger, who is also gay, says the incumbent is stuck in the past on issues like sex work decriminalization. He has also criticized the chair of the Higher Education committee's comments on population control as a response to climate change. Kessler reports having $68,985 on hand after one month of fundraising. Glick has legislative accomplishments, a wide network of supporters and decades of elective experience to help get her through another campaign.
Assembly Member Eddie Gibbs
First elected: 2022
District: East Harlem in Manhattan
New district: Largely the same
Reported cash on hand: $11,640
Challengers: Wilfredo López, Tamika Mapp
Gibbs, a longtime political operative, was just elected in a January special election to replace now-Secretary of State Robert Rodriguez, becoming the first formerly incarcerated state legislator. But he's facing a progressive challenge from Wilfredo López, a former staffer to City Council Member Ben Kallos, who has support from the Working Families Party and reported $13,329 on hand through January. Also running is Tamika Mapp, an insurance broker who has reported $2,746 on hand.
Assembly Member Nikki Lucas
First elected: 2022
Current district: East New York, Brooklyn
New district: Largely the same
Reported cash on hand: $26,177
Challenger: Keron Alleyne
Lucas, a former district leader, defeated Brooklyn Community Board 5 Deputy District Manager Keron Alleyne in the February special election to replace now-City Council Member Charles Barron. State campaign finance disclosures also suggested she had a substantial advantage with fundraising. Alleyne has a significant ally in the WFP, which recently endorsed his campaign, and that could mean a much more competitive contest this time around when voter turnout will likely be higher.
Assembly Member José Rivera
First elected: 2000, after a previous stint in the Assembly
Current district: Parts of the western Bronx including Arthur Avenue
New district: Largely the same
Reported cash on hand: $70,788
Challenger: Shanequa Charles, George Alvarez
José Rivera, a 20-year veteran of the Assembly won his last primary in a landslide, but Shanequa Charles is hoping she has better luck on a platform that includes support for making public transit free. Rivera is no stranger to politics, but he might not be able to count on Democratic leaders to save him this time considering all that trouble he got into last December for recording and releasing footage from the Democratic conference's secretive meetings. George Alvarez, a perennial candidate who came in third place in the 2020 primary for a neighboring Assembly district, is also running. He had reported just $1,406 in the bank at the end of that run.Charles hasn't yet released a campaign finance filing, while Rivera's campaign has not reported raising a single dollar since October 2020.
Assembly Member Angelo Santabarbara
First elected: 2012
Current district: Montgomery County and parts of Schenectady and Albany counties
New district: Parts of Montgomery and Schenectady counties
Reported cash on hand: $54,263
Challenger: Justin Chaires
Santabarbara has cultivated a reputation as a political moderate on issues like bail reform, and redistricting removed some conservative areas of the district while adding more of the deep-blue city of Schenectady. That could help left-wing challenger Justin Chaires, who was initially running against Democratic Rep. Paul Tonko. The WFP backed Chaires against Santabarbara, but it remained unclear how he might defeat the incumbent legislator. Chaires has yet to report much of a campaign war chest, and he lacks a campaign website outlining his policy positions. Chaires' announcement video only had three views in nearly a week.
Incumbents who faced a primary challenge – who do not face any now
Assembly Member John McDonald III
First elected: 2012
Current district: Parts of Albany, Troy and Cohoes in the Capital Region
New district: Largely the same but more of Rensselaer County than before 
Reported cash on hand: $99,944
Challenger: Sam Fein
County Legislator Sam Fein had announced his plans for a rematch  against the pharmacist legislator John McDonald, who beat him by double digits in the Democratic primary last year. But redistricting drew Fein's home out of the district, and he said he wouldn't want to run against Assembly Member Pat Fahy, so he dropped out, apparently leaving McDonald without a serious reelection challenge.
Assembly Member Cathy Nolan
First elected: 1984
District: Long Island City and parts of Astoria and central Queens
Reported cash on hand: $6,984
Former challengers: Huge Ma and Mary Jobaida
After months of speculation, Nolan announced her retirement after all, leaving an open seat in western Queens. There was initially some buzz, but progressive challenger activist Mary Jobaida dropped out of the race. Ditto with Huge "Vax Daddy" Ma, who gained fame by creating a website to help people make appointments for their shots. 
State Sen. Simcha Felder
First elected: 2012
Current district: Parts of Brooklyn including Borough Park
Reported cash on hand: $403,300
Former challenger: Kaegan Mays-Williams
Felder's district was seemingly drawn specifically for an Orthodox Jewish candidate like himself, and he already survived a 2018 primary challenge from Blake Morris, who argued that the Democrat Felder shouldn't have been working with Republicans to keep them in power. Mays-Williams wanted to try something new, as a Black woman lawyer and first time candidate who works at Everytown for Gun Safety. She even reported raising $104,956, but she ultimately decided to run against Parker once new state Senate lines got approved. 
Assembly Member David Weprin
First elected: 2010
District: Parts of Richmond Hill, Jamaica Hills, Holliswood in Queens
Reported cash on hand: $188,941
Former challenger: Shaniyat Chowdhury
This weird and wild district is likely to change in redistricting, but there's sure to be a major political divide. Chowdhury is a 29-year-old democratic socialist who fell to Rep. Gregory Meeks 76%-24% in the 2020 Democratic primary, his one attempt at running for office, while Weprin is a longstanding fixture who ran on probably the most conservative platform in the 2021 Democratic comptroller primary – where he finished fifth. Chowdhury ended up ditching his candidacy soon after it started.
This article has been corrected to reflect the results of the 2020 primary in Assembly District 37.
Powered By
NEXT STORY: Council member to colleagues: Don't bother giving NYCHA your money