Policy
Adrienne Adams' City Council passes its first budget
The $101.1 billion spending plan was approved late at night, with some opposition – and possible retribution.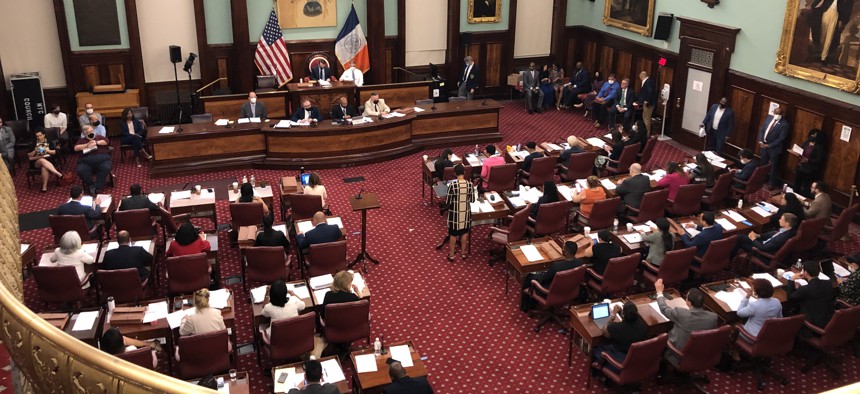 Late at night, but two weeks ahead of schedule, the New York City Council officially passed its budget Monday evening. The vote on the $101.1 billion expense budget was approved in a 44-6 vote. It will go to Mayor Eric Adams for his signature before fiscal year 2023 begins on July 1.
City Council Speaker Adrienne Adams and Mayor Adams announced a handshake agreement on the budget Friday afternoon, but discussions continued over the weekend, and the final budget documents were not made available to reporters until hours before the vote. Speaker Adams didn't give a clear answer Monday when asked why the council seemed to be rushing a vote. A planned meeting of the whole City Council for Thursday afternoon had already been on the calendar for weeks.
"This budget was so thought over, and so carefully negotiated with intense meetings, sometimes literally from sunup to sundown," she said at a press conference ahead of the vote Monday. "Because we knew what we were up against in trying to come out of this pandemic, keeping our promise to the recovery of the city of New York, and there was no reason to wait anymore and have New Yorkers waiting any longer."
There were some grumbles about the late hour, and jokes made during the vote. "I would like to disclose on the record that I am pregnant, and very sleepy," City Council Member Pierina Sanchez said while casting her vote at 10:40 p.m. Assembly Member Kenny Burgos joked on Twitter that the council was operating on "Legislature hours" – given that Albany lawmakers have a history of passing budget bills late into the night and into the wee hours of the morning.
City Council Member Kristin Richardson Jordan complained to City & State on Monday that the lack of transparency did make it seem like Albany. "We as council members do not have full concrete details as to what we're voting on. We're literally voting on something that is still in flux," she said ahead of the vote. "We actually have time to be able to deeply look at this budget, to have public scrutiny, because the fiscal year is not complete. What is the rush, you have to ask?"
Though City Council Member Gale Brewer – who has been more involved in discussions as a member of the budget negotiating team – felt differently. This was her 13th budget as a council member, and she said at a Finance Committee hearing ahead of the final vote, "This is the most open, transparent, and most discussion in all of those years passing budgets."
Before and after the budget passed – with the meeting closing at 11:05 p.m. – the mood was largely celebratory. This was Adrienne Adams' first budget as speaker, and the first budget at all for a majority of the members, since term limits cleaned out much of the council last year. Adams reiterated her points from Friday, highlighting that the council was able to fund $1.15 billion more of its priorities in the adopted budget as compared to the mayor's executive budget released two months earlier. The city's revenue estimates were adjusted in that time to a record high of $101.1 billion. That's the largest expense budget the city has ever adopted, and it is more than nearly every state's budget. More money will be saved in reserve than ever before, however, at $8.3 billion in various designated areas – though fiscal watchdogs have said the city should be saving even more, giving projected budget gaps in coming years.
The council passes separate expense, revenue, contract and capital budgets. Most of the focus is on the expense budget, where city agencies and programs are funded. The biggest slice of that pie – about $31 billion – goes to the city Department of Education. Funding for schools became a sticking point in the budget negotiations between the council and the mayor in the past few weeks, as the council tried to resist $215 million in planned reductions to individual schools' budgets. Mayor Adams argued that there was only a budget cut because public school enrollment was down and that per student funding was not being cut. The budget reduction remained, with a promise by both Adamses to address funding shortfalls later in the year, based on need and enrollment. 
That school funding was mentioned frequently as council members explained their votes. "I want the $215 (million)," City Council Member Rita Joseph, the Education Committee chair told City & State, describing it as the "elephant in the room."
Some members on the political left had broader critiques of the budget. For months, progressive coalitions including homeless advocates and police reformers had been decrying the mayor's budget as "an austerity budget," as departments such as sanitation and education faced modest budget cuts. Progressive members like City Council Member Sandy Nurse touted the reversal of some of those planned cuts at the budget vote, calling it the "largest and arguably the most progressive budget we've ever seen. (But) at the same time, this budget falls short on some basic needs." Nurse ended up voting "no," along with Council Members Chi Ossé, Alexa Avilés, Tiffany Cabán, Charles Barron and Kristin Richardson Jordan. Council Member Darlene Mealy was not present for the vote.
Those six members who voted no – along with conservative Democrat Kalman Yeger – were left out from designating any funding in the Speaker's Initiative to Address Citywide Needs, as City & State first reported earlier Monday. Every council member gets a base level of funding they can designate for local programs in the district like arts classes or food pantries, but these members didn't get their name on any additional funding, in an apparent act of retaliation for their expected "no" votes on the budget. Speaker Adams demurred about it when asked at the press conference, saying, "The discretionary funding is not about any single council member," and that "every New Yorker benefits from this budget. Every New Yorker."
But just before midnight Monday as she left City Hall, Speaker Adams was a bit more direct. "I'm not defunding anybody's community!" she said. "That's crazy. That's mean."