Education
On determining NYC class sizes, all eyes turn to Hochul
The state Legislature voted to reduce class sizes to the mayor's chagrin, and now the governor is facing pressure on all sides.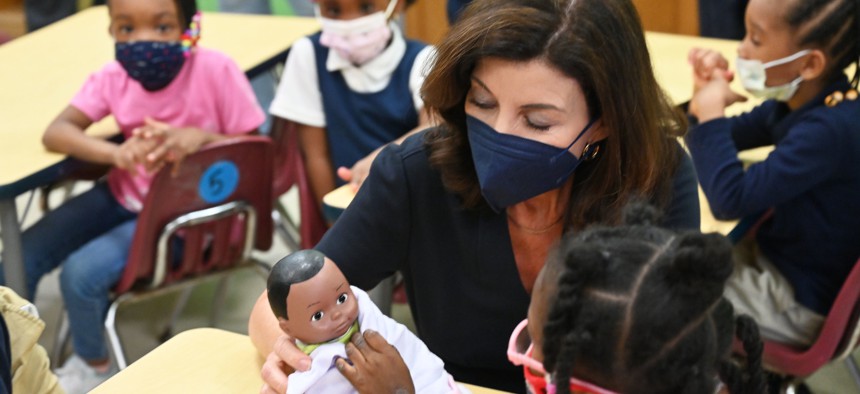 Nearly a month after state lawmakers passed legislation requiring New York City to start reducing class sizes in public schools, supporters and longtime advocates of the measure are urging Gov. Kathy Hochul to sign the bill. 
As of Wednesday afternoon, Hochul is also yet to sign another bill that passed alongside the class size bill as part of a deal with city officials. The second bill extends mayoral control over the school system for another two years. With mayoral control expiring June 30, supporters of the class size bill are carefully watching the governor for what she'll do ahead of that deadline. 
"That has to be signed today or tomorrow or mayoral control lapses," said Leonie Haimson, founder and executive director of Class Size Matters. "We will see what she does, and if she doesn't sign the class size bill at the same time that's clearly a rebuke to the state Legislature which passed this bill overwhelmingly." 
Several advocacy organizations, the United Federation of Teachers and a handful of state lawmakers – some of whom are former educators – gathered in City Hall Park Wednesday morning to call on Hochul to take action, especially in light of the City Council's recent budget which includes a $215 million cut across schools based on declining enrollment projections. Average class size during the 2021-2022 school year fell to about 24 students. 
Supporters feel now is not the time to cut school funding in any form – especially given recent influxes in funding from the state and federal governments. 
"There is no excuse to play math with our kids' money. Our kids' money is sacred and we are here to tell the mayor, 'Don't mess with our kids,'" said state Sen. Jessica Ramos. "The fastest and easiest way that we can get some money back into our classrooms where they belong is if we can get the first mom governor to help us by signing the small class size legislation." As of Wednesday afternoon, the group's petition has amassed 7,000 signatures.
City officials including Mayor Eric Adams have contended that the $215 million figure is not a cut because it accounts for the drop in students enrolled in public schools. 
Proposals to lower class sizes within the nation's largest public school system have been debated for years in Albany and City Hall. While many parents, teachers and educational advocates feel that smaller classes bolster learning and are in the best interest of students, city officials – including Mayor Eric Adams – and some parent groups argue that there are other more cost-effective methods to improve education in New York City.
This particular bill, which was sponsored by Queens Democratic state Sen. John Liu, would cost hundreds of millions and lead to cuts elsewhere in the education budget, according to city officials. 
Citizens Budget Commission President Andrew Rein has urged Hochul to veto the bill, saying implementing the bill would require "significant new funding" and possibly force the rapid hiring of inexperienced teachers to meet class size quotas in a way that would void any learning benefits from smaller class sizes. 
"This bill does not focus on outcomes, but prescribes one strategy. Class size reduction may be one part of a successful effort to improve student achievement, but it is not a comprehensive strategy," he wrote in a letter to the governor dated June 13. "By prescribing one strategy, this bill undermines New York City's ability to choose what it considers the most effective group of approaches to meet its students' needs."
Some parents have also expressed concerns that shrinking public school classes could reduce access to already competitive academic programs like Gifted and Talented classes, according to the New York Post. 
Still, the vast majority of state lawmakers supported the class size bill. It won bipartisan support toward the close of this year's Legislative session, passing 59-4 in the state Senate and 147 to 2 in the Assembly.
Requirements would phase in over the next five years, gradually dropping the current cap of 25 students in kindergarten classes, 32 in elementary school, 30 to 34 in middle school, and 34 students in high school classrooms to no more than 20 in kindergarten to third grade and no more than 23 in fourth through eighth grade classrooms. High school classes would be capped at 25 students. 
Teachers across the city have long been in favor of smaller class sizes and have praised lawmakers for their support. Michael Mulgrew, president of the United Federation of Teachers, said in a statement that its passage will give students "the same benefits already enjoyed by children in the rest of the state."