Education
New York City Council members apologize for school budget vote
Progressive council members expressed regret on Monday for signing off on $215 million in cuts to schools in the fiscal year 2023 budget.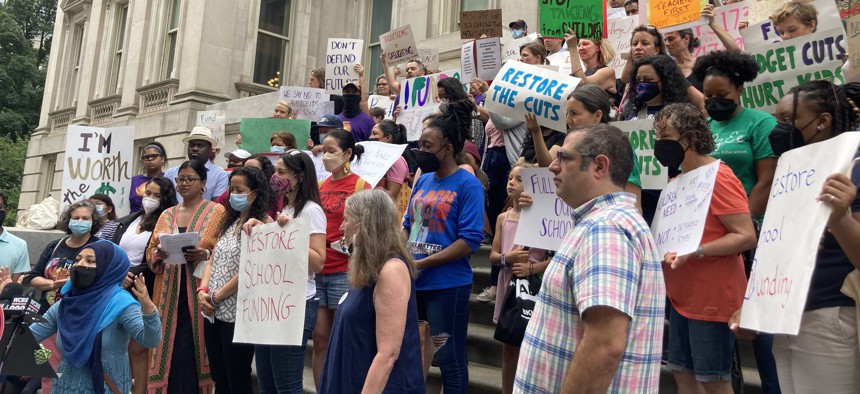 Progressive members of the New York City Council apologized for signing off on $215 million in cuts to schools on Monday – just weeks after the vast majority of the council voted to approve the fiscal year 2023 budget, sparking protests and public outcry from education advocates, school leaders and parents.
"I want to start by acknowledging how deeply regretful I am of my budget vote," Council member Shahana Hanif said at a rally Monday morning. "I made a decision that I thought would best equip me to have a seat at the table and the tools to fight back against and restore the cuts. It's clearer than ever that the table and the entire process in this body is severely broken."
Hanif's progressive colleagues, including Council members Lincoln Restler and Jennifer Gutiérrez, echoed the sentiment throughout the morning as they joined educators, parents and advocates outside of the Department of Education's headquarters in the Tweed Courthouse to decry the cuts and demand that Mayor Eric Adams restore funding to every school budget. 
"I'm sorry to every parent, to every teacher, to every student in my community that I didn't step up and fight back the way that I should have during this budget process," Restler said. "I want you to know since this budget vote I've been organizing with my colleagues and pushing as hard as we possibly can to see these funds restored."
The public apology comes after 41 of the council's 51 members signed a letter last week addressed to the mayor and schools Chancellor David Banks, urging them to use $761 million in unspent federal stimulus funds to restore the education budget.
The cuts were included in the mayor's Program to Eliminate the Gap, which detailed proposed funding cuts to multiple agencies and was publicized in February, months before all but six City Council members voted to adopt the budget in June. Some cited the decreased education funding for their "no" votes. Though the city is increasing its own investment in public schools by more than $700 million, overall funding for public schools decreased $215 million, largely due to diminished federal and state funding. As a result, a little over 1,000 schools that would see cuts in Fair Student Funding, public schools' main source of funding that weighs enrollment and individual need. 
The council has repeatedly deflected blame for the funding cuts by accusing the Department of Education for fiscal mismanagement and claiming they were unaware of the effects on individual schools. Last week, Council Speaker Adrienne Adams said she "held up" budget negotiations over the education cuts, the New York Post reported, even though the budget was approved weeks ahead of the deadline. The speaker also signed the letter calling for the mayor to restore school funding.
While the mayor has defended the cuts as a reflection of dwindling enrollment counts and has said individual school budgets would be adjusted if more students return than expected, many principals and educators have reported the cuts have already resulted in the loss of specialized programming, such as art, language and music classes. Adams has also said that the per-student funding allocation would remain unchanged given enrollment changes, but an internal Department of Education memo suggests it has actually decreased slightly, according to the Post. 
"We know how our kids are gifted and they deserve to be appreciated for those gifts," José Vilson, a middle school math teacher and executive director of EduColor, a nonprofit dedicated to race and social justice issues in education, said at Monday's rally. "I demand that we add these to our schools. We got to add more – not just to restore the cuts, but to add and then some." 
Just as the rally was cresting the end of the hour, several heads began to turn as former Mayor Bill de Blasio arrived. He stood off to the side of the crowd, distributing a printed statement that condemned the funding cuts. As mayor, de Blasio championed the Fair Student Funding formula, unfurled the city's free summer school program to thousands of kids, and enacted a policy to maintain schools' funding even in the face of enrollment loss during the pandemic. 
"What's going on is wrong and it never should have happened," de Blasio told City & State when asked why he decided to make an appearance. "I appreciate that the council members are now having revisionist thinking about it, but I don't know why they let it happen to begin with and I don't know why the mayor's team let it happen." 
De Blasio, who is currently running for Congress in the newly redrawn 10th Congressional District, pointed to the pandemic-imposed influx of federal and state funding, saying the city should take advantage of the additional money before it's depleted over the next several years.
"I spent two years seeing everything that happened to kids and families and I could never imagine taking away money from schools when they are going through so much," de Blasio said. "They have plenty of time between now and the opening day of school to fix this, but it's not just rallies, it's getting at the table and negotiating and fixing it." 
Towards the close of Monday's rally, Gutiérrez, addressing parents and students holding signs in protest of the cuts, issued them a personal apology.
"I want to tell you personally, eye to eye, that I failed you," she said. "Members of the council failed our supporters, our advocates, the schools in our backyard. I deeply, deeply, deeply regret my vote and I apologize. I'm not going to ask for forgiveness. I know I got to show it and that's what I'm committing to right now."