News & Politics
Migrant families are being separated when entering NYC shelter system: Advocates
Some asylum seekers who do not have documentation to prove they are related have opted to sleep on the street rather than be housed in different shelters.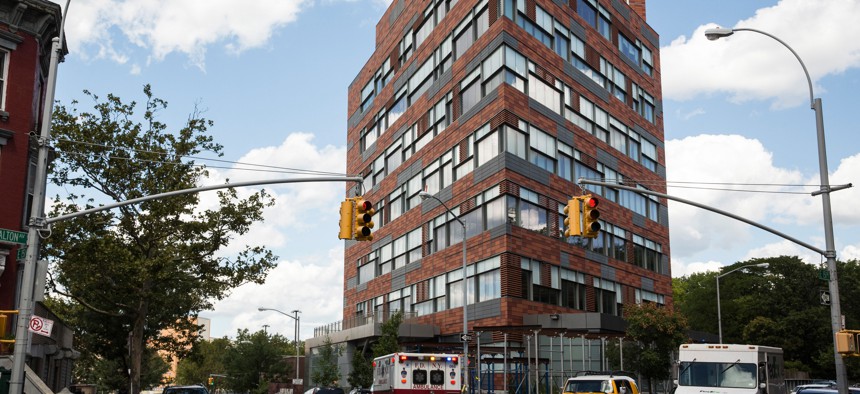 Migrant families who are arriving at New York City homeless shelters amid an influx of asylum seekers from Latin America are sometimes being split up because they do not have the proper documentation to prove they are a family unit, according to advocates. In at least two cases identified by Catholic Charities, the families have chosen to stay on the street instead of being divided into separate shelter units.
"Several people have reported that because they are unable to prove their familial relationship as a result of not having marriage certificates or birth certificates, that families are being split through the housing shelter system at intake," Maryann Tharappel, attorney-in-charge of immigrant & refugee services at Catholic Charities, told City & State.
Like many of the issues asylum seekers who have arrived in New York City in recent months are facing, the problem likely existed before – but it has been exacerbated by the volume of migrants entering the shelter system. The city estimates that approximately 4,000 migrants have traveled to New York City in recent months, either by choice or because they were sent here by the Texas government.
"Let's be clear – the amount of paperwork that the Department of Homeless Services demands from an average New Yorker who presents at intake is massive," President and CEO of Women in Need and former City Council Speaker Christine Quinn said. "In this particular case, we have people who have been through the ringer. They're not just homeless, they're refugees from violent situations, from foreign countries who have been treated like nothing but garbage by the government of Texas, and we welcome them by saying 'you don't have the right paperwork.'"
During the processing and detention period executed by federal border officials, migrants' documents are often confiscated, and in many cases, not returned once they complete what's called a "credible fear interview," advocates explained. Without the documents, once they arrive in New York they have no way of proving they are a family unit.
In some cases, mothers are sent with their children to women's shelters, while the fathers are sent to single men's shelters, advocates said. One couple who arrived last month with their two children, one of whom they share, chose not to enter the shelter system because they could not be housed together, Tharappel said. In another case, a pair of adult brothers also chose to sleep on the street because they could not be housed together, she said. 
A second organization that has been offering assistance amid the crisis that began this summer, the New York Immigration Coalition, also said it has encountered a number of families who have been separated. 
"The asylum seekers don't have their identity documents," New York City Immigration Coalition Executive Director Murad Awawdeh said. "When they're a family, they can't go to a family shelter, because they can't prove that they're a family. They can't prove they're married and those are their kids."
Josh Goldfein a staff attorney with Legal Aid's Homeless Rights Project, which provides legal assistance to shelter applicants at the city's Prevention Assistance and Temporary Housing intake center, said it has not encountered any families who have been separated, but said the Department of Homeless Services "often wants to split up intergenerational households . . . they want the minor children to stay with parents and other associated single adults to go into the adult shelter system . . . so they often try to break up larger intergenerational families."
Tharappel said Catholic Charities and other organizations have repeatedly raised the issue with the Mayor's Office of Immigrant Affairs. City Hall denied that it is actively dividing families, but said many are arriving separated because they were split up at the border by federal officials. Some families are being placed in conditional housing to give couples time to file for a domestic partnership so they can move into permanent shelters together, Department of Homeless Services Commissioner Joslyn Carter said at a City Council General Welfare Committee oversight hearing on Tuesday.
Tharappel said advocates hope the establishment of a centralized intake center – promised by City Hall last week – would help remedy the issue, which she said is in some cases, due to a cultural barrier. 
"Many families from Central and South America never formally register their marriages, but they live in long-term domestic partnerships and consider each other husband and wife, and separating those families with or without documentation is really an issue of cultural norms that needs to be appreciated by a city that considers itself a sanctuary city," Tharappel said. 
Carter also acknowledged the city is re-evaluating its family placement procedure to meet the needs of the incoming population. 
"In our emergency assistance that we're setting up, we will be looking at ways we can adjust what our processes are . . . because we do know there will be some ways we have to look at these families in a different way," she said Tuesday.