Transportation
With Penn Station's rebirth in the making, a look at other transit hub rehabs
Here's how the New York City transit hub's counterparts around the country delivered after taking on similar redevelopment efforts.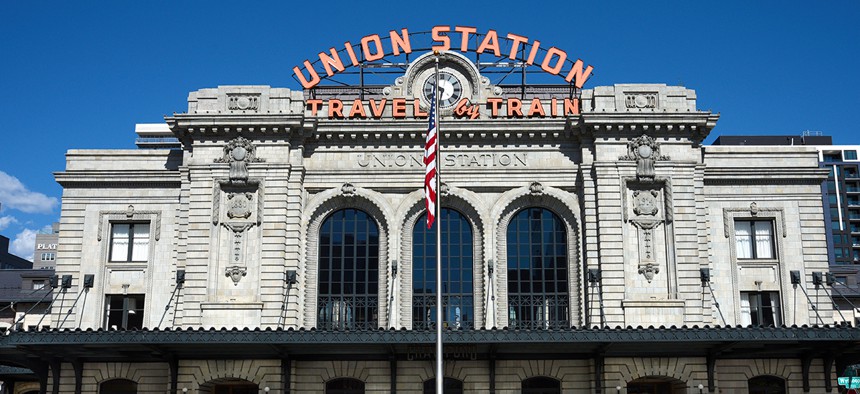 By moving forward with plans to renovate Penn Station, New York joins a growing list of cities that are hoping a major rail station redevelopment can help to revitalize the surrounding area.
Many of the plans share key elements: preserving and upgrading historic structures, adding better connections among different transportation modes and capitalizing on the potential in nearby real estate.
The projects are notable because the country has focused so much of its resources on building infrastructure for cars, while allowing its rail system to deteriorate, said Paul Angelone, senior director of the Curtis Infrastructure Initiative at the Urban Land Institute.
"As a nation, we need to regain the ability to actually think about these large, transformative projects. This used to be very common," he said. "As you do things that are new, or just do them again for the first time in a long time, it gets a lot of attention. These (projects) are going to have a huge impact on a lot of people's lives, so I think there's a lot of excitement."
Denver and Miami
One of the most successful rail hub renovations came in Denver in 2014, where the decadelong refurbishment of Union Station and related improvements to nearby rail yards set off a real estate boom in the Lower Downtown area.
The station is a hub for Amtrak, commuter rail, light rail and buses. Local leaders kept the century-old granite building that long served as the rail station, but, using a public-private partnership, converted most of it into a hotel, restaurants and other retail space. Next to the granite edifice, they added an open-air train hall framed by a white canopy stretched aloft on white steel girders.
The stunning architecture and the reconfiguration of 50 acres of nearby real estate that made the station possible reignited interest in Denver's downtown. The $487 million project was at the center of a neighborhood reinvention. Local transit officials said it helped spark the development of 3,000 residential units, 1.9 million square feet of office space, 250,000 square feet of retail and 750 new hotel rooms within a few blocks.
In Miami, a privately built passenger rail station helped to reinvigorate a neglected part of the city's downtown. The MiamiCentral train station and related developments span six blocks. It's the southern end to a new passenger rail service, called Brightline, that connects to Fort Lauderdale and West Palm Beach, with extensions to Orlando and Tampa in the works. The station includes 816 rental residences, 130,000 square feet of retail space, a food hall and entertainment venues.
Chicago
The federal infrastructure law that Congress passed last year included $66 billion in various programs to fund new passenger rail service or upgrade existing facilities. Meanwhile, Amtrak's financial situation had improved before the pandemic, allowing it to contemplate upgrades that long seemed out of reach. (Along with New York's Penn Station, Amtrak owns stations in Chicago, Philadelphia and Baltimore. They are some of the busiest stations in the country, and it has plans to upgrade all of them.)
Officials from the Chicago area unveiled an ambitious $418 million proposal to overhaul the city's Union Station and make related rail improvements around the rail hub. They want the federal government to pay $250 million of that total.
Some of the problems they're trying to deal with in Chicago's historic but overcrowded central station are all too familiar for regular users of Penn Station.
For example, they're trying to open up the concourse that passengers use to get to and from Amtrak and commuter rail lines. Currently, customers in Chicago often have to navigate a warren of cramped hallways to get to their trains.
Two office buildings sit above Union Station's tracks, limiting the options for new configurations. But Amtrak, which owns the facility, has slowly been clearing the space. It relocated ticket counters, offices and a passenger lounge from the crowded concourse to the more spacious – and iconic – adjacent building.
Now, Amtrak and local agencies want to move escalators and raise ceilings in the concourse, making it more open and easier to navigate. The Chicago consortium also wants to widen platforms and reactivate platforms once reserved for mail transport. That would increase capacity and decrease overcrowding, especially at rush hour.
Beyond the station upgrades, Illinois officials are asking for track improvements that would reduce delays on trains running to Detroit and southern Illinois, and they want to add the ability for some trains to run through the station.
"While these are big-ticket items, there are big needs here in Chicago," said Amtrak CEO Stephen Gardner when the plan was announced in July.
Philadelphia and Washington, D.C.
In Philadelphia, officials want to make improvements to the 30th Street Station to accommodate anticipated ridership growth as well as to rejuvenate a section of the city isolated by nearby rail yards and an interstate highway.
"The vibrancy found within the walls of Gray 30th Street Station does not yet extend to the district around it," architects from the firm SOM wrote about the plans.
The first step to improve the situation in Philadelphia was a 50-year deal with an Australian infrastructure company to refurbish, improve and maintain the station.
But the bigger vision, developed after two years of public input, was a $10 billion effort to make the rail station the centerpiece of a neighborhood transformation. That included $2 billion for station improvements and other public amenities, $4.5 billion in private real estate investments over 88 acres of existing rail yards and $3.5 billion for a major development from Drexel University just west of the station.
Meanwhile, in Washington, D.C., the Federal Railroad Administration wants to build over the train tracks as part of an effort to improve Amtrak's second-busiest station. The agency and its partners, though, ran into trouble with their first plan to do so because local officials and businesses complained that the proposal for Union Station included too much space for parking, which would limit the station's value as an intermodal hub.
In June, the agency unveiled an updated plan, which would include less parking and put it underground. Other major improvements proposed included a new train hall, more tracks, better connections to buses, expanded retail and new entrances around the building. And Akridge, a development company, could add a dozen buildings over 15 acres of existing tracks, in a $3 billion project known as Burnham Place.
Angelone, from the Urban Land Institute, said the changes to the Washington, D.C., plans were a "fabulous example" of how community input could improve a design. The parking garages were initially included because they would generate revenue, but the feedback helped clarify that the community had different priorities, he said. "Is your goal to move a lot of people and build a stronger community or is it just to drive revenue?" he said.
Many of the plans for improving rail stations also demonstrated the importance of connecting them to neighborhoods, Angelone added. "It's not just an open rail yard. It's a continuation of the city. I think that's a powerful and important thing. Building those spaces is important, even if they don't pay for themselves," he said. "There's a lot of value beyond just the dollars and cents of how you structure these things."
Dan Vock is a reporter for Route Fifty.